Brdr. Krüger is delighted to present a new and exclusive collector's item, in collaboration with Designmuseum Danmark and Hans Bølling. The iconic and well-loved tray table from 1963 is now available in Designmuseum Danmark's signature blue colour, in a limited edition run of 500 pieces. Every table is mounted with a brass plate that contains Hans Bølling's signature and has the individual piece number engraved as a certificate of authenticity.
Bring a piece of the museum into your home
The hand-selected indigo blue is a recurrent colour throughout the museum. First displayed in the historic sandstone portal at the front door that dated from 1757, its unique hue has continued to be a central part of the museum's identity and interior ever since.
Award-winning architects OEO Studio renovated and refurbished the museum in 2022 to include the special blue Bølling Tray Table as a permanent part of the interior of the Danish design destination, including the café, library and lounge areas.
Designmuseum Danmark is bridging the gap between the strength of the past and the possibilities of the future. The collaboration between Brdr. Krüger and Hans Bølling is a new turn on this, portraying the active role the museum chooses to play in the communication of design evolution.
"With the museum's reopening in 2022, we wanted to convey design and good craftsmanship throughout the entirety of the museum. Our museum shop is a playful extension of the experience, but also a zone where we can experiment and explore with other ideas or views on history. We believe everyone should be able to take a fresh piece of the museum home with them. There is a link between the deep blue tone in our fantastic building and the well-known Tray Table in this collaboration, which we hope many people will take home from their visit – as an exclusive emblem across the decades" – Kristian Rise, Development Manager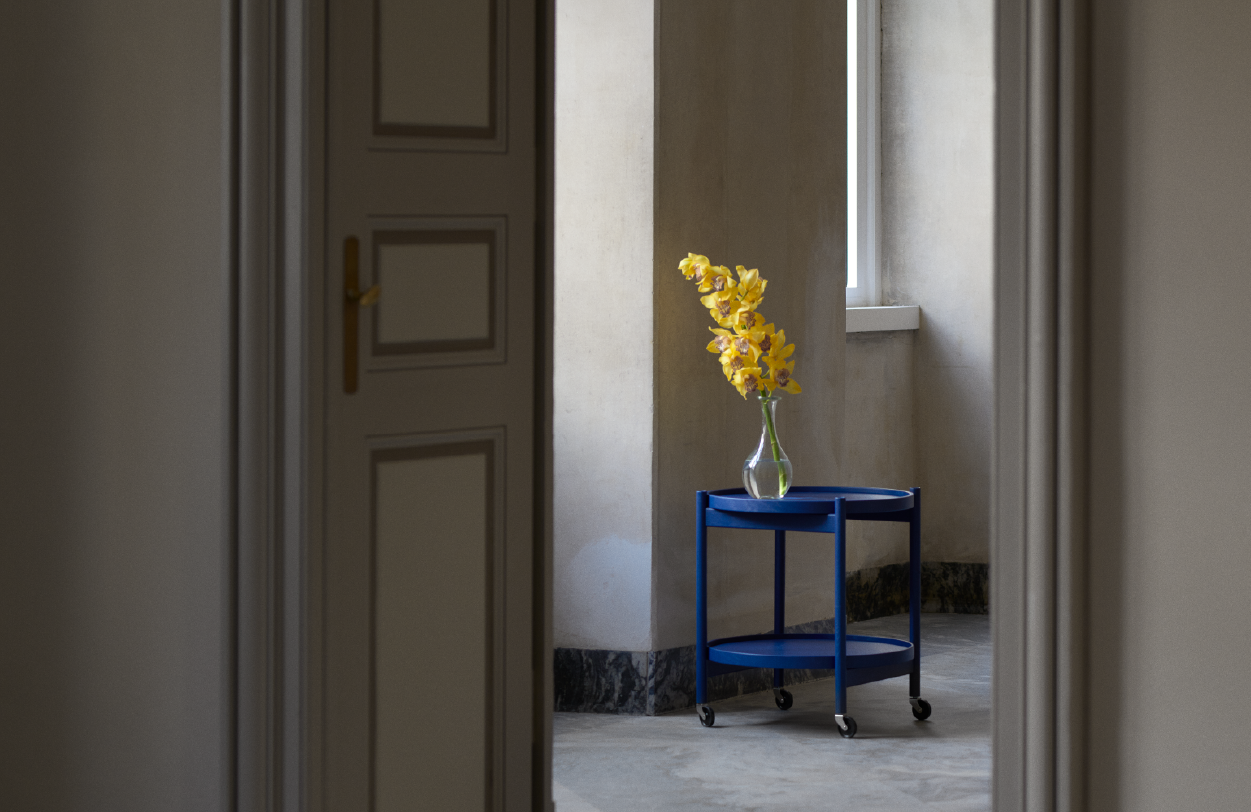 An icon of timeless Danish design
As a vital part of Danish modernist design heritage, the tray table has only grown in popularity since its origin in 1963. With its simplicity, ease of use and sculptural qualities, it continues to be relevant to changing times and appeal across new generations.
91-year-old Hans Bølling comments: "I have been coming to the museum myself since I was young and have always appreciated it for its important role in our Danish cultural history, meaning I am enormously proud and honoured that my design is now a living part of this institution."
Elegant materials melded with traditional Danish craftsmanship
Each table is uniquely handcrafted from FSC certified oak, in a signature indigo blue colour, coated with durable varnish, and contains a brass number marker.
The tables are manufactured in Brdr. Krüger's family-owned workshop in Værløse. Brdr. Krüger was founded in 1886, and is known for their award-winning Arv chair, which was developed for the restaurant Noma and has gained vast popularity worldwide.
Fifth generation Brdr. Krüger, Jonas Krüger, comments: "The tray table is known for its design honesty, which characterises Hans Bølling's unique style. Instead of marking the load-bearing elements of the furniture with screws or hidden solutions, Bølling's design is based on traditional joinery and innovative solutions, which are in themselves so beautiful they deserve to be highlighted. Hans Bølling is a master in his field, and he combines his talent with a pure and honest approach to designing functional and aesthetic furniture to create timeless design that appeals across generations".
Designed to be taken home
Created as a flat pack, the Bølling tray-table was future-facing and modern for its time. The small, flat box contains a handle, providing the ideal means for it to be taken home from the museum shop or Brdr. Krüger. There are no tools or knowledge required to unfold the table and place the trays on it, making it user-friendly, high-quality design.