In MATCH, unorthodox elements like the duo's signature material – the durable and wax-like polyethylene traditionally used in cutting boards – are merged with classic, yet playful features like brass handles and a lush marble countertop. Muller Van Severen have crafted a kitchen, which is as tough and resilient as it is extraordinary and inspiring.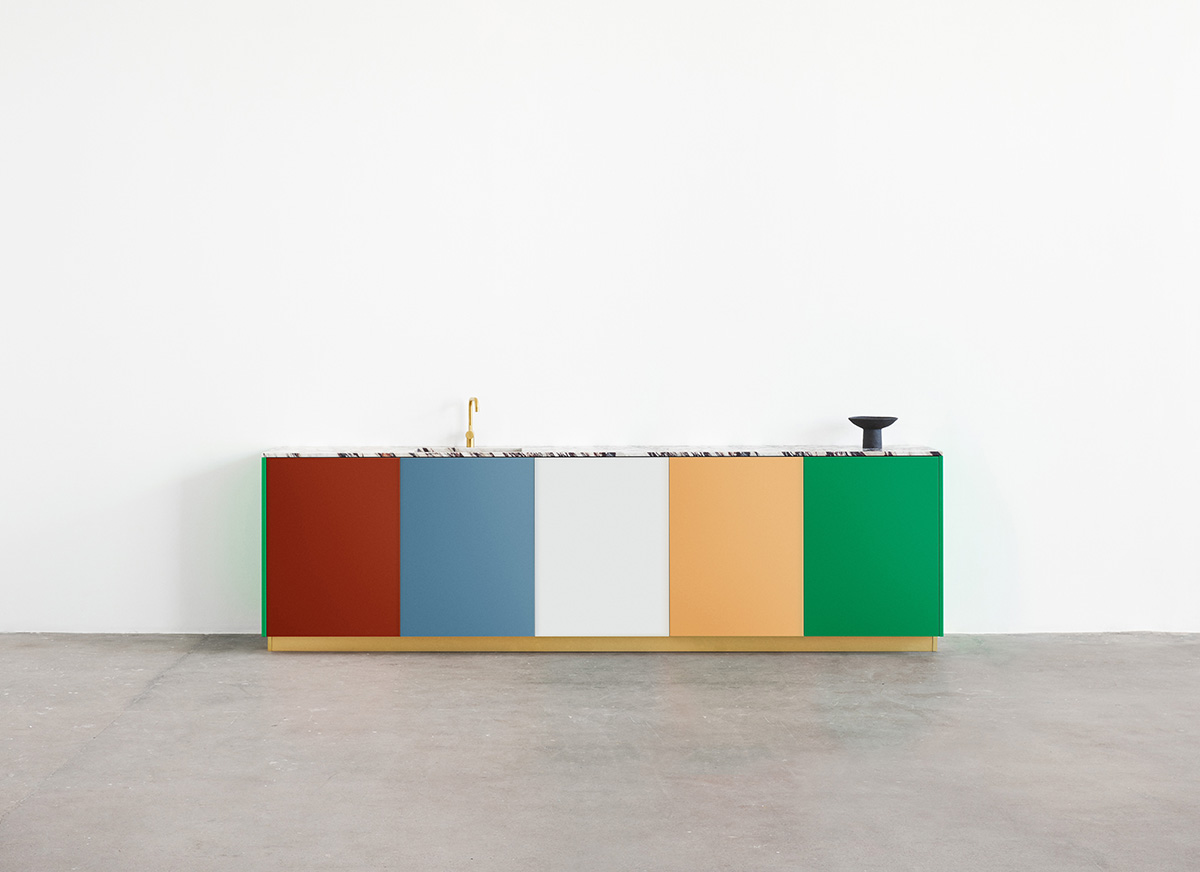 Kitchen fronts
The fronts on MATCH are made from HDPE (High-density Polyethylene A 500). Frequently used in Muller Van Severen's critically acclaimed art and design practice, this is a very tactile and vibrant type of plastic, which is well-suited to kitchens due to its stable and robust properties. HDPE is often applied in the food industry's industrial kitchens where it's used in cutting boards: red HDPE for meat, blue for fish, and green for vegetables with the aim of keeping the food preparation antibacterial. HDPE is also used in containers and packaging because of its durable qualities, and unparalleled resilience in relation to moisture and water. HDPE is easy to clean with normal household detergent, and it lends itself well to recycling.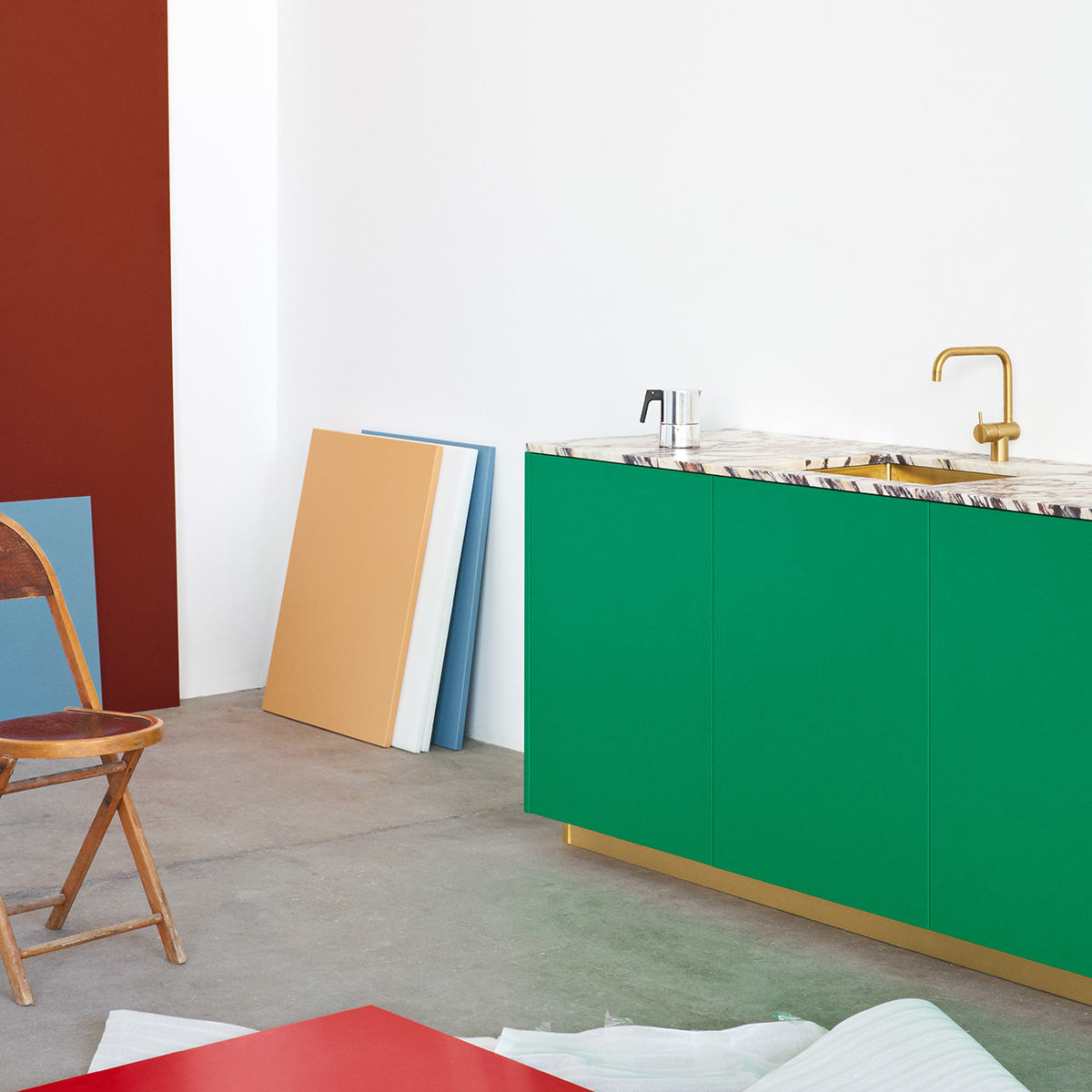 Colors
The kitchen fronts come in six bold, striking nuances: white, blue, peach, green, red and brown. The colors can be combined according to personal taste, which adds to the kitchen's distinctive character and expressive look. The material comes without surface treatment, making the design raw and honest in a tactile and textural way. The materials has traces from the production process and minimal scratches from the handling of the material.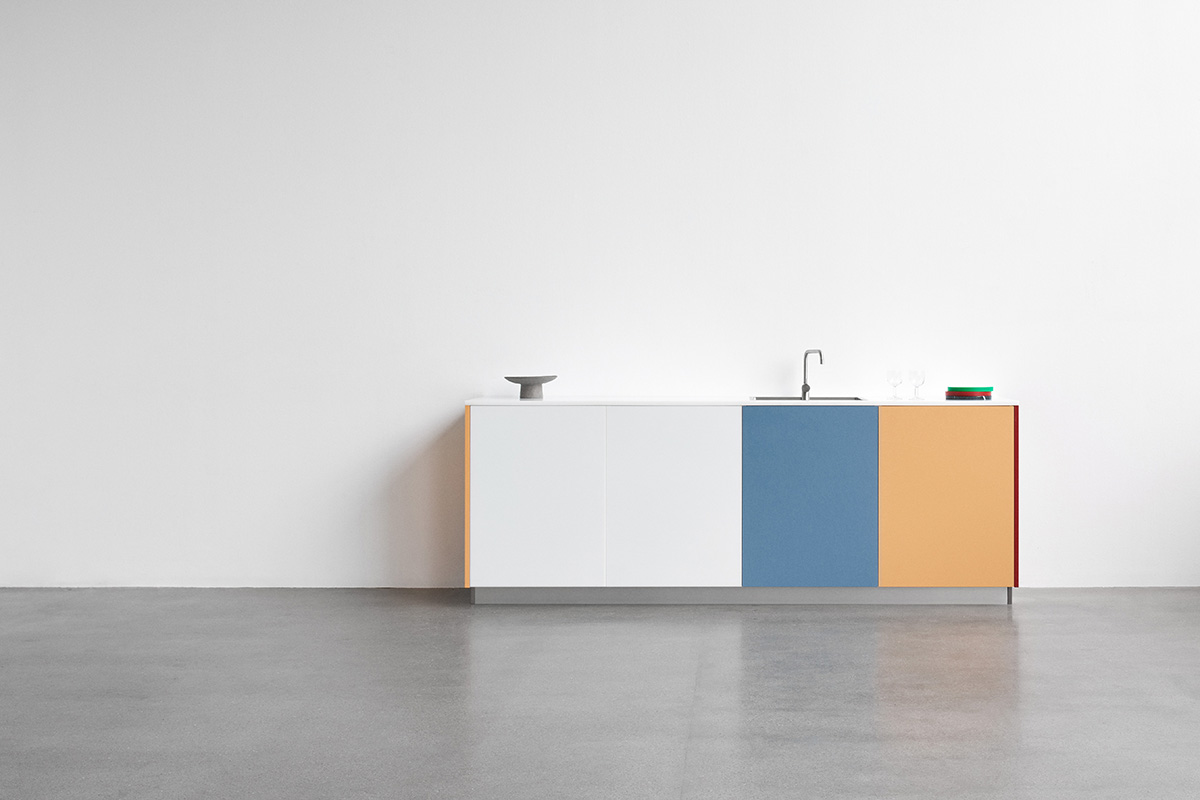 Doors, drawers, side panels and additions
The doors, drawers, side panels and additions are all compatible with the Reform Kitchen Cabinet System and IKEA's METOD products. In addition, the doors and drawers are available with a push-function that comes without handles.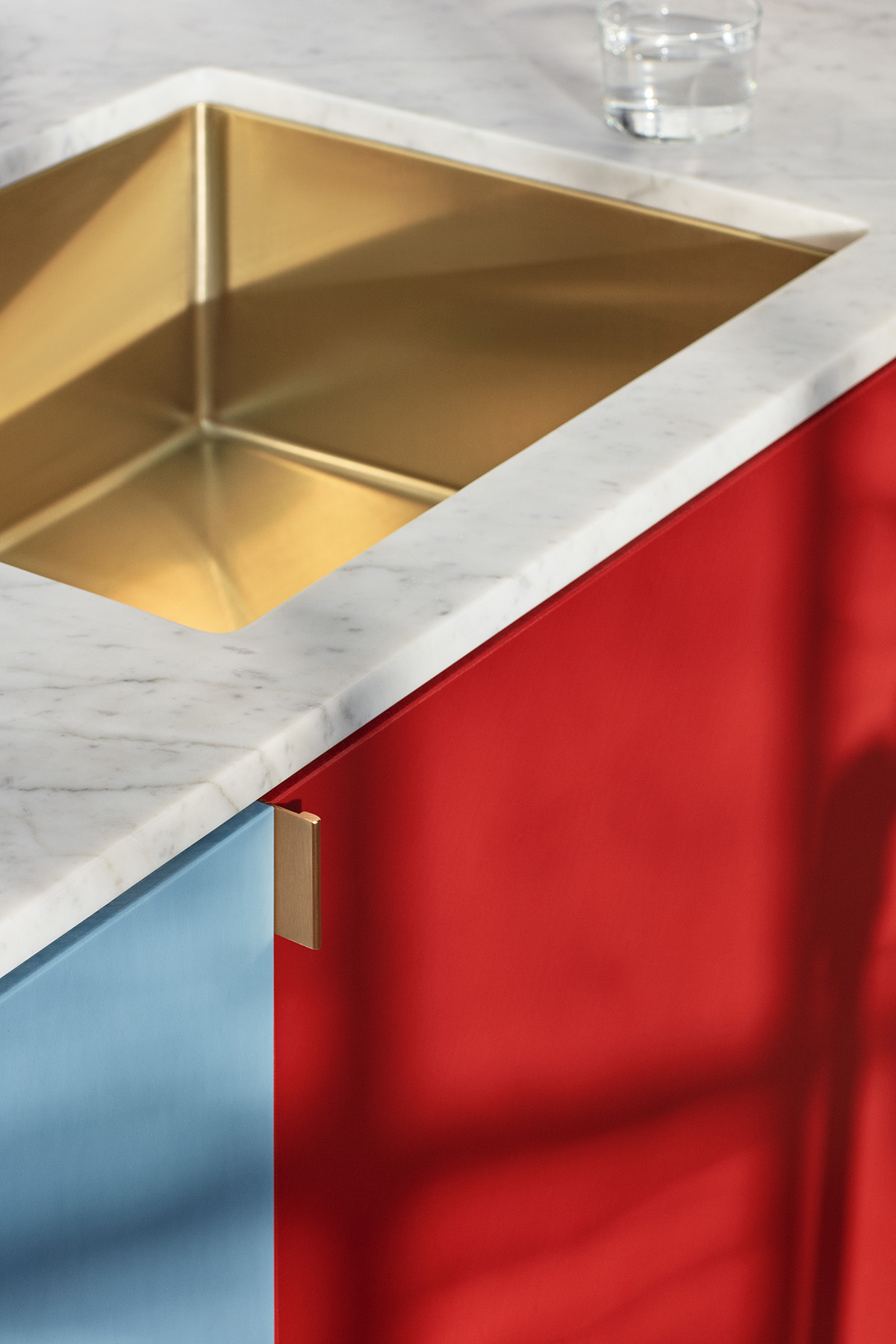 Countertop
The MATCH countertop is made from marble in a thickness of 20 mm. It's cut from the marble types Calacatta Viola and Bianco Carrara, type C, and it has a radius of 2×2 mm on all edges. A recurring feature at the more flamboyant and luxurious end of design history, the classic and solid marble material takes on a new and contemporary appearance in Muller Van Severen's inspiring design through an inviting, polished appearance, and as an elegant contrast to the more graphic HDPE material.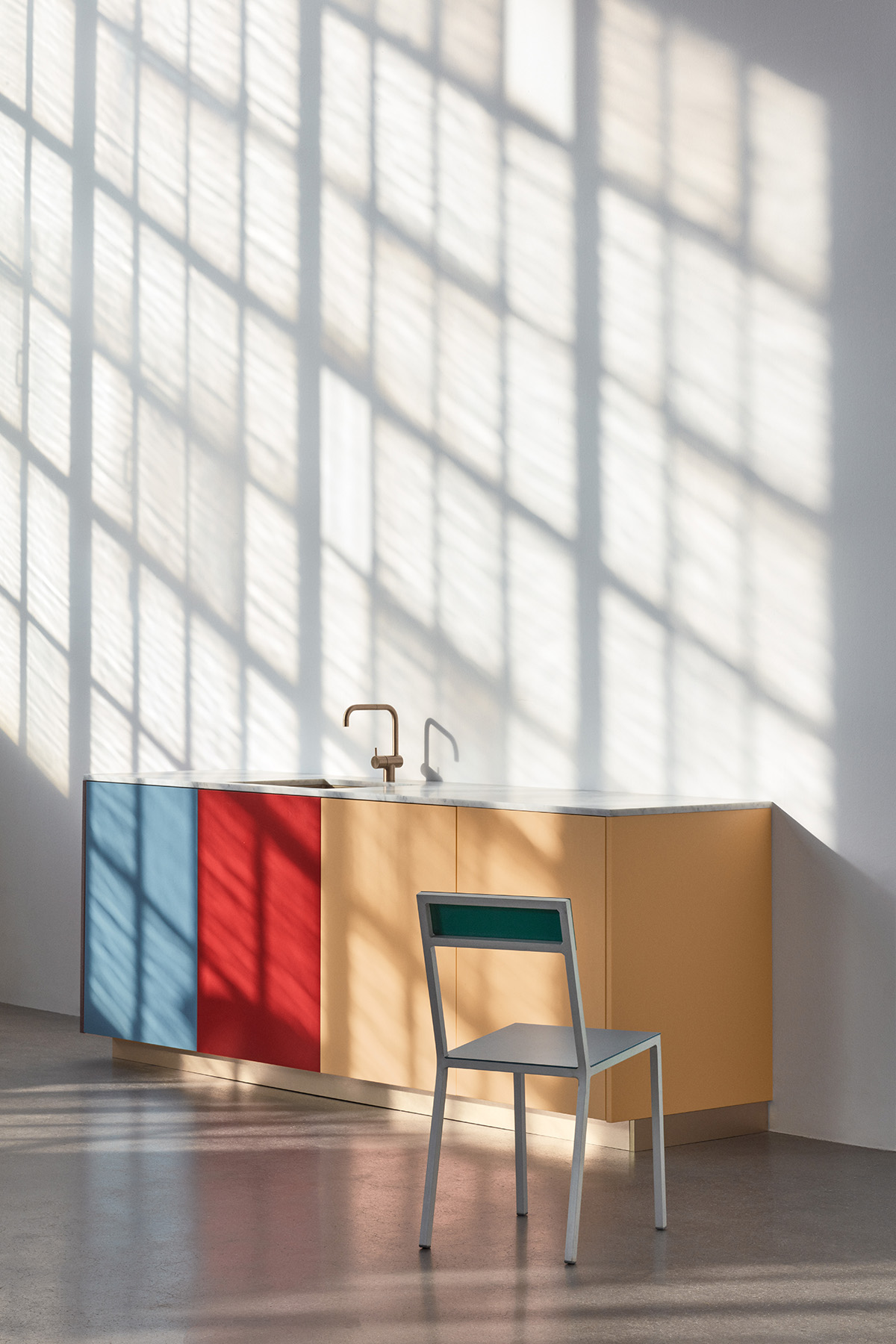 Plinths
The plinths are available in brass and stainless steel with a thickness of 20 mm. The core material is MDF, while the surface on both products is laminated with brass and stainless steel, and the edges are made from brass or stainless steel.
Handles
The handles are mounted externally, by the customer, and they can be purchased as an add-on. They're available in two varieties: a satin gold aluminium handle, which matches the brass plinth and has a length of 50 mm. And an aluminium handle, which matches the stainless steel plinth and has the equivalent length of 50 mm. The handles give the design a personalized and unique expression, and they've been treated to prevent patination. Please note that there's a milling in the door, which makes mounting of handles unavailable on doors without milling. Hence, mounting handles at a later stage will not be possible without this feature.
Muller Van Severen
Fien Muller and Hannes Van Severen are two Belgian artists who form the design studio, Muller Van Severen, a critically acclaimed creative duo with a long line of seminal works, creative milestones and prestigious accolades to their common name. For Muller Van Severen, the distinction between art and design becomes blurred; their approach differs according to each project, but they are quintes­sential makers at heart who have set out to enrich our lives with remarkable objects that always seem to hint at bold, new possibilities. Based in an idyllic setting on the outskirts of Ghent, Muller Van Severen draw on their own house, life and everyday experiences to create timeless collages that mix disparate aesthetics in truly original designs, which sit somewhere between the contem­porary and the modern. As Hannes Van Severen puts it: 'That's what we like.'