VILHELM LAURITZEN ARCHITECTS AND CARL HANSEN & SON CONTINUE THEIR COLLABORATION WITH THE LAUNCH OF THE VLA61 MONARCH CHAIR. DESIGNED IN 1944, VILHELM LAURITZEN'S MAJESTIC CHAIR WAS ORIGINALLY PRODUCED IN ONLY 10 COPIES, BUT IS NOW BEING MADE AVAILABLE TO A WIDER AUDIENCE FOR THE FIRST TIME.
Vilhelm Lauritzen (1894-1984) was a leading Danish architect. Today, his buildings stand as cultural monuments, testifying to his pioneering approach to functionalism. He was characterised as a master of detail who created interiors for all his projects with the highest degree of perfectionism – from chairs, tables and chandeliers to fixtures, door handles and sockets. In 1944, Lauritzen designed a building project that was never realised, but the VLA61 Monarch Chair that he had designed for the project was produced in 10 copies. Until now, this rare chair has been a coveted collector's item sold at auctions around the world, but with Carl Hansen & Son's launch, it will now become available to a wider audience for the first time.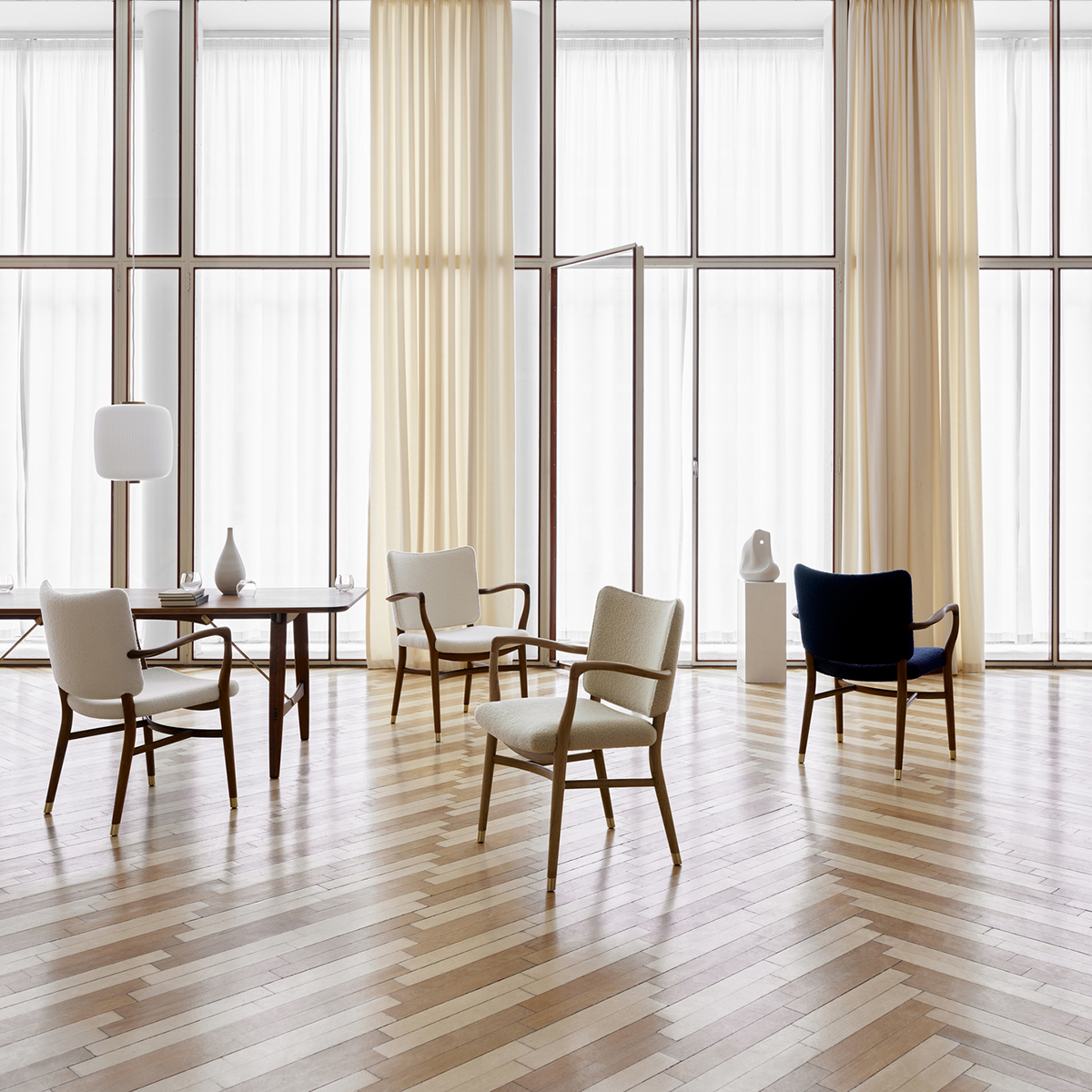 The VLA61 Monarch Chair is named after the majestic Monarch butterfly, and the name is a tribute to the architect's keen interest in butterflies, which he diligently studied throughout his life. With its generous upholstery, curved armrests and organic, teardrop-shaped curvatures of the bars, the chair embodies an artistic expression that is light and sumptuous at the same time. Details such as the small brass feet and hand-polished joints testify to Lauritzen's consistent design signature.
Manufacturing the VLA61 Monarch Chair is a complex and time-consuming process for the experienced cabinetmakers at Carl Hansen & Son, as many of the chair's parts are curved and double-curved. In addition, all the parts are polished by hand before being assembled, after which the entire chair – especially around the joints – is hand-polished once again to achieve a perfect finish. The backrest is only upholstered after it has been mounted on the chair to achieve precise finishes around the armrests and hind legs – a task requiring the greatest care from Carl Hansen & Son's skilled furniture upholsterers.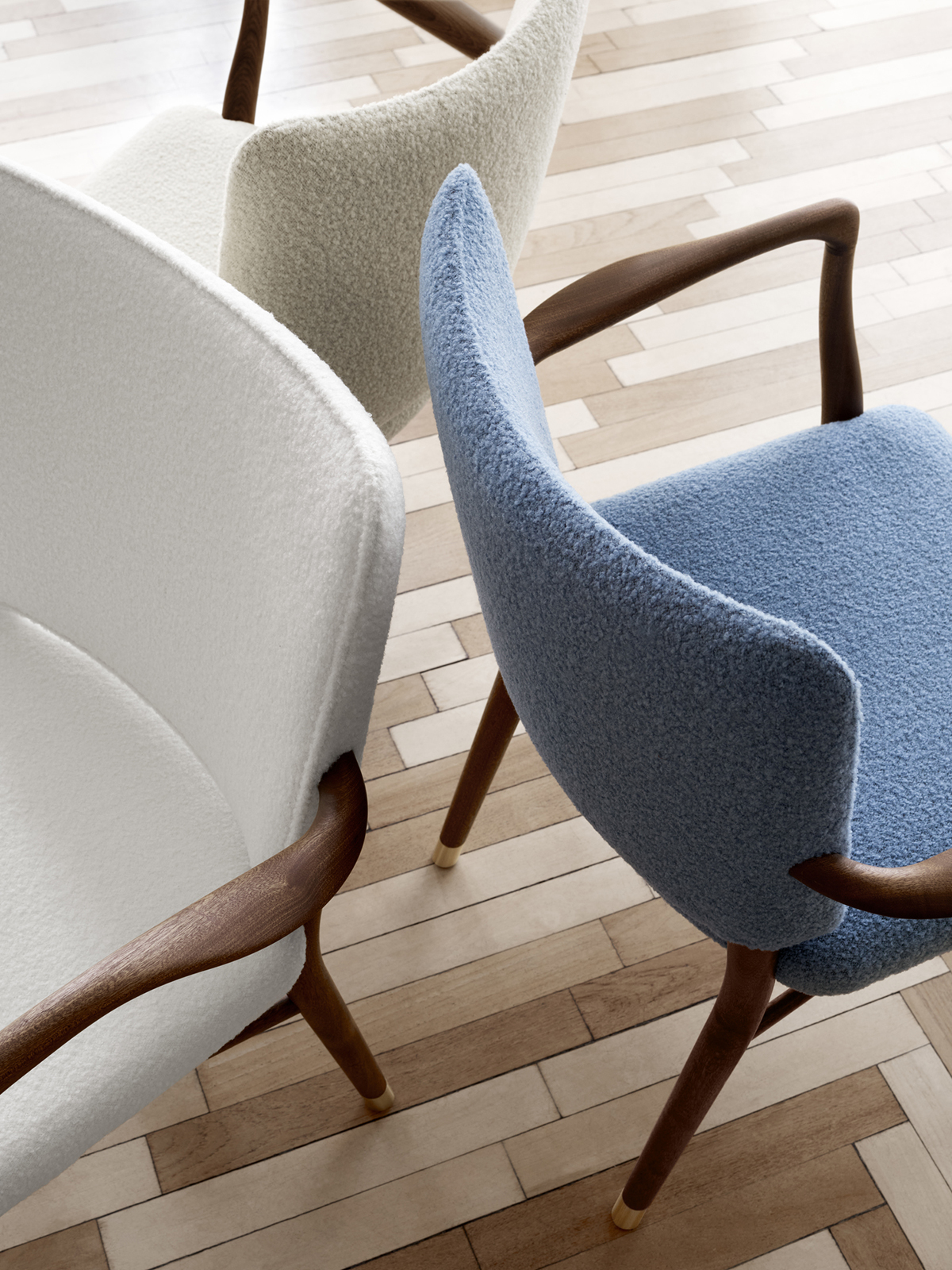 Knud Erik Hansen, CEO and third generation owner of Carl Hansen & Son, says about the launch: "With the VLA61 Monarch Chair, we have introduced another masterpiece by Vilhelm Lauritzen to Carl Hansen & Son's extensive collection of iconic designs. Last year, we launched the Vega Chair and the Foyer Series in collaboration with Vilhelm Lauritzen Architects to mark the studio's 100th anniversary, and the furniture has since received a great reception worldwide. We're pleased and proud to be able to not only spread knowledge of Danish design around the world but present Lauritzen's furniture to a global audience – in line with his democratic approach to design."
Anne Møller Sørensen, partner in Vilhelm Lauritzen Architects, says: "The Monarch Chair is exceptionally beautiful and bears Lauritzen's clear signature. The double-curved armrests and the beautiful organic frame give the chair a clear expression with a supreme level of comfort that embraces you the moment you sit down. We, therefore, chose Carl Hansen & Son to manufacture the chair, even though it turned out to be a challenge, as we never found one of the originals. So, we had to work from the architect's initial sketches, detailed hand drawings, old pictures and auction descriptions. In the process, we have focused on getting as close as possible to the original design while giving the chair a contemporary expression through a clear attitude to materials."