Luca Nichetto – Heritage. 5/2–31/3 2019
Designer Luca Nichetto was born in Venice in 1976 and raised on the small island of Murano. As a child he didn't understand that designing was a profession and something that people worked with. To him it was the norm – present in every part of daily life. With a glassblower grandfather, family, friends and neighbours in the glass industry, there really wasn't anything else. And it was growing up in this environment, with the glassblowing craft and the island's wealth of colour that eventually made their mark on his artistic style.

Nichetto began his studies at Venice's Istituto Statale d'Arte, before moving on to study industrial design at the Università Iuav di Venezia (IUAV). As a student he used to knock on doors together with his classmates trying to sell the sketches they had created at school.
"The knocking on doors went on for several years and we did it without even thinking that we could actually be designers. For us it was just a way to earn a little extra pocket money," says Nichetto. "During my second year at university I happened to knock on the door of Salviati, a glass manufacturer, and Simon Moore who was art directing the brand at the time happened to answer."
"I got insights into how people from different parts of the world
work with, and tackle glass as a material"

Simon Moore saw something special in Nichetto's sketches and offered to buy all of them. This opened the door into the world of glass and a career as a designer. Nichetto eventually got his very first assignment for Salviati, and what he created became one of the company's best-selling glass items ever.
"Through Salviati I got insights into how people from different parts of the world work with, and tackle glass as a material. I think I learned more through them than I had ever learned in school. This really marked the start for the road ahead," says Nichetto.
Over time, Nichetto began freelancing and working as a consultant and product designer for the prestigious lighting company Foscarini. He began creating more than strictly glass creations here and, in 2006, he founded his eponymous studio in Venice.
Nichetto first came in contact with Svenskt Tenn when he moved to Stockhom in 2011 to open a second studio. He describes the new Fusa series as a bridge between Stockholm and Murano. The collection was created with inspiration from Josef Frank's Terrazzo textile print.
"My first thought when I saw the print was that the stones in the motif looked exactly like a mosaic and Murano glass. I highlighted the different formations, combined them and gave them new life in the form of lighting."

At the end of the 1930s, Svenskt Tenn's founder Estrid Ericson held an exhibition with Murano glass. In the Heritage exhibition, Luca Nichetto's artistic heritage and Svenskt Tenn's exceptional design history are intertwined. The exhibition is on now until 31st of March 2019 in the store on Strandvägen 5 in Stockholm.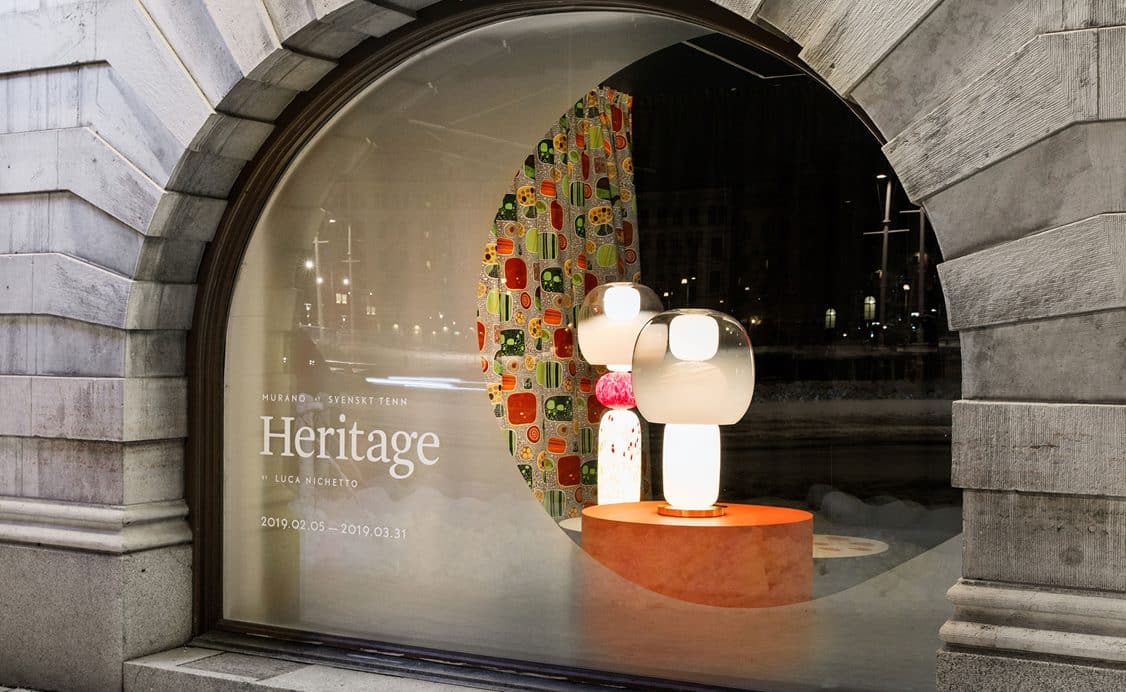 A film showing how the glass elements of the Fusa Collection are created by hand i Murano, Italy.