A NEW AND EXCITING LIFE FOR LILLA ÅLAND
BOLON, ULRICEHAMN, SWEDEN
Visitors from around the world come to Bolon in Ulricehamn, Sweden to enjoy the knowledge, culture and entrepreneurship that has made Bolon into a world famous brand and a leading company when it comes to innovative floor solutions for public environments. Since the start, the development of the company has gone hand in hand with a significant consideration for the environment, visible in products, in factory plants and in those environments that represent what Bolon stands for. Therefore Lilla Åland chairs were a conscious choice when seats were needed for Bolon's Lab Store in 2017, chairs that were then moved from Stockholm to the company's lovely canteen in Ulricehamn.
Bolon's sustainability approach really started when the company was founded almost 70 years ago. It was then that founder, Nils-Erik Eklund started manufacturing rag rugs made from vinyl waste from a factory in Stockholm. Now the third generation of the family, Annica and Marie Eklund, are driving the company. They have had one single goal since they took over the company from their parents; to make Bolon into a design-driven, innovative company and unite the conservative, traditional floor industry with the fashion world's limitless creativity and do so in an environmentally-friendly manner.
From goals to action
Examples of Bolon's "keystones" within sustainability are Bolon Green which was launched in 2009 and is a holistic concept within environmental issues. The concept was developed in collaboration with the environmental consultant Håkan Nordin, who once upon a time founded Greenpeace Sweden.
A new recycling plant was built in the company's factory in Ulricehamn in 2014. A plant that takes care of both our own and other's industrial waste. This year an installation method was also launched, Bolon NoGlue™, a completely new tape adhesive system that makes it possible for customers to take their floors with them when they move and lay them again. Bolon aims, within the near future, to also be able to take returns of these floors for recycling.
It ought to be added that Bolon only uses the most sustainably produced conventional PVC on the market, a material that is completely recyclable.
A new life with Stolab starts in Stockholm
During the Stockholm Furniture Fair 2017, Stolab supplied Bolon's showroom, Bolon Lab Store, on Birger Jarlsgatan in Stockholm with Lilla Åland chairs. There were 60 chairs that we, for various reasons, could not sell as premium items, but which we could breathe new life into with a little polish and new lacquer coating. At the end of the event, the chairs were moved to Bolon's canteen in Ulricehamn.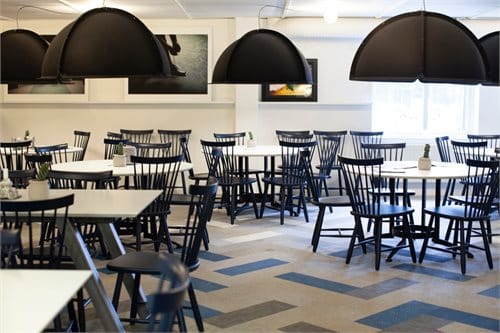 "There are several great Swedish brands that make quality furniture and we really want to help shine a light on these and buy Swedish-made furniture based on sustainability and quality. Lilla Åland is a classic Windsor chair that is perfectly suited to our floors. Also being able to be part of giving a new life to second-rate chairs feels great and we are very pleased with the chairs we now have in our canteen."
Much in common with Stolab
"Our lunch canteen is not just there for the staff. We often have visits from customers and architectures from around the world, and want them to experience good, Swedish design. That applies as well to our guest house, The Lake House, where we also have Lilla Åland chairs. Although we bought these ones completely new several years ago."
"At Bolon we have kept on manufacturing in Sweden as it gives us full control over production, quality and lead times. Thus we have much in common with Stolab."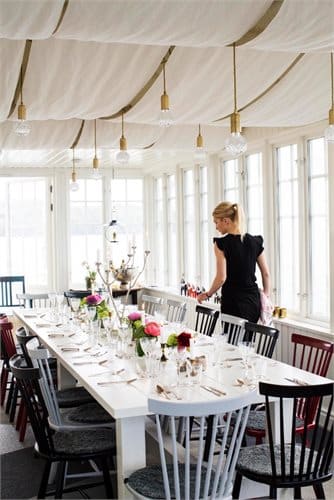 Photo 1: Lilla Åland, New Life™ at Bolon Lab Store in Stockholm 2017. Photo: Bolon
Photo 2: Lilla Åland, New Life™ in the canteen at Bolon in Ulricehamn. With a new lacquer coating in a colour especially selected by the customer, the chairs were as good as new. Photo: Bolon
Photo 3: Lilla Åland Windsor chair in Bolon's guest house, The Lake House, in Ulricehamn. These chairs are not part of Stolab New Life™ but were bought new. Photo: Bolon