During the Salone del Mobile, Swedish design studio Form Us
With Love launched the "Lace Metal" lamp, the studio's first
collaboration with Italian design icon Cappellini.
The idea behind the Lace metal lamp came up while visiting a
Swedish metal working industry called Häfla Bruk – one of
Sweden's oldest companies, established in 1682.
"When we visited Häfla, they had just invented a new technique
of manufacturing expanded metal with gradient sized holes. This
struck us as something very poetic, resembling textile or lace.
We immediately felt that we wanted to make a lamp with this
material, it has great characteristics for a lampshade. We always
wanted to work with expanded metal since it's so rational, there
is nothing going to waste when produced, the holes are made by
puncturing and stretching the metal", says Form Us With Love.
The result is a lamp made out of metal but that has a look of
lightness and fragility. The gradient holes spreads the light in an
atmospheric, almost etheral way.
Founded by Enrico Cappellini in 1946, Cappellini is now owned
by the Poltrona Frau group since 2005, but Enrico's son Giulio is
still the creative backbone of the operation, based in Milan. He
first saw Form Us With Love's work in the studio's native Stockholm.
"I met them some years ago in Stockholm. I went to see a presentation
during the fair in Stockholm and I was fascinated by their
projects," says Cappellini. Now this fascination has grown into a
collaboration and Form Us With Love's first project for the Italian
company.
"Form Us With Love truly represents the Cappellini philosophy of
respect and sensitivity to materials and an elegant design language,"
says Cappellini. "It's simple but never boring."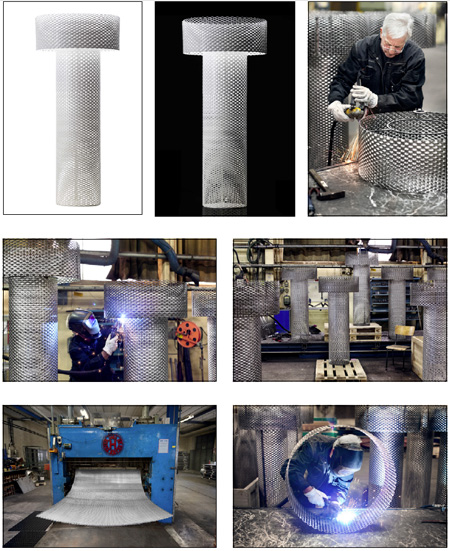 About Form Us With Love
Form Us With Love is a design studio from Stockholm. Started
in 2005 by the trio of Jonas Pettersson, John Löfgren and Petrus
Palmér. The studio aims to challenge the conventional through
design initiatives and their work has been awarded with numerous
international awards. Clients includes companies such as
Ateljé Lyktan, Bolon, Cappellini, DePadova, Design House
Stockholm, Muuto and One Nordic Furniture Company.