KASTHALL DEVELOPS UNIQUE RUGS FOR ACNE STUDIOS
The global design company Kasthall was given the prestigious commission of handcrafting unique rugs for Acne Studios, designed by British designer Max Lamb. A close and creative collaboration between Acne Studios and Kasthall resulted in hand-tufted pieces of art in innovative patterns of shifting shades of blue.
Through the years, Kasthall has developed custom products for several of the world's major fashion houses, including Chanel, Dior and Yves Saint Laurent. When Acne Studios decided to open its global flagship store on Madison Avenue in New York, the British designer Max Lamb was commissioned to design the rugs. These were hand-tufted in the Kasthall design studio, yielding a number of innovative pieces of textile art in shifting shades of blue.
INSPIRATION FROM ART & FASHION
"We drew inspiration from numerous different sources, the key ones being art and fashion. This is a prestigious commission for Kasthall and we are very proud that Acne Studios, Sweden's foremost fashion house, and leading international designer Max Lamb chose Kasthall. We enjoyed a close and creative collaboration on site at our factory in Kinna, where the starting point was a clear vision from Acne Studios, combined with Max Lamb's expressive design language," says Eva Boding, CEO at Kasthall.
THE COLLABORATION WITH MAX LAMB
The collaboration began in 2016, when Max Lamb and the Acne Studios team visited the Kasthall design studio and atelier in Kinna for a workshop, at which Kasthall presented different types of yarns and techniques. The colour shifts in the rugs was crafted using a unique colouring technique developed by Max Lamb in which the colour is drizzled and sprayed on the yarn using PET bottles, giving each rug a unique pattern. The rugs were then hand-tufted in the studio, each given a unique finish using fringes in two different pile heights.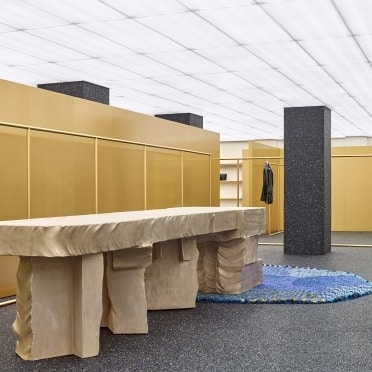 THE RUGS LOOK COOL
"For me it was important to elevate the store design as opening a store on Madison avenue is such a statement for Acne Studios. And therefore I went for gold. The gold needed a soft element and Kasthall was a perfect collaborator to create that softness with the unique rugs. It was a very pleasant process as both Acne Studios and Kasthall share the same Swedish design heritage. And the rugs look cool," says Jonny Johansson, creative director Acne Studios.