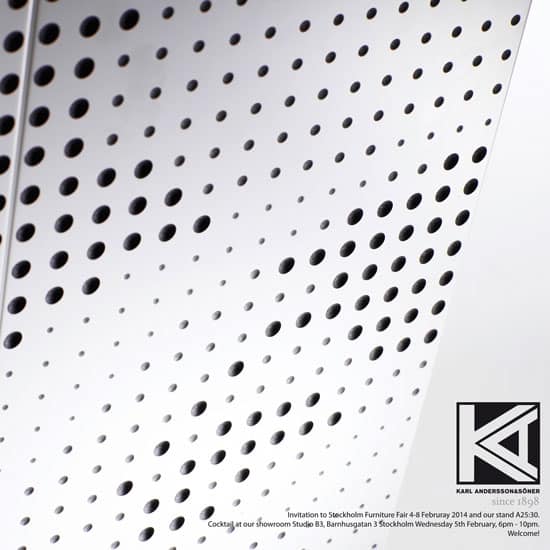 First time in real life news 2014 shows in stand A25:30. Below you have a presentation.
Dizzy is a coffee table on an asymmetrical underframe with a removable tabletop that can also be used as a tray. The sloping underframe creates a truly eye-catching illusion, and the expression of the table differs depending on the angle from which it is viewed.
Inspiration for Lollipop comes from the classic coffee-cup saucer; here the table itself becomes the "saucer" for your cup. Lollipop provides the ideal setting for a coffee break or wherever and whenever you need a small surface on which to put things.
Guess storage has been created with the ambition of surprising all who see it,
letting them experience and envisage something more than a mere cupboard or
cabinet. Some may experience the designs on the doors as nothing more than
randomly placed holes; others will recognise the motif at once.
The inspiration for Cap table comes from those big wooden cable drums. Its name, however, is an allusion to the cap of a mushroom, as these tables can spring up like mushrooms in different sizes, heights, colors and variations to create all sorts of lively and highly individual settings.
Think of Collage as a multifunctional wall decoration. It comprises various functions, such as a mirror, magnetic black or white glass noticeboard for messages and reminders, hooks for your most used clothes and accessories, and a handy little shelf for keys and other odds and ends. These different functions are usually bought separately, but now you can integrate all of them in one and the same basic design, and combine the various modules to make best use of the space at your disposal.
Karl Andersson was born September 8th, 1871. As a certified cabinet maker he started his own workshop in the year of 1898 at the family farm in Berghem, north of Huskvarna. He solemnly promised to only make "well-made furniture, designed to last". Karl Andersson was our father Ingvar's grandfather.The siblings Maria, Sara and Andreas Wadskog are now the forth generation that are making well-made furniture, designed to last. And all manufacturing is done in Huskvarna – Still today.

AB Karl Andersson & Söner
Box 173 SE-561 22 Huskvarna Sweden
Phone +46(0)36-13 25 30. Email: info@karl-andersson.se