KALI by Jasper Morrison
"The table goes with last year's chair from Offecct. It's a simple, straightforward idea based on wood and genuine, honest handcraft, designed to enable local production in Tanzania eventually. It's somewhat pedagogical in its shape, hopefully without being too ordinary."
—  Jasper Morrison
The Kali chair and table are part of our ongoing collaboration with the independent organisation Econef which is working on developing a children's centre in Northern Tanzania. The furniture is currently produced in our factory in Tibro in Sweden, but designed for future local manufacturing in Tanzania to  create local job opportunities.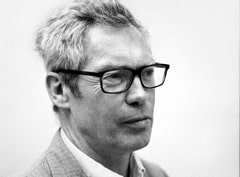 JASPER MORRISON IS ARGUABLY THE WORLD'S LEADING FURNITURE  AND
PRODUCT DESIGNER. His peerless thirty-year career encompasses a vast range of celebrated interiors, exhibitions, publications and products for the world's leading producers. With offices in London and Paris, the Jasper Morrison Ltd design studio currently designs not only for many of the world's leading furniture and product design brands, but also for companies such as Sony, Canon and Samsung, to name just a few.
Kali by Jasper Morrison — chairs and table made with superior, deceptively simple handcraft.