Opening reception: Midsommarafton, June 24, 7–9 pm
Exhibition duration: June 24–July 29, 2011
Gerhardsen Gerner is very pleased to announce a special exhibition project with Scandinavian designer Ingegerd Råman, Orrefors Glasshouse and Skrufs Glasshouse.
Ingegerd Råman is amongst Scandinavia's most distinguished designers. She has designed ceramic and glass collections for Gustavsberg, Johanfors, Skruf and Orrefors.
"My work is always a combination of simplicity, functionality, and aesthetic values," says Råman.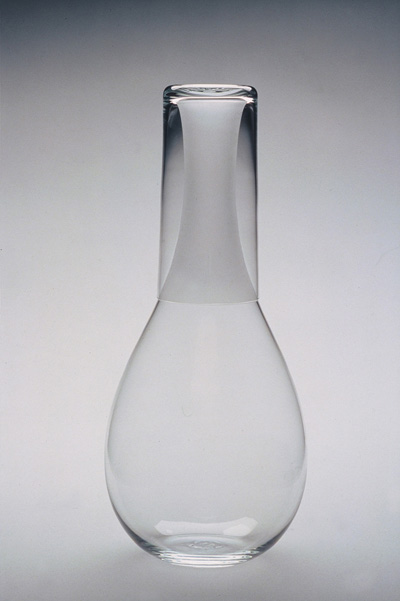 The words "timelessness" and "inwardness" describe the artist's ceramic and glass creations most accurately. Her works celebrate withdrawn, reduced and clear forms, which she develops over time and brings to completion. Function and aesthetic concept are closely bound to one another, and the obvious starting point for her works is human necessity. "My objects don't really come to life until they are used."
Ingegerd Råman's works are distinguished by transparency and simplicity, with the aspect of multifunctionality playing a large roll: the lid of a pitcher can be used as a drinking vessel, the pitcher itself also as a vase. Her best-known object is a bowl that can be used both for drinking and eating. It is also interesting that the pieces can be combined with one another; they are stackable and can be taken apart and reassembled in various combinations.
With Gerhardsen Gerner, Ingegerd Råman will show a selection of glass vases amongst others from the series "Slowfox" and "Snow Painting" (which were developed with the renowned Swedish Orrefors Glasshouse) along with several of her classics for Skruf Glasshouse, for instance water carafes as well as drinking glasses from the Bellman series or Konjak Guld.
"Glass should be human. It is like a shell made of skin."
Ingegerd Råman was born in 1943 in Stockholm, where she still lives and works. She trained at The Swedish School of Arts, Crafts and Design in Stockholm and at the Instituto Statale d'Arte per la Ceramica in Faenza.
Public collections: National Museum, Stockholm; The Röhss Museum of Arts and Crafts, Gothenburg; Smålands Glass Museum, Växjö; Victoria & Albert Museum; Museum of Arts and Crafts, Copenhagen; Riihimäki Glass Museum, Riihimäki; The Corning Museum of Glass, Corning; The Stedelijk Museum, Amsterdam.
Gerhardsen Gerner
Holzmarktstr. 15–18. S-Bahnbogen 46. 10179 Berlin-Mitte, Germany
Opening times: Wed–Sat 11am–6pm and by appointment
Email: office@gerhardsengerner.com
Phone: +49 30 695 183 41. Fax: +49 30 695 183 42