House of Finn Juhl is delighted to announce the relaunch of the Fireplace Chair, a timeless design originally conceived by Finn Juhl in 1946. Despite being out of production for six decades, the chair's distinctive design has been kept alive through the efforts of auction houses and media across the globe, solidifying its status as a highly sought-after design classic. The chair's desirability on the vintage market is no coincidence. With sensual details such as the paper-knife armrest and its lavish, informal comfort, the Fireplace Chair is a true Finn Juhl classic.
During the 1940s and 1950s, Finn Juhl designed a range of furniture for the Danish furniture company Bovirke, including the Fireplace Chair. These were predominantly manufactured in the city of Vejen, a small Danish town with a once-thriving furniture production industry. However, like in many regions of Denmark, most of these manufacturers have since closed.
Determined to preserve the rich tradition of Danish craftsmanship and local production, House of Finn Juhl acquired the Vejen-based and renowned Danish solid wood manufacturer Schou Andersen Møbelfabrik last year. This acquisition has expanded and future-proofed the Danish production of Finn Juhl furniture. The newly acquired facility will be responsible for the manufacturing of the Fireplace Chair, re-establishing the production of Finn Juhl furniture in the city of Vejen.
The relaunched Fireplace Chair will feature an edition of the chair in FSC® certified ash wood and premium Danish leather from Sorensen Leather, reflecting House of Finn Juhl's commitment to quality and sustainability.
The Fireplace Chair will be launched at Salone del Mobile in Milan on the 18th of April.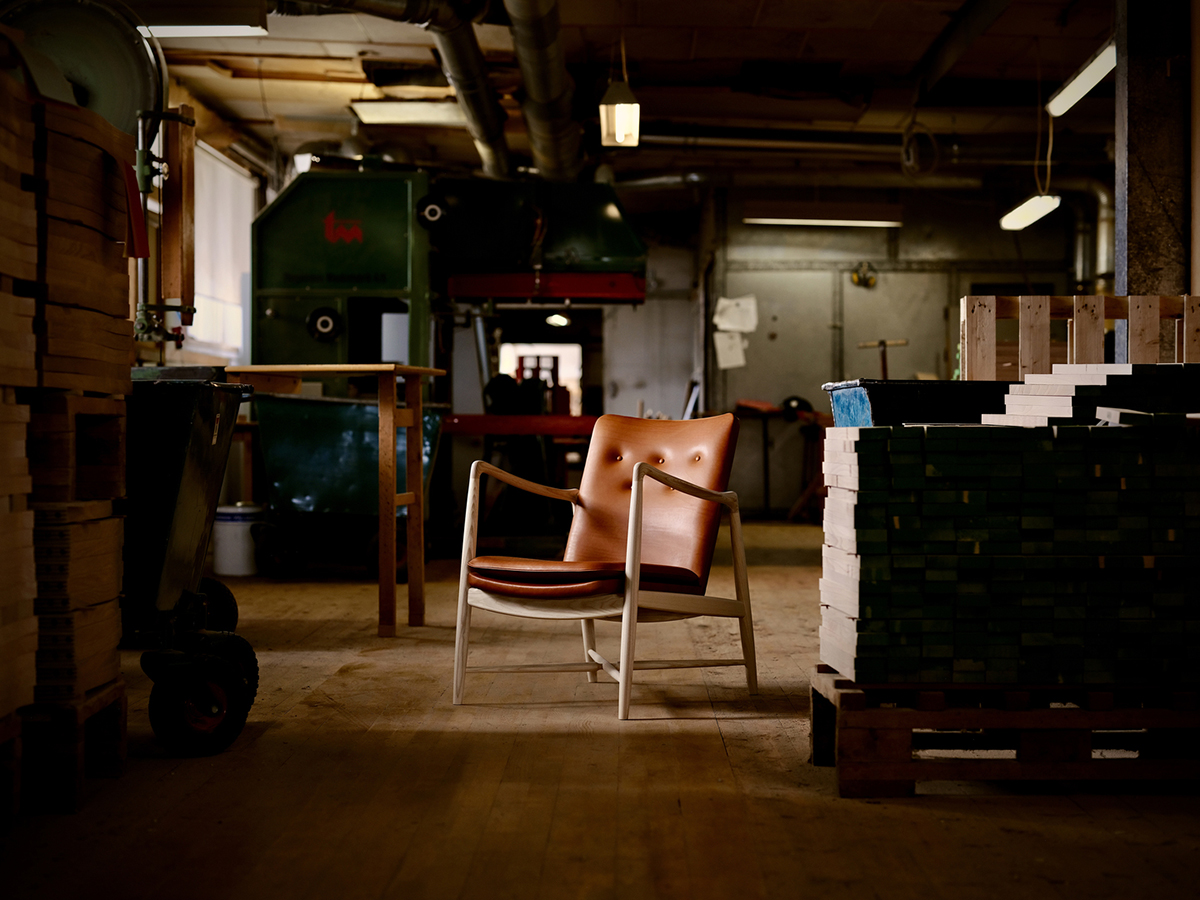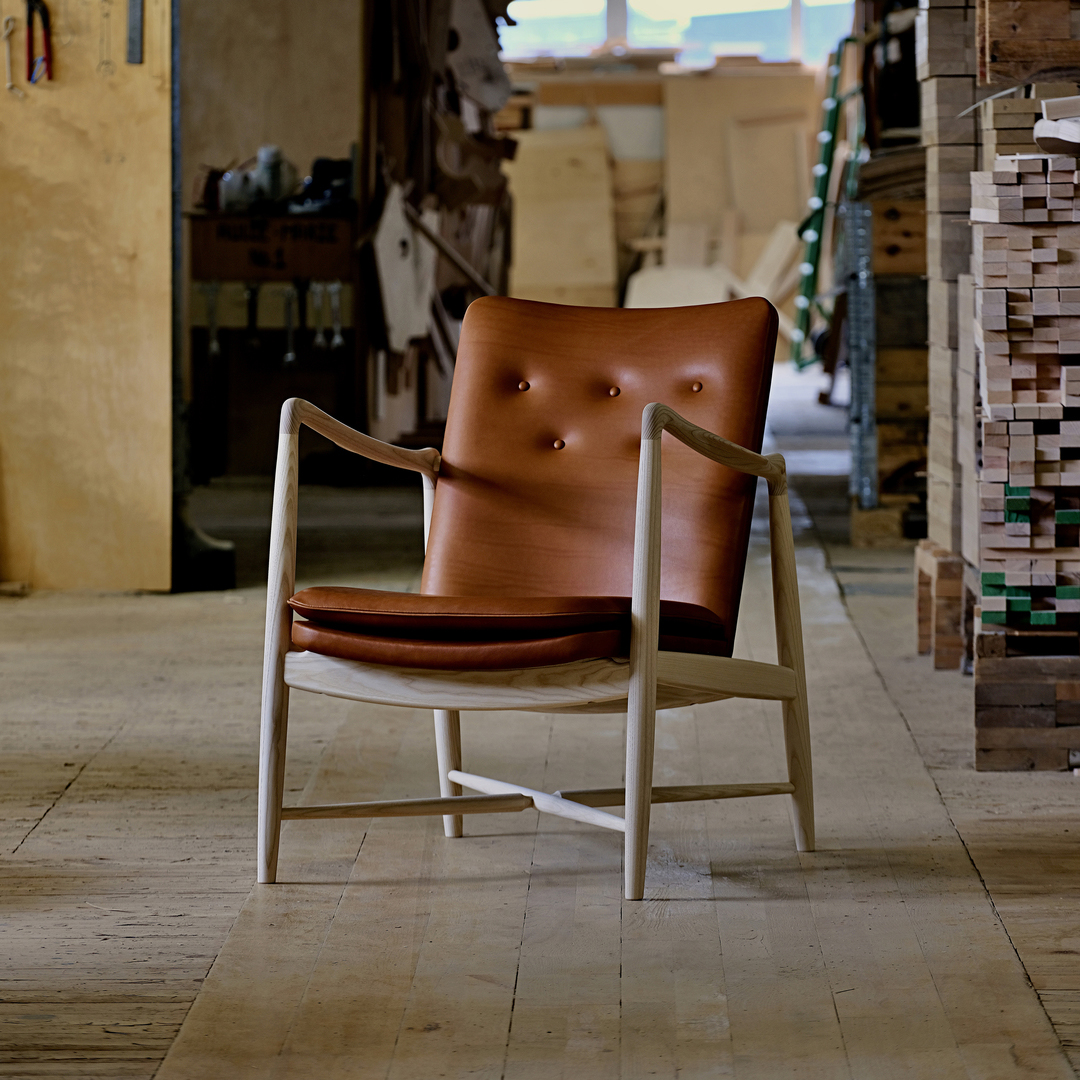 The Legacy of the Fireplace Chair 
When Finn Juhl began his collaboration with Bovirke in the mid-1940s, the alliance yielded some of Finn Juhl's most iconic designs, including the Reading Chair, the 46 Sofa, and maybe most notably, the Fireplace Chair. A chair that effortlessly captures the spirit of Finn Juhl's design philosophy, exuding warmth and fostering engaging conversation. It encapsulates the design traits which Finn Juhl is famous for, such as the separation between the carrying and the carried elements, while adding a playful feature in the form of a graceful cross-brace between the legs, vividly showcasing the unparalleled craftsmanship.
The design for the Fireplace Chair evolved from an armchair that Finn Juhl designed for book publisher Poul Westermann in 1943, which was crafted by Niels Vodder. The initial design featured the characteristic cross-struts beneath the seat but lacked the elegance of its successor. The version of the Fireplace Chair that Finn Juhl later designed for Bovirke, now relaunched by House of Finn Juhl, is also known as the BO59.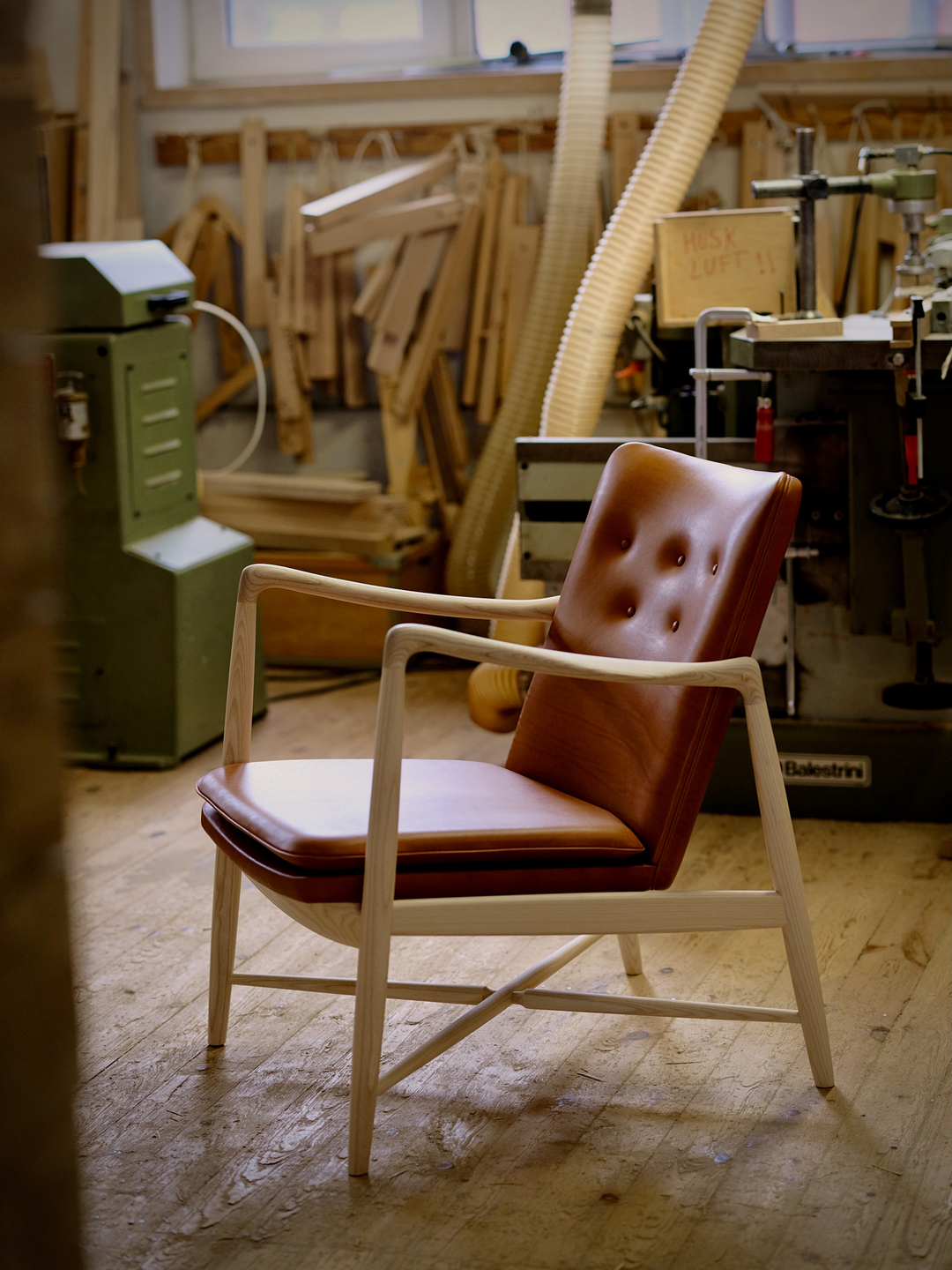 Facts
Design: Finn Juhl
Name: The Fireplace Chair
Year: 1946
Materials: Launched in FSC® certified ash with Danish VITA leather, from Sørensen Leather.
The chair will also be available in oak or walnut, upholstered in leather or textile.
Dimensions: H: 81 cm x W: 65 cm x D: 77 cm x Sh: 41 cm