Henrik Thor-Larsen
Industrial designer and inventor. Born in Roskilde, Denmark, in 1932. With the aim of becoming a graphic designer, Thor-Larsen underwent a 4-year apprenticeship which was concluded with a qualifying piece of work for membership of a guild as a journeyman. He got maximum marks. After a few years' practice in Denmark, he worked in Norway and Switzerland. It was 1956.
Thor-Larsen designed and built a very well-received sports and racing car in plastic on a Porsche chassis in Stockholm.
Thor-Larsen was discovered by Saab and was asked to design the seats for the company's new product, the slightly more sporty model Sonett. His interest then turned increasingly to industrial design and it was not a big step from car seats to easy chairs.
After many years of waiting, he can now present Henrik Thor-Larsen's sensational easy chair Ovalia "egg chair" from 1968.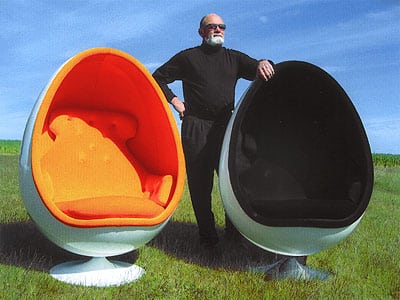 Ovalia was exhibited for the first time at the Scandinavian Furniture Fair in 1968 and was an immediate success. The chair was sold up to 1978 and was in demand throughout the world. It is just as contemporary today as it was then and is back in the spotlight for its relaunch. Apart from a few improvements, there have been no visible changes to the design.
Since Thor-Larsen didn't take out a patent for his designs, Ovalia was copied by several companies. Thor-Larsen's Ovalia and its foot stool was produced by Swedish manufacturer Torlan until 1978. From 2005 the chair is manufactured by Thor-Larsen's own company Ovalia.