Oak cabinet by Hans J. Wegner for Mikael Lauersen, Denmark 1940s, China chair for Johannes Hansen, Denmark around 1944-45, armchair "The Buck Chair", "JH523" for Johannes Hansen, Denmark, 1950s.
Bukowskis is pleased to present a unique and very comprehensive private collection of furniture and design by the Danish design icon Hans J. Wegner. The exhibition includes more than 140 design classics with highlights such as "The Buck Chair", which was shown at Snickarmästarutställningen in 1955, as well as a rare edition of the "China Chair" produced in just a few copies – collector's items that comprises a long era of time and therefore narrates an exciting history about Wegner's career and development. The collection will be shown at Bukowskis during Stockholm Summer Design Week between 21–27 August and will be sold online on 28 August.
– For me, as a design connoisseur, it all started with Hans J. Wegner, which I have been collecting since I was thirteen years old. The collection, that will be up for auction at Bukowskis, is an outcome of several years intense search for the rarest pieces of furniture, encounters with the family, designers and craftsmen along with a delving into literature and early documentations from different archives. With this exhibition I want to inform about the Danish golden design era from the 1930s until the 70s, says Lasse H. Andersen, the collector whom entrusted Bukowskis with the prestigious mission of exhibit and sell this Wegner collection.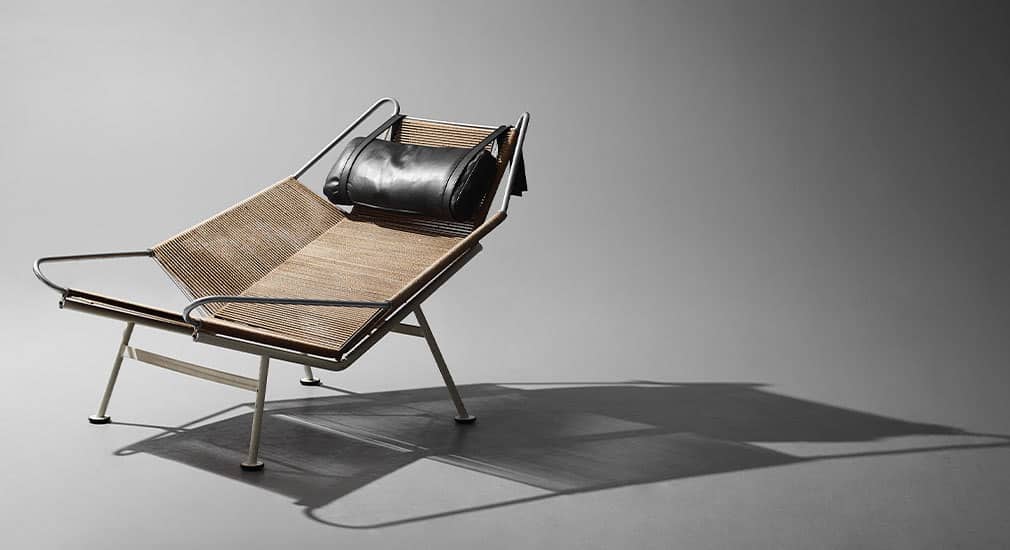 Armchair "Flag Halyard/Snørestolen" model "GE 225" for Getama, Denmark.
The collection in its entirety tells a history about an international acknowledge design tradition and its progressive development during the 20th century. A chair made by Hans J. Wegner represents much more than just a chair. His furniture is a tale about Danish furniture traditions, producers, crafts and society, along with an illustration of the new industrial methods which were introduced during the 1940s, 50s, and 60s.
– Abroad, this period of time is called "Danish modern". A period that defines a chapter in design history where Denmark was noticed worldwide for its groundbreaking modern furniture. In my opinion, one of the most interesting chapters is about Hans J. Wegner, therefore let us tell and preserve the history about "Danish modern" before it is forgotten. With this auction you have the opportunity to become a part of the history, continues Lasse H. Andersen.
Danish modern furniture from this period of time also illustrates how the lack of material forced the cabinetmakers and designers to rethink. Above all they used the quality of the Scandinavian materials and combined it with exquisite craftsmanship, new ideas that led to the Danish design's international break. Except from displaying skillful craftsmanship, Bukowskis can also present several pieces of furniture with provenance of great importance, such as the circumscribed interior that Wegner designed for Århus City Hall, furniture exhibited at Snickarmästaruställningarna in the 1940s and 50s, along with selected furniture from Wegner's own home and family.
– It is inspiring to work with such a comprehensive collection by only one designer and through the collection re-discover Wegner's fantastic ability to be relevant in his present-time but also how he always impelled the idiom further. The collection includes lighting, storage furniture, chairs, tables and other types of objects which shows the best of the Danish carpenter traditions with the most fantastic details, but also innovation within manufacturing processes and new materials, says Jonatan Jahn, specialist modern and contemporary design, Bukowskis.
With these exhibitions and projects, Hans J. Wegner got his major international breakthrough and subsequently become a prominent figure for future designers and craftsmen. Today, Wegner is a central designer for design collectors all over the world.
As the leading auction house in Scandinavia, it is fantastic that Bukowskis is entrusted with selling this Danish design treasure. The collection has been highly recognized in Denmark and is one of the most comprehensive and unique collections of its kind. We are all tremendously enthusiastic about the upcoming exhibition and have great hopes about the auction, says Casper Behrendtzen, Bukowskis' representative in Denmark.
Bukowskis – where ­the collections are sold!