Haiku Low in beautiful fabric combinations
GamFratesi have identified the textiles which they think should be used together to create the ultimate Haiku Low. Stine Gam and Enrico Fratesi have combined close weaves, eye-catching structures and colours which marry Danish tranquillity with Italian flirtatiousness. A colour scale which brings together off-white and black, indigo with a touch of grey, yellow and white and, finally, a dusty rose with threads of rust, green, blue and grey.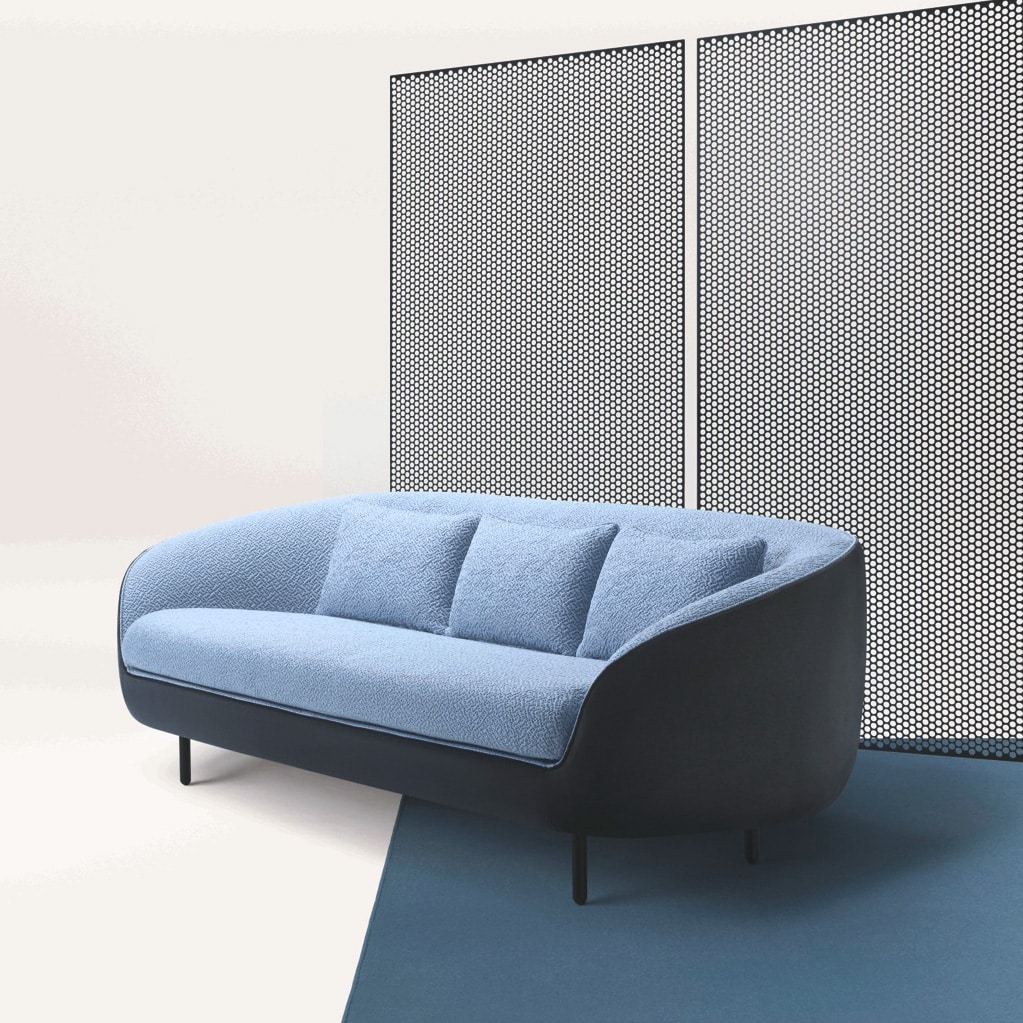 Fredericia is delighted to welcome you to GamFratesi's personal winter collection
Haiku Low is distinctive and very recognisable with its rigid shell, soft interior and pointed legs – a striking design equally suited for textiles which are either classic, surprising, elegant or subdued in character. GamFratesi have chosen their favourites!
The duo has explored the very latest collections from the Danish textile manufacturer Kvadrat, selecting textiles from the Belgian designer Raf Simons, the Dutch weaver Frans Dijkmeijer, and the Swedish textile designer Åsa Pärson. International designers selected by an international design duo.
Haiku Low is perfect for combining two textiles, as its sleek sculptural exterior becomes even more interesting if its welcoming and soft interior is upholstered in a fabric with a contrasting structure and colour. According to GamFratesi, Haiku Low acquires an even more refined and finished look with a mix of tone-in-tone colours. The duo has therefore chosen different textiles, where yarns and weaves stand out from one another, but where the colours tie them together.
GamFratesi is presenting three Haiku Low looks which are sure to earn the sofa a place on the international design scene this winter.
White allied with black is one of the big trends this season, and marks the return of white furnishing fabrics. A graphic combination of the two contrasts in a new and challenging way, where an uneven stripe on Haiku Low ties in well with a rectangular pattern on the inside of the sofa.
As a contrast to the black and white and ultimately classic look, GamFratesi has combined two shades of indigo for a new and exciting look. On the shell, this indigo colour is broken by shades of white, yellow and grey against a coarser weave on the inside where the bright blue is toned down with yarns of white and grey.
By contrast, the white thread is not used in the dusty rose version, where two different weaves meet, with threads in orange, blue, grey and green. Three very different upholsteries which, according to GamFratesi, refine Haiku Low and will make it a sure hit on the international design scene.