With its low-slung wooden frame and nautically evocative rope seat and backrest, designer and woodworker Mathias Steen Rasmussen's breakthrough MR01 Initial Lounge Chair has begged to be taken outside since its creation. Two years after launching the indoor version, Rasmussen and GUBI have responded to demand and developed a new variant in iroko wood, specially constructed for use outdoors.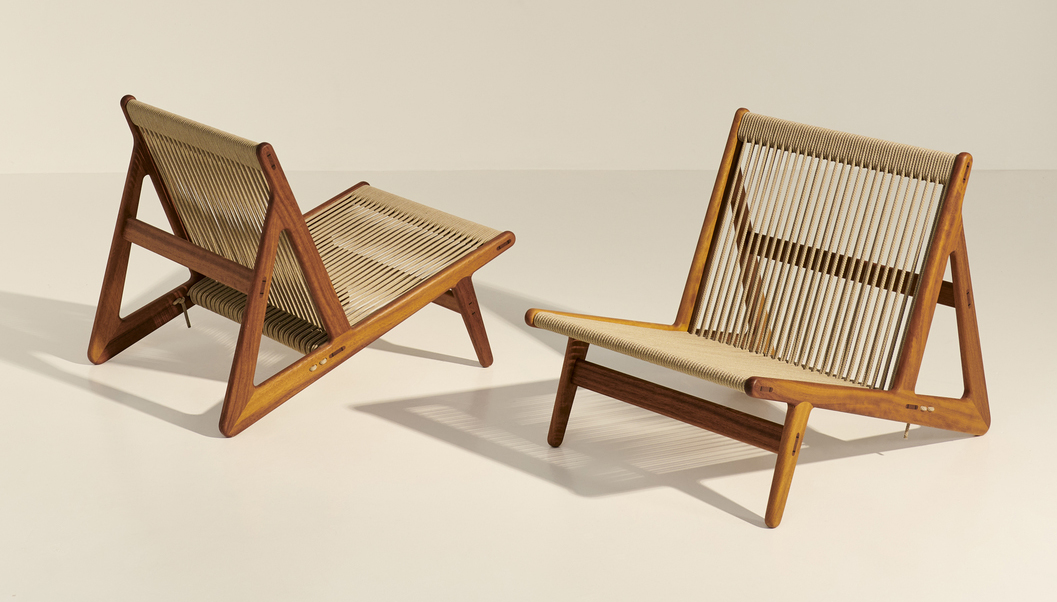 Rasmussen conceived the MR01 as a lounge chair that could be used while meditating – a comfortable, gently inclined, low lounge seat in which one could relax, feet to the floor, and relish the calming sensation of floating while remaining grounded. The lightweight chair was always intended to be versatile and nomadic, traveling easily around the home as the user wishes. With the addition of the MR01 Initial Outdoor Lounge Chair, the comfort, flexibility, and sculptural beauty of Rasmussen's groundbreaking design can now be enjoyed outside.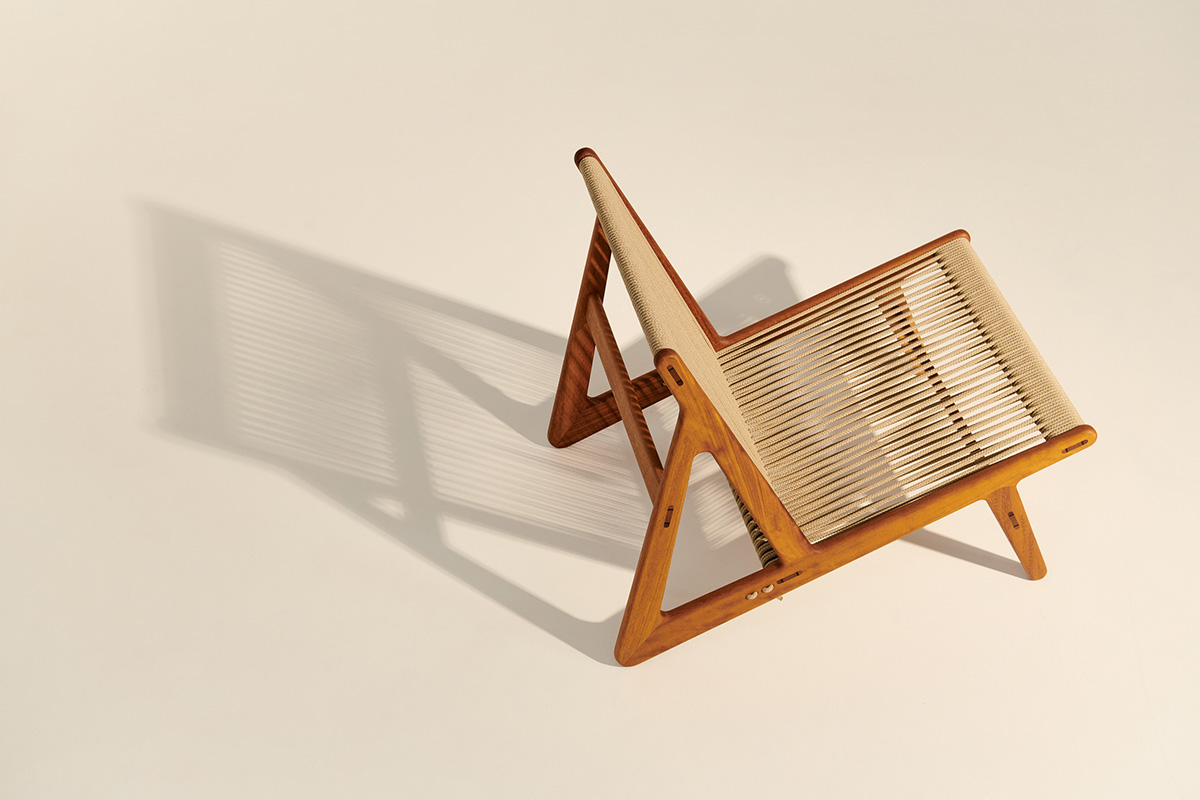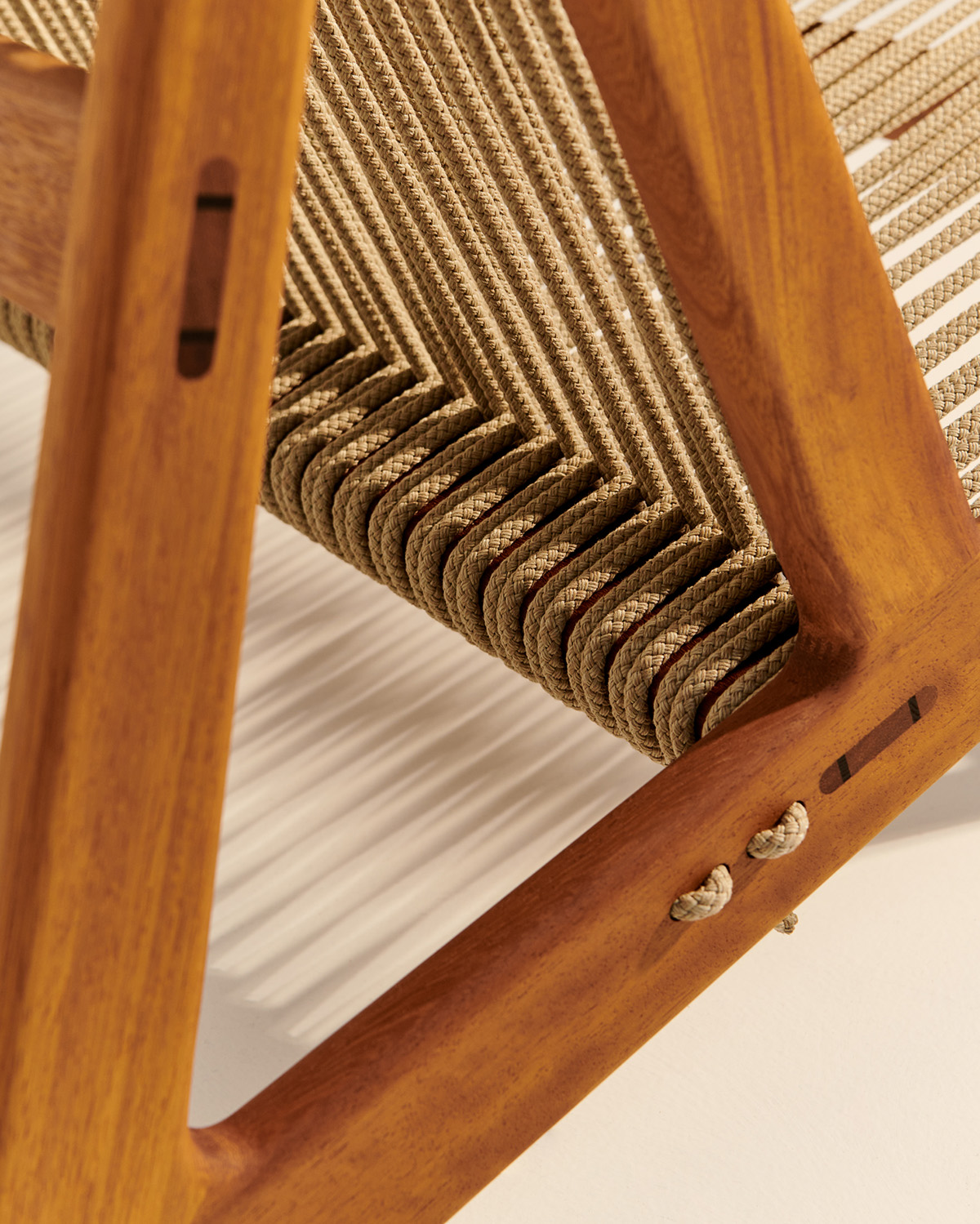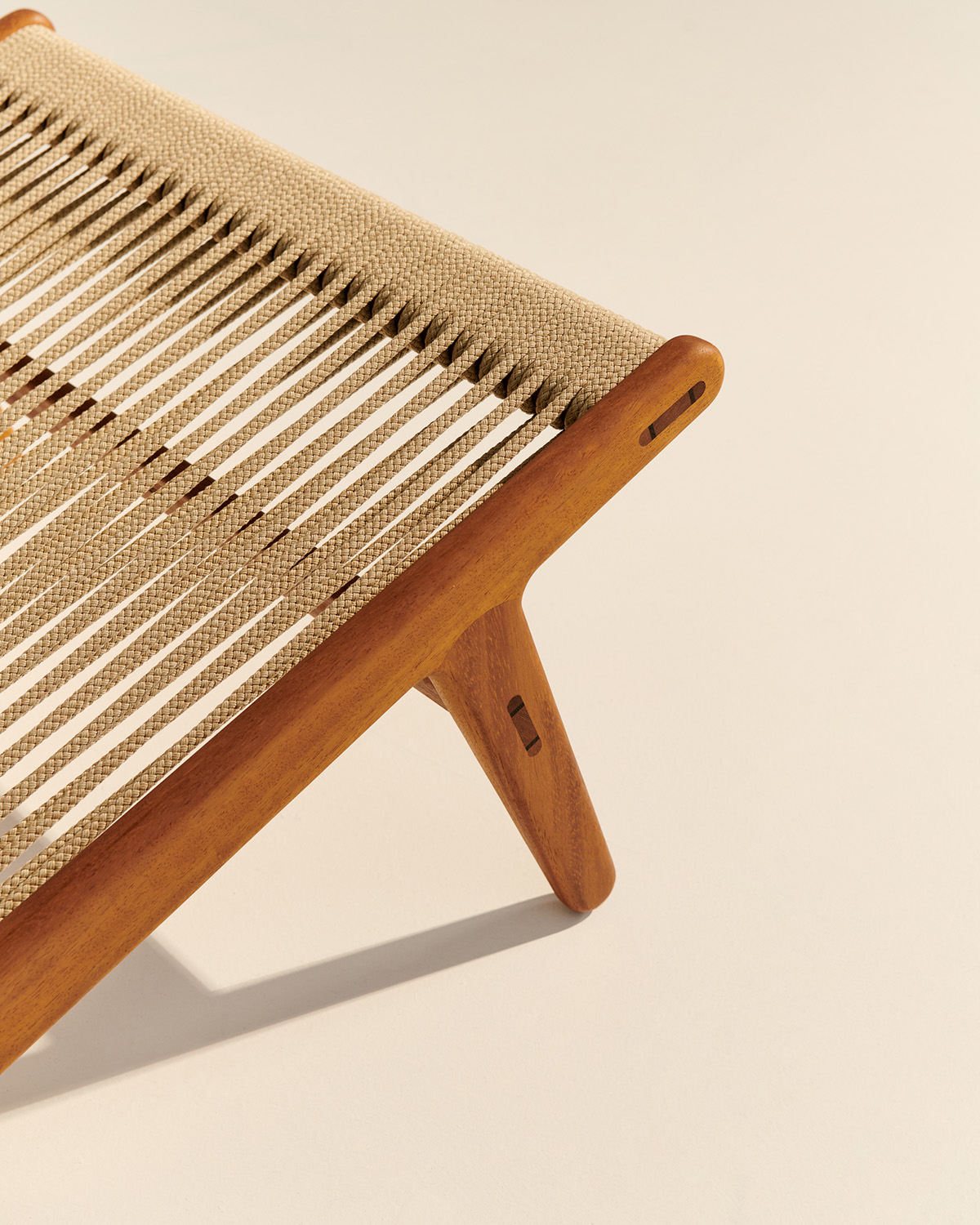 "I always saw the MR01 Initial Chair working as a hybrid between in- and outdoors, so I'm very happy to launch the outdoor edition with GUBI. I hope people will discover the nomadic aspects of the design – that they will move it around, creating new spaces to dive into and relax that will bring them closer to nature."
– Mathias Steen Rasmussen, designer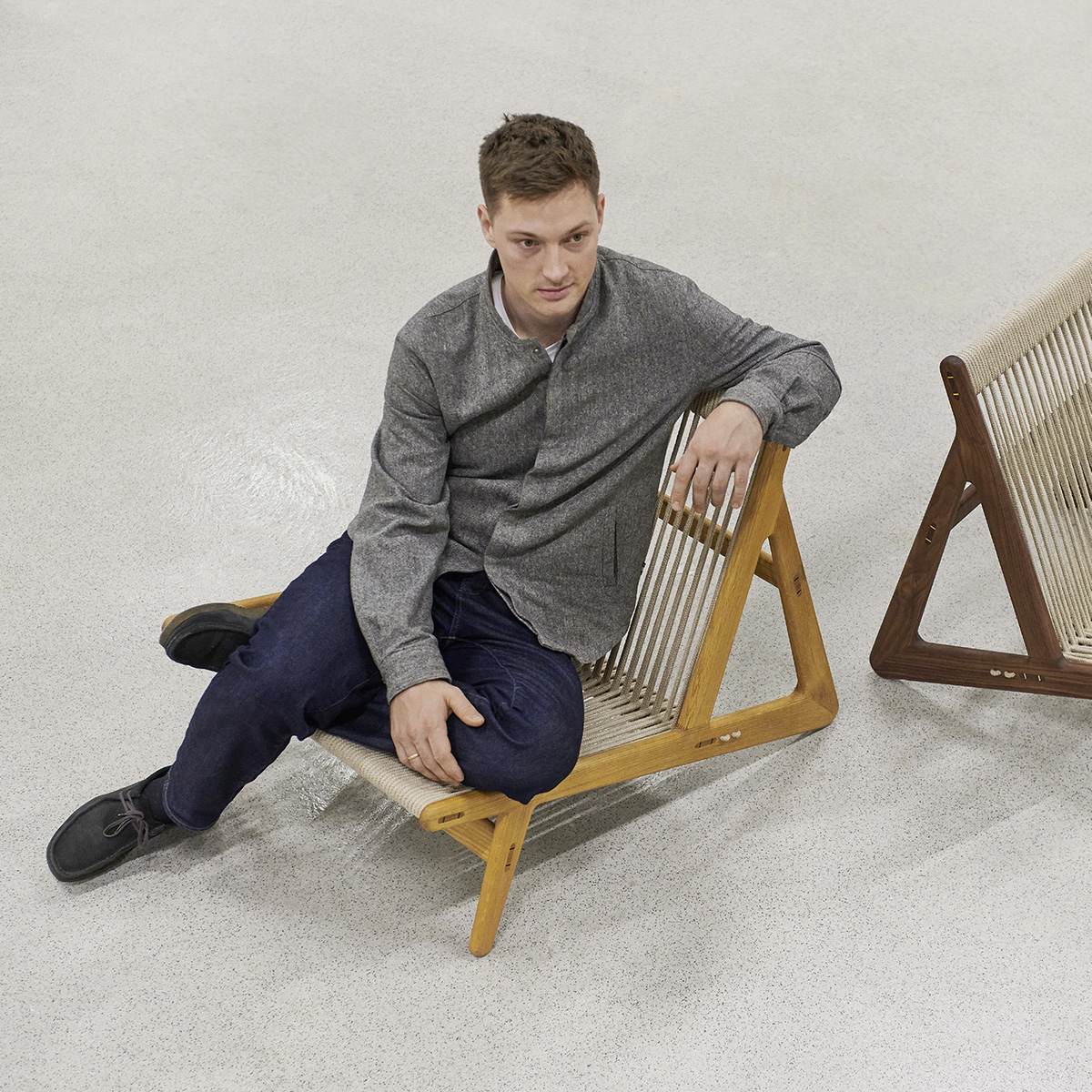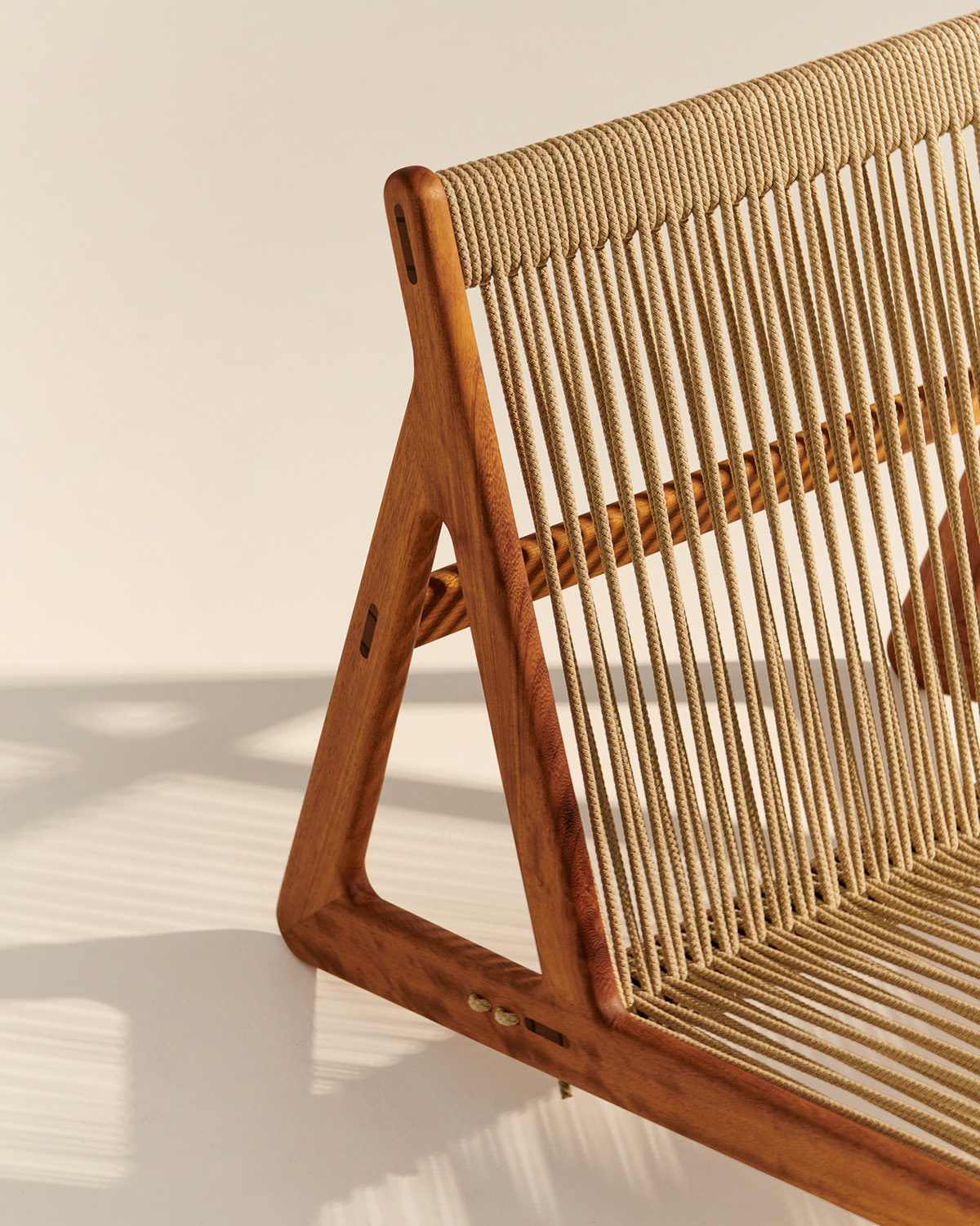 Where the frame of the indoor edition is made from oak or walnut, the MR01 Initial Outdoor Lounge Chair is crafted from FSC®-certified iroko (FSC®-C176589). This wood has proved itself ideally suited to Rasmussen's design, maintaining its strong silhouette through the transition outside, and helping to emphasize the MR01 Initial Chair's sculptural quality.
Known for its lively color expression, iroko is a naturally oil-rich hardwood that is highly durable and resistant to the elements, hence the fact it is frequently used in boat building, for outdoor decks and terraces, and to make premium outdoor furniture. Part of the beauty of iroko lies in its wide-ranging color spectrum – from a light brown akin to oak to a much darker, more teak-like shade. Over time, iroko timber patinates beautifully with time, taking on a coppery tone as it ages.
"The texture of iroko is calm and emphasizes the sculptural lines and qualities of the chair. Iroko has that exotic vibe that you instinctively link with durable, high-quality outdoor furniture. It naturally contains a high level of oils, making it resistant to the natural wear and tear of the elements, and it patinates beautifully over time."
– Mathias Steen Rasmussen, designer
As with the indoor edition, the MR01 Initial Outdoor Lounge Chair's frame is constructed without the use of screws. A gifted woodworker, Rasmussen developed the design using techniques from the artisanal discipline of cabinetmaking, with wedged mortise and tenon joints attaching the five cross bars to the open-triangle side pieces. This results in a geometric, materially honest, and structurally transparent form that demonstrates the craftsmanship of its making from every angle it is viewed from, and which creates an enchanting play of light and shadow as it sits in the sun.
"Mathias is an extraordinary young designer, and the MR01 showcases his exceptional skills as a craftsman. Architects loved the indoor edition from the moment it launched for its versatility and simplicity, and many asked GUBI for a version they could use in their outdoor spaces. This is now a possibility. The iroko version is beautiful, well-crafted and works brilliantly everywhere you put it – it's the perfect expression of GUBI's approach to alfresco living."
– Marie Kristine Schmidt, Chief Brand Officer at GUBI
To endure life outdoors, the MR01's signature linen rope that comprised the seat and backrest has been replaced with custom-made high-performance polyester with the same look and tactility. This material is waterproof, making it perfect for the poolside; UV-resistant, so it will not fade over long days in the sunshine; and mold-resistant, which means it will not degrade. An anti-deformation core prevents the rope stretching over time.
Like the organic rope used in the indoor edition, the outdoor rope is braided from three sets of yarn, and follows the contours of the chair, fastened in place by being run through four holes in the frame. This rope seat and backrest is highly ergonomic, allowing for multiple sitting positions, and open to the flow of air.
"The original intent for the MR01 was to design a lightweight meditation chair – easy to move around, airy, and where you can touch the ground while sitting in it. Where better to do that than in the outdoor setting?"
– Marie Kristine Schmidt, Chief Brand Officer at GUBI
The chairs can be deployed individually, arranged in pairs, or in clusters to create relaxing zones for outdoor lounging. Its waterproof status makes it ideal for poolside use – somewhere one can sit comfortably in swimwear and make the most of long summer days in the sunshine.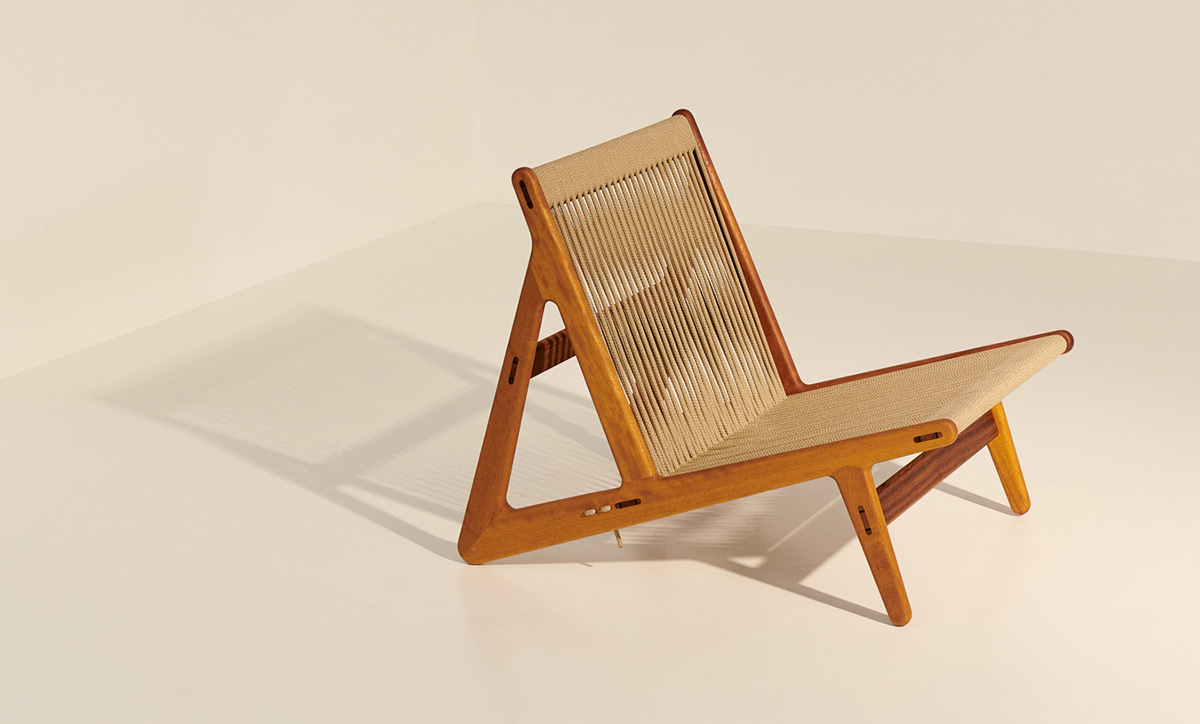 Mathias Steen Rasmussen
Mathias Steen Rasmussen (born 1990) is a young Danish designer with a seasoned and rigorous approach to furniture design. As a trained cabinetmaker, wood is usually Rasmussen's point of departure, and his philosophy is "honesty in construction". This means keeping the design process open to what an object consists of and how it is constructed, often with an affinity for showcasing the naked grain of the wood and visible joints. He often brings in other natural materials such as glass, stone, and rope as textural contrasts, resulting in an aesthetic dialogue between colors, techniques, and surfaces. With an earnest respect for his materials and a keen sense of balance in form and function, his work respectfully nods to mid-century Danish design.