The design studio Form Us With Love was commissioned to design a concept for the strategic development of Greenhouse, the fair's hall for independent, unestablished designers. Together with students from Berghs School of Communication, they developed an activity that involves a one-year mentorship program.
During the fall, Form Us With Love worked with students from Berghs to develop an activity that takes Greenhouse to the next level. Together with the students Fredrik Nyhlén and Sarah Bengtsson from the course Strategic Design, Form Us With Love has developed an activity including a mentorship that lasts one year.
"If we had had the opportunity to get some guidance and concrete advice or been given a push in the right direction, both in terms of the concrete side of the design profession and getting some simple tips from someone who has worked a few years in the industry, it would really have meant a lot. Instead of having to create all of our resources and experiences from scratch," says John Löfgren, Form Us With Love, which exhibited in Greenhouse 10 years ago.
Five mentors with many years of experience in the industry will be appointed for Stockholm Furniture & Light Fair 2017, and they will each select a protégé the first day of the fair.
Greenhouse also has a new graphic profile. It was created by Filip Lindén and Joel Wennström from Berghs.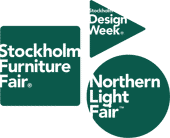 Spara
Spara
Spara
Spara
Spara