Day Dream – this spring's trend theme at Formex
This spring's trend theme Day Dream represents all that's simple, lightly floating, functional yet poetic. The shapes are pure, minimalistic and sculptural with rounded edges – the tightly structured is softened. There are also many quilted, fluffy and huggable elements – cuddly is the new black!
Day Dream, this spring's trend theme at Formex on 15 – 18 January 2014, paves the way for a more contemplative outlook on reality. By noticing the beauty all around us, we open ourselves to creativity and commitment.
"In today's society, with its ever-increasing transparency, you need genuine commitment to achieve your goals. By noticing the beauty all around us, we open ourselves to creativity and admit a more poetic reality. A contemplative outlook liberates our imagination and our dreams; it's when we listen to them we discover our commitment," says new Formex Event Manager Christina Olsson.
The dream-inducing landscape is colored using a palette of combinations. Pastels are teamed with clear neutral colors, harmonizing shades of pink with some contrasting explosive color that's disturbingly eye-catching and various pastel colors with a strong accent color to cheer things up.
Materials consist of powder matte fabrics, sheer and transparent or perforated surfaces. There are also new, unexpected encounters between glossy, lacquered, glass, ceramics, white marble and pale woods.
Day Dream – vårens trendtema på Formex
Vårens trendtema Day Dream står för det enkla, det lätt svävande, det funktionella och på samma gång poetiska. Formerna är rena, minimalistiska och skulpturala med rundade hörn, det stramt strukturerade mjukas upp. Det är också mycket quiltat, fluffigt och omfamnade – gosigt är det nya svarta.
– I dagens samhälle med en ständigt ökande transparens gäller det att ha ett äkta engagemang för att nå sina mål. Genom att betrakta skönheten omkring oss öppnar vi för det kreativa och släpper in en mer poetisk verklighet. En kontemplativ inställning frigör fantasin och våra drömmar, det är när vi lyssnar på dem vi hittar vårt engagemang, säger Christina Olsson, ny projektchef för Formex.
Det drömfrämjande landskapet färgläggs från en palett av kombinationer. Det handlar om pasteller ihop med rena neutraler, rosa nyanser ton i ton där någon knallig ton bryter fulsnyggt och olika pastellfärger med en stark accentfärg som piggar upp.
Materialen är pudermatta textilier, skira och transparenta eller perforerade ytor. Det är också blankt, lackat, glas, keramik, vit marmor och ljusa träslag i nya oväntade möten.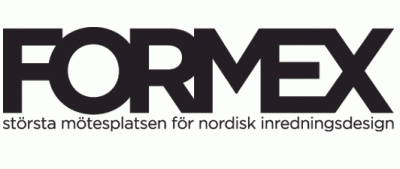 Formex – the largest interior design fair for Nordic design. The fair is a meeting place for 850 exhibitors, 25,000 national and international visitors and over 800 media representatives. Formex is a trade fair that is open for anyone who is active in the following areas: gifts, home textiles and furnishings. Minimum age 15 years.