Food for the future is the theme of the exhibition Food for Thought in which students at the Visual Communication programme have interpreted research by the Beijer Institute on food production, consumption and behavioral change.
The exhibition is shown at Svenskt Tenn in Stockholm 14-21 of April.
Visual communication gives new perspectives to research 
In the exhibition, visual communication provides new entrances to current research. Complex information has been transformed by students into artistic projects inspired by the researcher's way of thinking in scenarios. Together, they want to create a greater understanding of the behavioral changes that, according to research, are already needed today for individuals and society and for how the attitudes of today are connected to the changes of tomorrow. What we will eat in the future and how the food will be produced concerns us all, which is also the topic of the UN Food Systems Summit which is organized by the UN for the first time this year.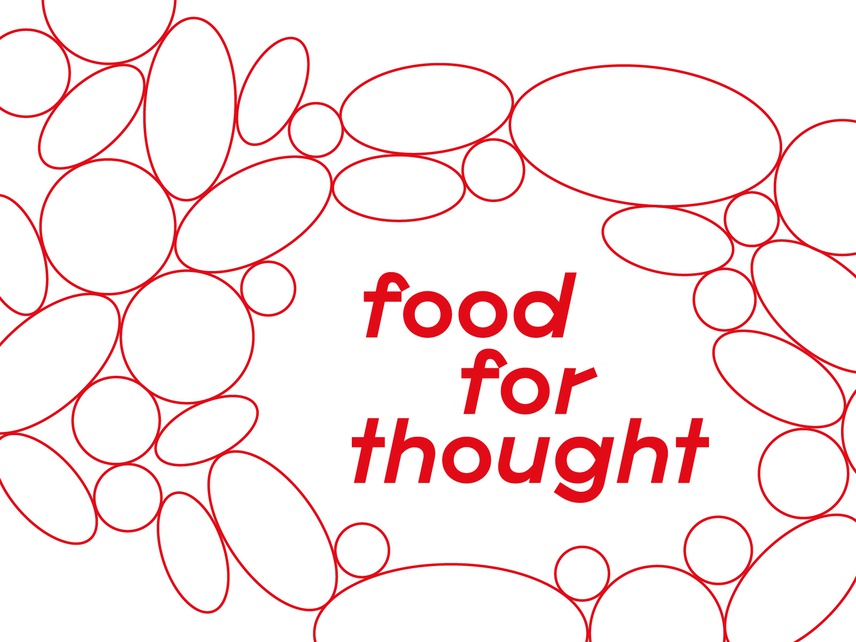 Communicative approaches that want to motivate climate-smart choices
Many of us can probably recognize that it can be difficult to make climate-smart decisions. Not least in the grocery store. But what if I as a consumer could get better help in my choices? For example, through packaging that is completely honest with its content and climate impact? Or by getting a straight and simple answer to where the food actually comes from and how and when it is produced? Can such a simple thing as a differently designed shopping basket, with a compartment for vegetables that make up half the basket while the compartment for red meat has an almost non-existent space, influence me to make more climate-smart choices? These and more communicative approaches to the Beijer Institutet's research make up the exhibition Food for Thought, that wants to motivate you and me to make better choices for the climate.
Exhibition at Svenskt Tenn April 14-21 — prebook your visit 
Only two visitors at a time in the exhibition. Please pre-book your visit via this booking system. The exhibition is open during the store's opening hours at Strandvägen 5.
Participating students & tutors 
Alexander Peri, Alva Nylander, Annabella Gustafsson, Clémentine Berglund, Eric Rösmark, Hedvig Moberg, Joel Eriksson, Jonna Zeitler, Leonard Ekenberg, Linnéa Jakobsson, Maja Schein, Markus Bergh, Sara Solén, Sara Bris and Selvi Albayrak.
Emmy Wassénius, researcher, Malin Jonell, researcher, Patrik Henriksson, researcher, Therese Lindahl, researcher, Julia Urbán, production leader Guldägget, The Swedish Association of Communication Agencies.
About Svenskt Tenn & the Beijer Institute  
Svenskt Tenn is owned by the Kjell and Märta Beijer Foundation and all profits that the company generates go to research and the preservation of Swedish craftsmanship. One of the institutes funded through the foundation is the Beijer Institute at the Royal Swedish Academy of Sciences, which works for a deeper understanding of the interplay between ecological systems and the development of society and the economy. The goal is to find ways towards sustainable development.


Beckmans College of Design Stockholm has long been a leading design college in Sweden and a meeting point for creative and artistic progress with significant relevance to society and its development. A venue devoted to promoting the knowledge that is associated with praxis-based design on an artistic foundation, research and questioning.