VISUAL MOTION, PASTEL SHADES AND NEW GREEN INNOVATION
Swedish design company Bolon announces the release of their latest flooring collection Flow – and with it an innovative development within recycling. Inspired by the timeless mystery of our oceans, Flow highlights design fluidity, visual motion and soft pastel shades. This is partly achieved by the use of a transparent warp that allows the weave's subtle colours to shine through, creating an overall impression reminiscent of a tranquil, watercolour vista. Chief Creative Officer Marie Eklund explains –
'Flow's design characteristics create a look that adds natural harmony and grace to any interior. Also, the fact that every article in the collection can be combined beautifully without adhering to strict pattern based laying makes it amazingly versatile.'
As well as making the collection available in rolls and tiles, the company is using the launch of Flow to introduce its new tile shape, 'Scale'. Celebrating the natural, glistening beauty within the ocean, it is the company's first organic tile shape and features a soft, rounded form.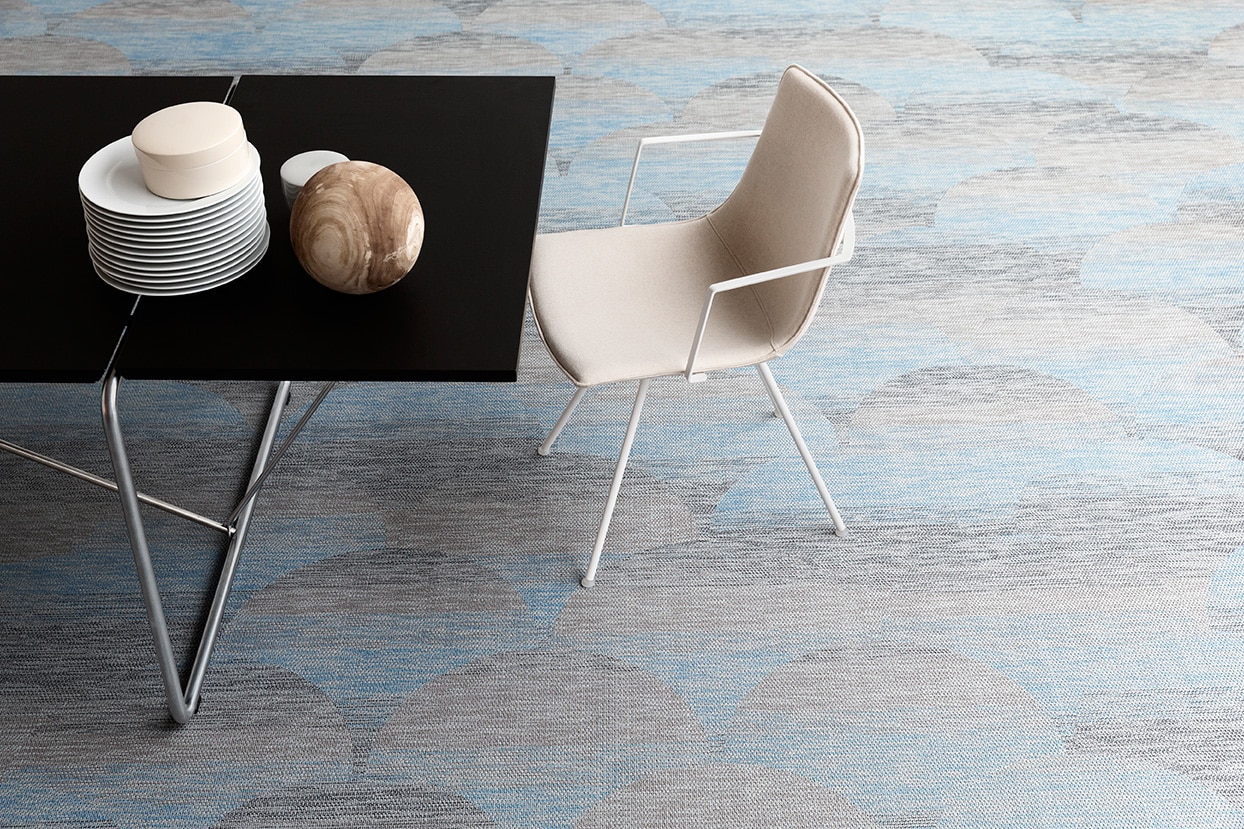 From a sustainability perspective, Flow is a breakthrough collection. The bottom layer of the flooring's backing is made of recycled material from Bolon's recently commissioned onsite recycling plant – a process that results in the end product compromising up to 33% recycled material.
The 90 million SEK investment in this facility is the latest expression in a long history of environmental innovation. Today, Bolon uses only modern, phthalate free raw materials, sources locally drawn groundwater for cooling and is committed to centralised production for both process control and logistical reasons. Each of these steps reflect a long-term vision the company defines as 'A Future Without Footprints'.
Flow will make its world-premiere at Stockholm Furniture Fair on February 3, 2015.
*Bolon Green
From the very day we were established in 1949, Bolon has proven to be an environmental innovator. Our first business idea involved turning waste material into rag rugs and since then, we have continuously strived to apply more sustainable working and manufacturing processes. From 2014, all our products will be 100% phthalate free. We develop and produce our own threads and only source from approved suppliers and the material passes through refinement plants less than 250km from our production facility, further reducing our environmental footprint. Furthermore, Bolon products and processes hold many internationally recognised environmental quality certifications including BREEAM, Green Tag, Floorscore, ISO 9001 and ISO 14001.