Photo: Ville Vappula
SEITIKKI is black. It is moody, dramatic and rambling. At the same time, light glowing from various sources is like a mist hovering over a field. It is a flashback carved into a concrete shape, the sculptor's thoughts etched into a moment.
Sculptural light installation SEITIKKI by award-winning master cabinetmaker and designer Antrei Hartikainen sprawls in a thread-like formation at Onoma's summer exhibition Factory. Reflecting the exhibition's theme, the work blends craftsmanship, sculpture and industrial design. The installation SEITIKKI, meaning a webcap mushroom, is a study of light in a space and as a sculpture.
SEITIKKI is characterized by hazy, dreamy light. The veil-like web that supports the light sources stretches to a height of almost two metres at the sides, plunging into a valley in the centre. Each turned, mushroom-resembling cap is different, their sandblasted finish diffusing rays of light. The concealed gill sculpts a circle of light on the ground.
Although the technical side plays a vital role in the SEITIKKI installation, the final result looks far from technical. Right from the start, Antrei Hartikainen has paid attention to the way light traverses through the work and the concealment of technology behind the formation. Sometimes the design process takes place at the drawing board, at other times in front of a computer, but carving by hand is present throughout. The starting point for industrially manufactured objects is to conserve a sense of craftmanship and delicate forms.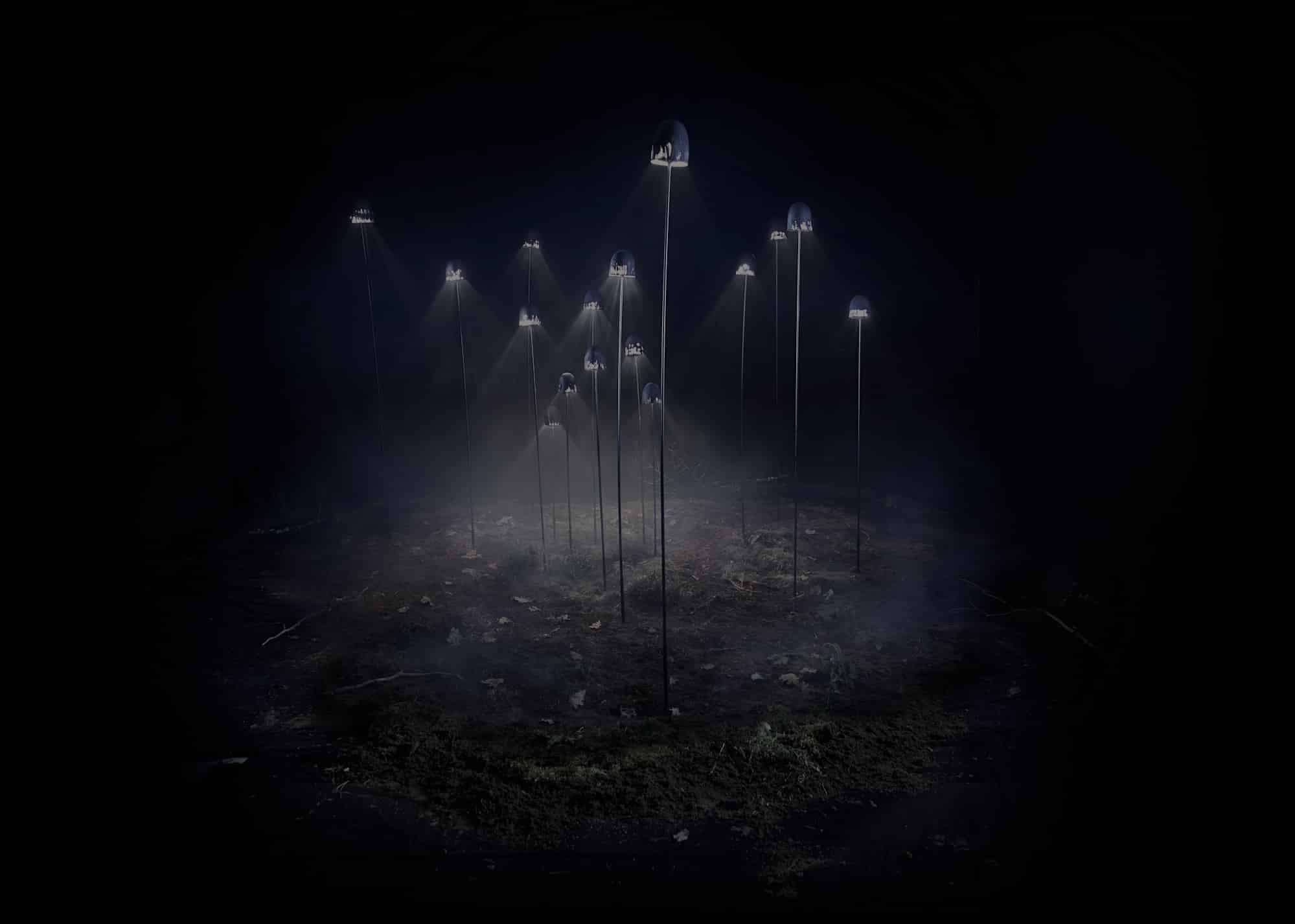 Fiskars Village Art & Design Biennale
Let's come together for some locally produced delicacies, and celebrate the beginning of the summer in the beautiful and lush surroundings of Fiskars Village. The restaurants of Fiskars Village are now taking bookings for the opening weekend. Find out more about the special tasting platter á €15 and get to know the village at fiskarsvillage.fi
Getting to Fiskars is easy – take the train to Karjaa and continue by taxi to Fiskars. Guests also have the opportunity to book a limited number of seats for the shuttle bus departing
from Kiasma at 12.30 and returning from Fiskars at 18.00. Tickets are sold in the order of registration. For more information, please contact info@fiskarsvillagebiennale.com.
The exhibitions will be open until the September 15
All exhibitions at the Treshing House, the Granary and the Copper Smithy are open to public from the 19 May to the 15 September, daily 11–18. Tickets, more information as well as the Biennale's Parallel Program can be found at https://fiskarsvillagebiennale.com/
ARTISTS
BEINGS WITH BY CURATOR JENNI NURMENNIEMI
Lene Baadsvig Ørmen / Leah Beeferman / Marjolijn Dijkman / Ramina Habibollah /
Alma Heikkilä / Johannes Heldén / Richard Ibghy & Marilou Lemmens / Dambi Kim /
Jaana Laakkonen / Tuomas A. Laitinen / Candice Lin / Elina Minn / nabbteeri /
Laura Põld / Raimo Saarinen / Aki Sasamoto / Tove Storch / Louise Waite
DESIGNERS
SOCIAL SEATING BY CURATOR JASPER MORRISON
Michel Charlot / Martino Gamper / Thelonious Goupil / Jens Fager / Klaus Hackl /
Simo Heikkilä / Maria Jeglinska / Harri Koskinen / Wataru Kumano / Cecilie Manz /
Michael Marriott / Aino Michelsen / Sosuke Nakabo / Hugo Passos / Julien Renault /
Stafford Schmool / Keiji Takeuchi / Karin Widnäs
FACTORY
FACTORY EXHIBITION BY CURATOR ANNIINA KOIVU
ACE / Arita 2016 & BIG-GAME, Christien Meindertsma, Ingegerd Råman / Heikki
Aska / Ronan and Erwan Bouroullec & Galerie kreo & Flos / Carlo Clopath / Pierre
Charpin & Hermès / Aamu Song & Johan Olin – Com-pa-ny / Benjamin Dillenburger
& Michael Hansmeyer, ETH / Marko Escartin, Studio Oksa / Fiskars / Glass Hill &
The Woodshop on Fogo Island, Shorefast Foundation / Thélonious Goupil & Iittala /
Konstantin Grcic & Magis / Christophe Guberan & Skylar Tibbits, Self-Assembly
Lab Mit / Zhenhan Hao / Antrei Hartikainen / Sam Hecht and Kim Colin, Industrial
Facility & Mattiazzi / Hella Jongerius & Nymphenburg, Royal Tichelaar Makkum,
Thomas Eyck / Kaksikko & Nikari / Minja Kolehmainen / Korvaa / Max Lamb /
Kwangho Lee & Tajimi Custom Tiles / Helmi Liikanen & Lapuan Kankurit / Enzo Mari
& Danese / Laura Mattila & Mikko Merz /Ingo Maurer / Christien Meindertsma /
Gianni Melis, Mauro Moia & Renato Ruatti, Noah Guitars / Jasper Morrison / Isamu
Noguchi & Ozeki Workshop, Vitra / Piitu Nykopp / Jaakko Pakkala & Feathr / Tuulia
Penttilä / Poiat & Raision puusepät / Jean Prouvé, Galerie Jousse Entreprise / Isaac
Reina / Giulio Ridolfo & Kvadrat / Ingegerd Råman / Richard Sapper & Alessi / Gino
Sarfatti, Galerie kreo / Maarten van Severen and Wästberg / Brynjar Sigurdarson &
Cirva / Kari Virtanen & Nikari / Studio Wieki Somers / Karin Widnäs