Finn Juhl's one-of-a-kind sofa (estimated price EURO 210,000-330,000 // 1,500,000-2,500,000 DKK) alongside vases and bowls by Axel Salto.
Finn Juhl exhibited a sofa and two chairs in 1939. For 80 years, the design world believed it to have been lost but, now it has reappeared and will be sold on action by Bruun Rasmussen in December. It'll hold the highest estimated price for a piece of 20th Century Danish design ever.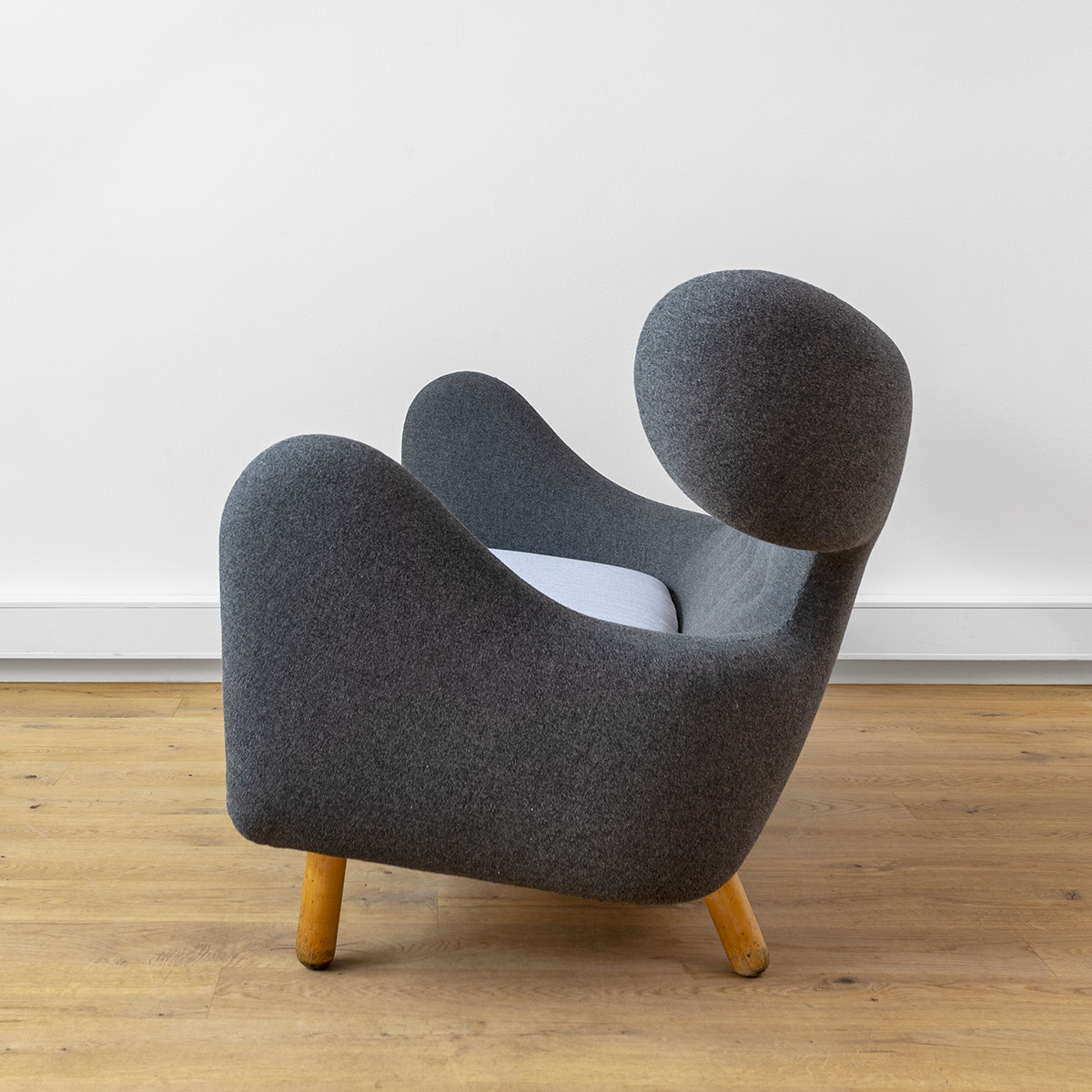 Danish homes often contain many design classics, but once in a while a rarer piece of furniture appears, which sometimes has even been considered completely lost. This is the case at Bruun Rasmussen with an upholstered one-of-a-kind sofa from Finn Juhl's younger days as a designer. There is only this one sofa and these two chairs ever made in this design; a piece of Danish design history and Danish cultural heritage is looking for a new home.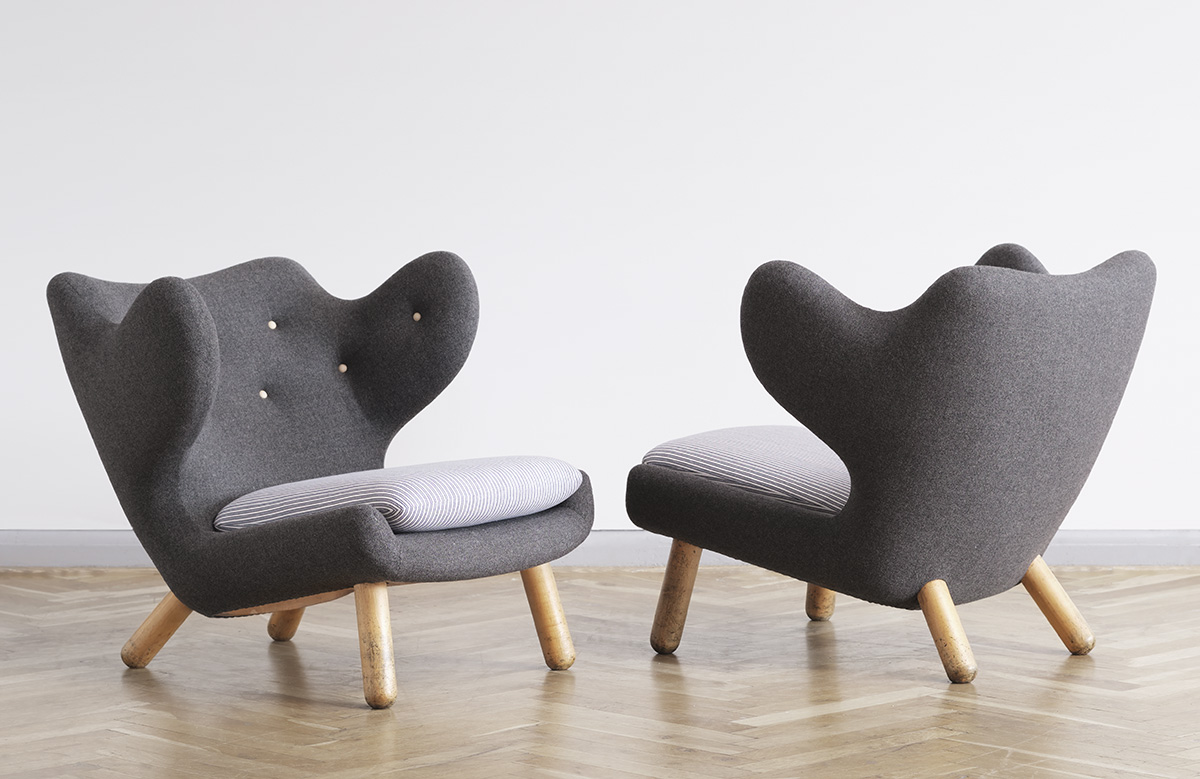 The year is 1939, and Finn Juhl has dropped out of his studies at the Royal Danish Academy of Fine Arts' School of Architecture. Instead, he is working for the Danish architect Vilhelm Lauritzen on the construction of Radiohuset (The Radio House) on Frederiksberg. In his spare time, Juhl designs furniture for private customers, but this year he is also given the task of designing the interior for cabinetmaker Niels Vodder's stand at the Cabinetmakers Guild's Exhibition. The result is the unique sofa and two accompanying chairs, which Bruun Rasmussen Auctioneers will soon present at auction. The legend about the lost furniture didn't give us a name for the design, but the current owners have always referred to them as "the Elephants".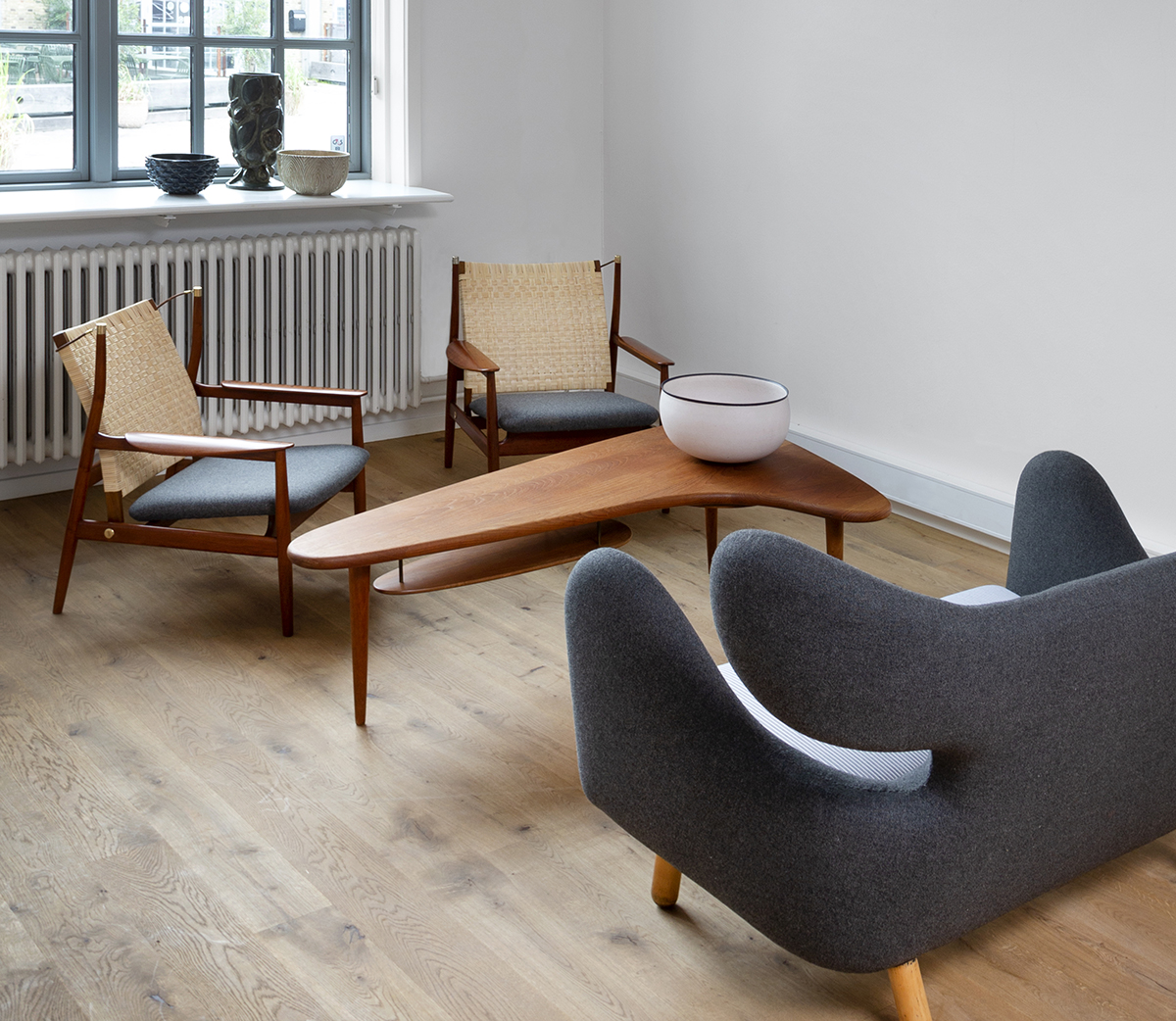 Too Much for Contemporary Taste
At the time, there were many who considered even Kaare Klint as a bit too modern, so it should come as no surprise that this set of furniture by Finn Juhl was seen as controversial and provocative in its day. The shapes are sculptural and organic and refer to modern art such as the playful style of Jean Arp. In a review of the exhibition, the Danish newspaper Berlingske Aftenavis had the following comment: "The architect Finn Juhl has designed a very eccentric Living Room (…) The sofa is made in a strangely carved style. The peculiar furniture pieces are manufactured by Niels Vodder (…)."
The reaction at Bruun Rasmussen Auctioneers' Department for Design and Decorative Art was at the opposite end of the scale. Its Head of Department, Peter Kjelgaard, is quick to call this one of Danish design's biggest treasures:
"When I saw this sofa made by Juhl, I could hardly believe my own eyes. I have worked with Danish design throughout my entire career, but this is the most interesting piece of furniture I have ever had in my care. The sofa is known only from photographs in literature, and everyone in the design world thought it had been lost for good. Basically, I now consider one of the great mysteries in Danish design history as solved with this find." Quote: Peter Kjelgaard, Head of the Department for Design and Decorative Art at Bruun Rasmussen.
Back to the Original Look
When we recently received the furniture pieces for auction from a Danish family, it was decided to bring the sofa and the two chairs back to their original look.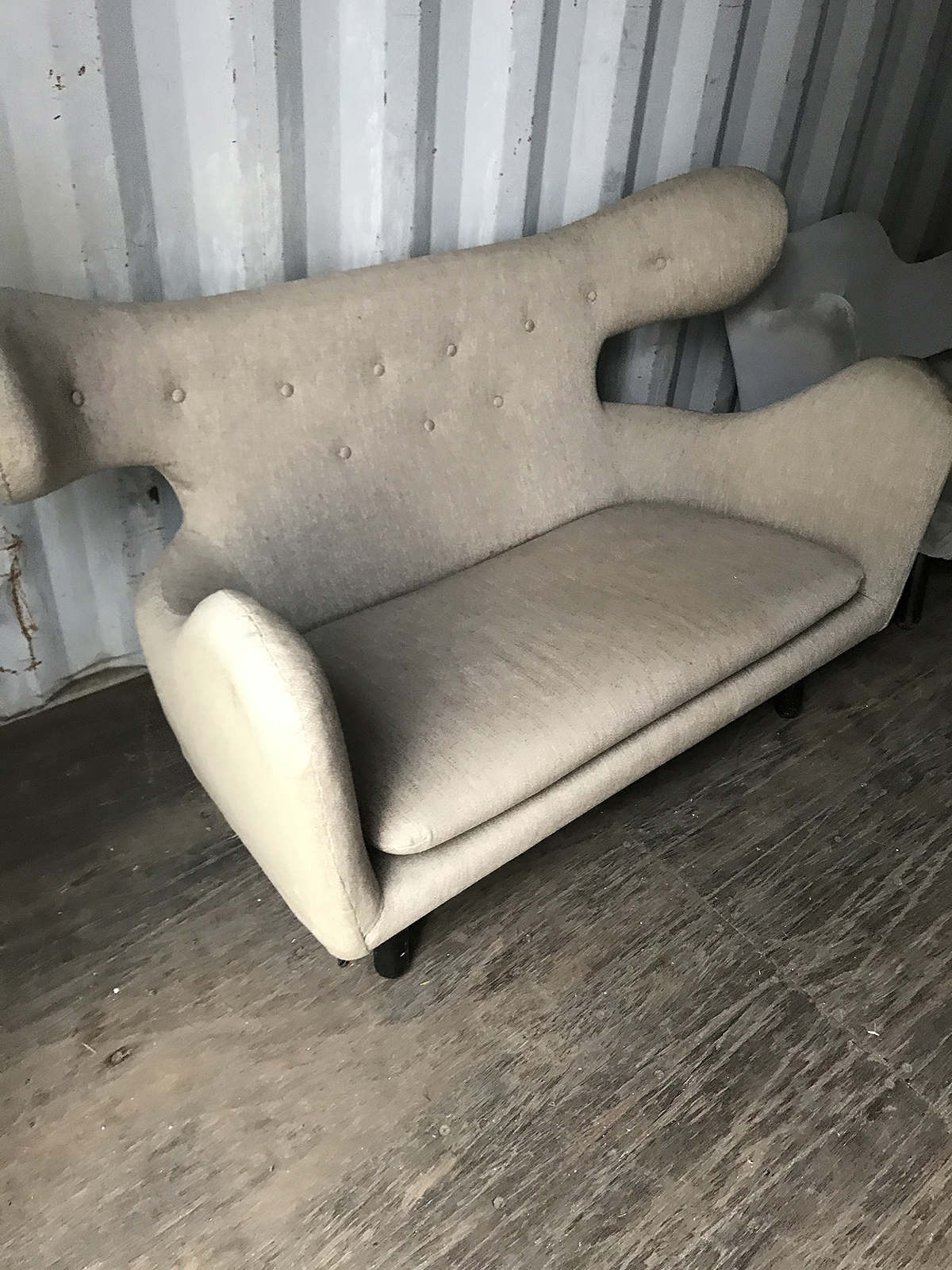 "Over time, the furniture had been upholstered with new fabrics, and the wooden legs had been painted black. Since the old black and white photographs from the literature could only give us an impression of the original fabrics and colours to a limited extent, we were guessing at first. However, a pleasant discovery by our regular upholsterer made us wiser, because when he removed the upholstery of the furniture, remnants of the original fabric from 1939 appeared. So now we know exactly what kind of look Finn Juhl intended for the furniture – charcoal grey wool and blue and white striped fabric on the seat cushions – and we have now recreated this look," says Peter Kjelgaard.
Finn Juhl's sofa and the two chairs can without doubt be described as Danish cultural heritage. Bruun Rasmussen Auctioneers are offering the furniture pieces as separate lots at the upcoming Live Auction in Copenhagen December 10 2020, and with the sofa's estimated value of EURO 210,000-330,000 / DKK 1.5-2 million, it is the highest price Bruun Rasmussen Auctioneers have placed on a 20th-century furniture piece in the history of the auction house. The two chairs' estimated value is EURO 80,000-100,000 / DKK 600.000-800.000.