HOME OFFICE DESK
THE HYBRID WORKSPACE
The FH3605™ or "Writing Desk", in Arne Jacobsen's own words, expresses itself through minimalist lines and beautiful materials to create a modern and elegant working space. An optional document drawer that sits neatly under the top stores items close to hand. The simplified, open silhouette is functional and convenient, with space to be productive yet with a reduced footprint that makes the desk ideal for use in smaller rooms.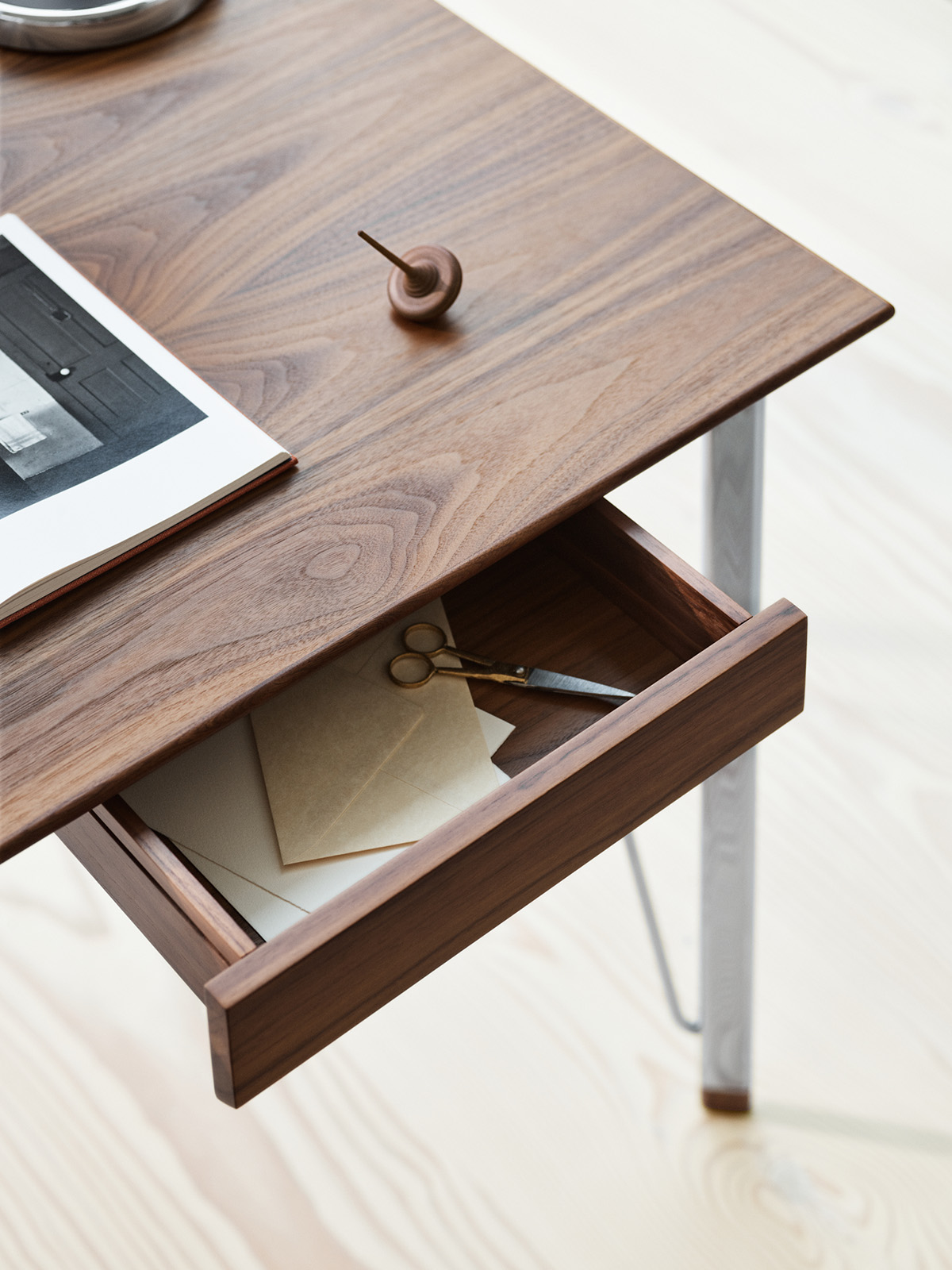 The table leg was designed by Arne Jacobsen in 1955 and used for rectangular tables. Arne Jacobsen designed the table leg particularly to his stacking chair collection for Fritz Hansen.
The arch on AJ swivel base and the table leg is what makes the distinct design connection between the table and the chair.
Drawers and drop-down leaves were additional add on to create a larger flexibility in the use of the table.
The table was in production until 1970 and it now being relaunch because of its contemporary relevance as a home office desk or small dining table.
It offers a great potential for the customer seeking a holistic Arne Jacobsen home office interior.
It is a heritage design and therefore it is a design piece that will complement the existing classics in the Arne Jacobsen collection.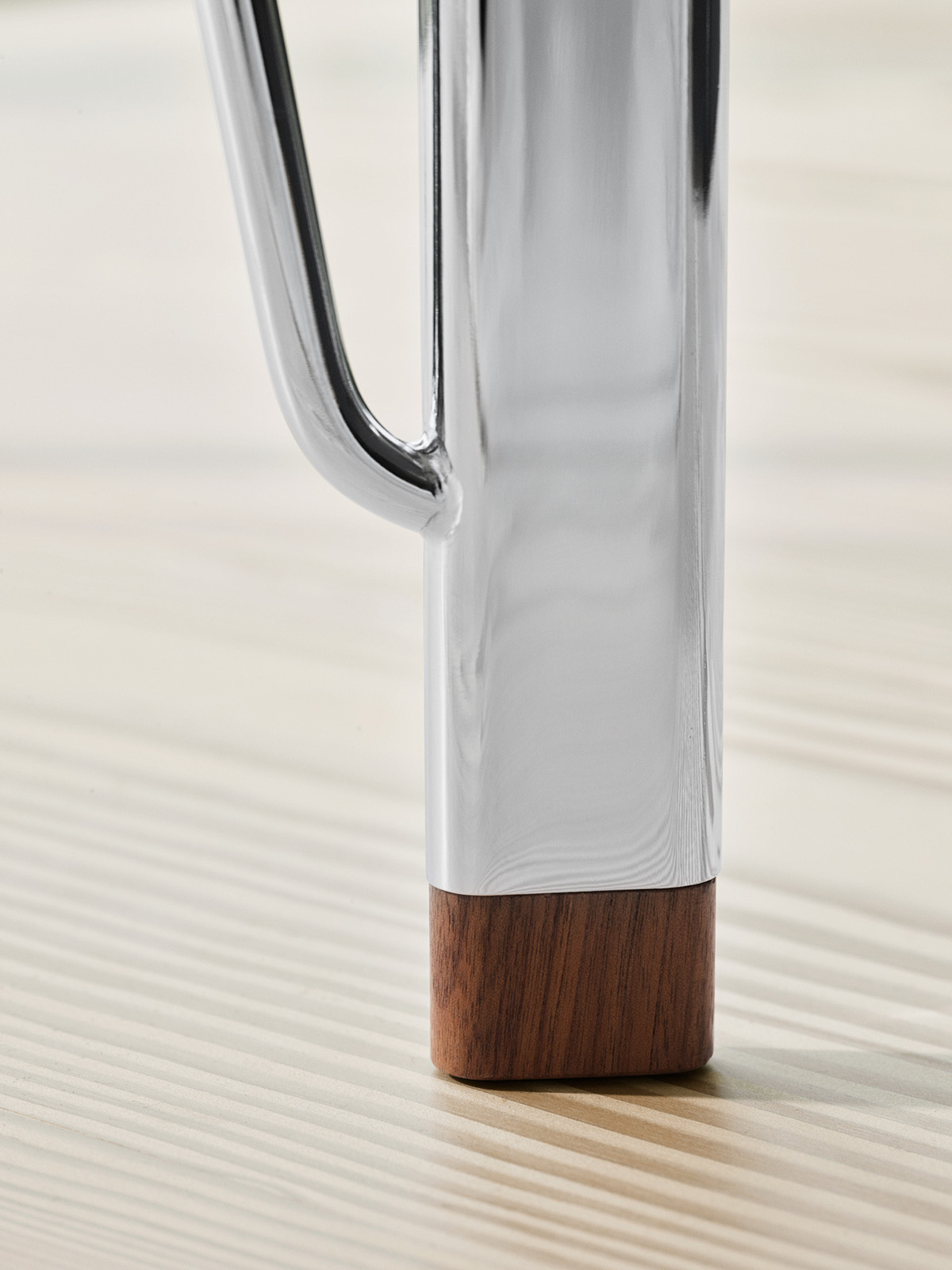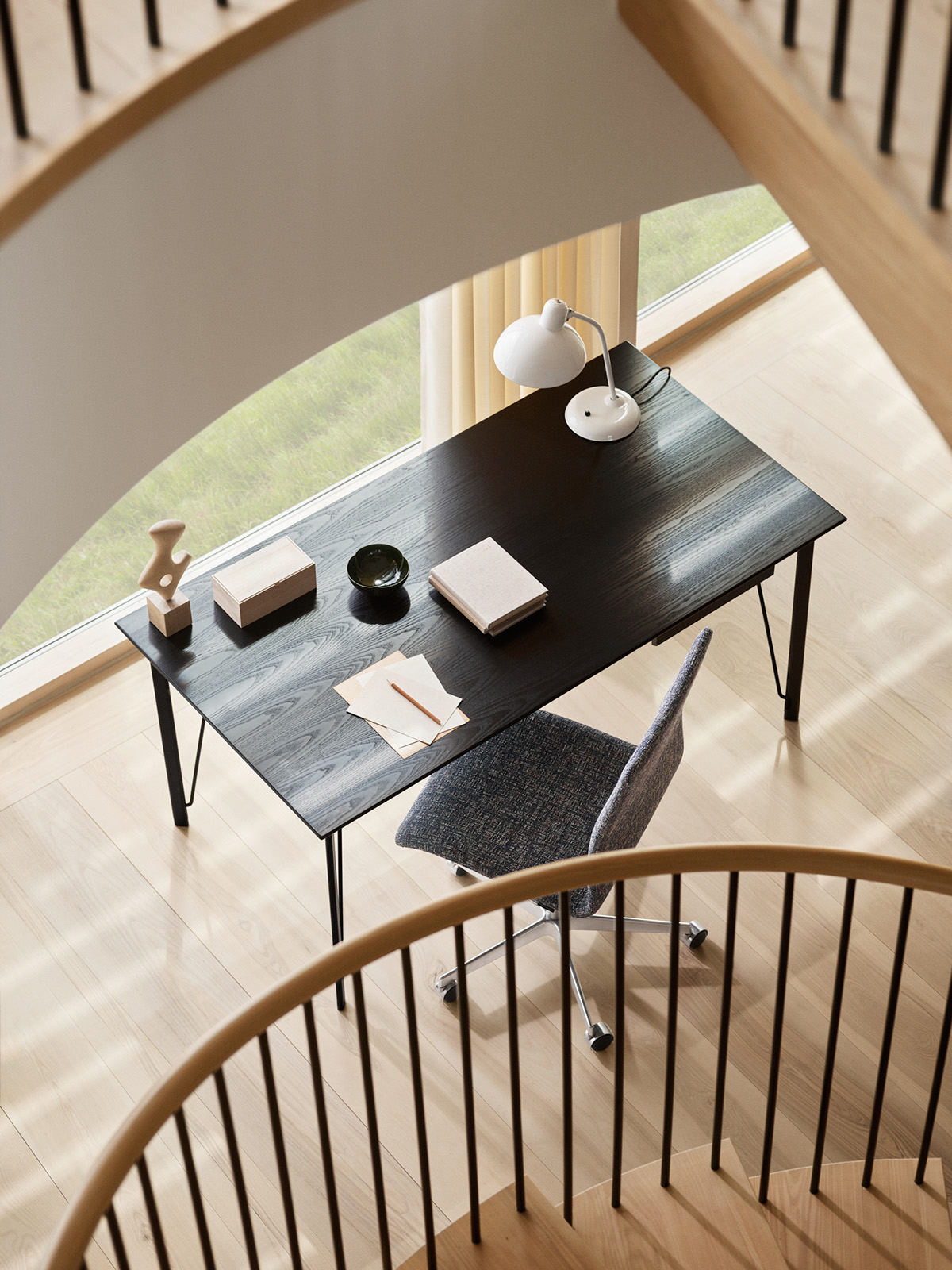 The sleek and elegant design, different in appearance whether with a walnut tabletop or a black coloured ash with black powder coated legs, add a delicate piece of design to interiors for home or creative work.
Adding the drawer, work is easily stowed away, and the table can be used for dining.
The tabletop comes in two finishes:
Walnut and black coloured ash
The re-designed foot will also compliment the tabletop finish in walnut or black colouredash
And the legs can be chosen in chromed steel or black powder coated steel
The minimal drawer solution takes up a very little visual space but is quite spacious
• The solution offers an adequate opportunity for the user to keep things tidy before, during and after work
• Joinery details in either black coloured ash or walnut veneer
• You can mix and match the black coloured ash or the walnut drawer with any of the tabletop colours/wood types you prefer.
• Reintroduction of FH3605™with two tabletop options, two base finishes, with or without an optional drawer with two different finishes
• Tabletop: Walnut veneer; Black coloured ash
• Base: Chromed steel; Black powder-coated steel
• Optional drawer: Walnut veneer; Black coloured ash
• Feet match the tabletop finish