EYES FOR PERFECTION
The Eyes Wood chair is designed by the experienced Danish design duo Johannes Foersom & Peter Hiort-Lorenzen in 2011. With its organic expression and simple materials the chair is on the path to becoming a modern classic.
The Eyes Wood chair has an cold-cured foam inside, fixed cover and legs in oak nature. The chair is very comfortable and every piece is manufactured according to Erik Jørgensens high standards for good craftsmanship and quality.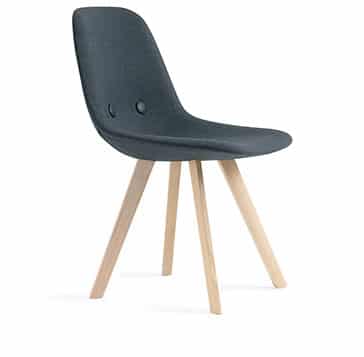 FOERSOM & HIORT-LORENZEN
The prolific duo Foersom Hiort-Lorenzen consists of Johannes Foersom (1947) and Peter Hiort-Lorenzen (1943).
The duo has played a key role in defining the Danish concept of design with an impressive range of well-designed and contemporary furniture over more than 25 years. Foersom Hiort-Lorenzen have designed much of Erik Jørgensen's best-selling furniture, and over the years, the duo has received countless design awards for their innovative and functionalist design, which always considers humane, organic and aesthetic aspects.