9 mars – 13 april, 2023
Gunnel Sahlin at Galleri Glas: one of contemporary glass art's true masters arouses our hopes of spring with her long-awaited new works
In March this year, Galleri Glas will present a long-awaited exhibition of new works by Gunnel Sahlin who is one of the true masters of contemporary art glass. In Living Matters she explains that she has chosen to turn her gaze earthwards and that she seeks inspiration from the earth and from plants as well as her life-long interest in cultivation and the cycle of life.
"I dig where I am standing, where I have always been", Gunnel Sahlin notes. "My composts are the heart of my cultivation. The feeling of earth in my hands, the first sign of spring in the soil – the sense of life and death; the contrasts that inspire me all the more and evermore profoundly the more I sense and understand the forces that exist in the earth."
The range of colours that Gunnel Sahlin uses in her new glass sculptures is reminiscent of the very earliest greening that miraculously forces its way through the brown, grey and ochre tones of a long and tiring winter.
"It's earthy and organic but there is also the colourful persistence as life begins to force its way through the earth", Gunnel Sahlin explains. "It refers to the earth, the sand, the soil, the scent that is so evident on an early spring walk. There are so many dreams and so much longing there."
In her Living Matter exhibition Gunnel Sahlin furthers her creative partnership with master glassmaker Micke Johansson with whom she has worked for the last ten years. Micke Johansson trained at the glass school in Orrefors where he became a record young master. He has long run the workshop that he built on his property at Örsjö in the province of Småland. Here, together with Gunnel Sahlin and an assistant he has developed the well-known forms of artistic expression.
"The steps that we take may not seem so dramatic, but for me every detail and every nuance of variation is new and challenging", Gunnel Sahlin maintains. "Micke is part of my creative process. Without him I am nothing. Just like the earth, the molten glass is a living organism which cannot be controlled, a source of energy, a superior form of life that is always unpredictable and exciting. The process is an important aspect of the whole, and Micke is constantly aware of new possibilities and looking for new solutions."
When she enjoyed her major breakthrough in the early 1990s Gunnel Sahlin was one of the innovators who, with her fastidious and colourful artistic expression at Kosta Boda, marked a renewal of Swedish glass design.
During her long career she has presented numerous exhibitions in Sweden and abroad, most recently in 2022 with a successful presentation at Galleri Riis in Oslo. Gunnel has won a succession of prestigious prizes and she is represented in major collections including Stockholm's Nationalmuseum, the Röhsska Museum in Gothenburg, the Victoria & Albert Museum and Sørlandets Kunstmuseum in Norway as well as in private collections all over the world. In 2018 she presented the successful exhibition Memo Color at Galleri Glas.
"Ever since there has been great demand for Gunnel's art glass", Elin Forsberg of Galleri Glas maintains. "Since we have had, on a number of occasions, to postpone the exhibition it feels all the more inspiring finally to be able to show new work by her in Stockholm."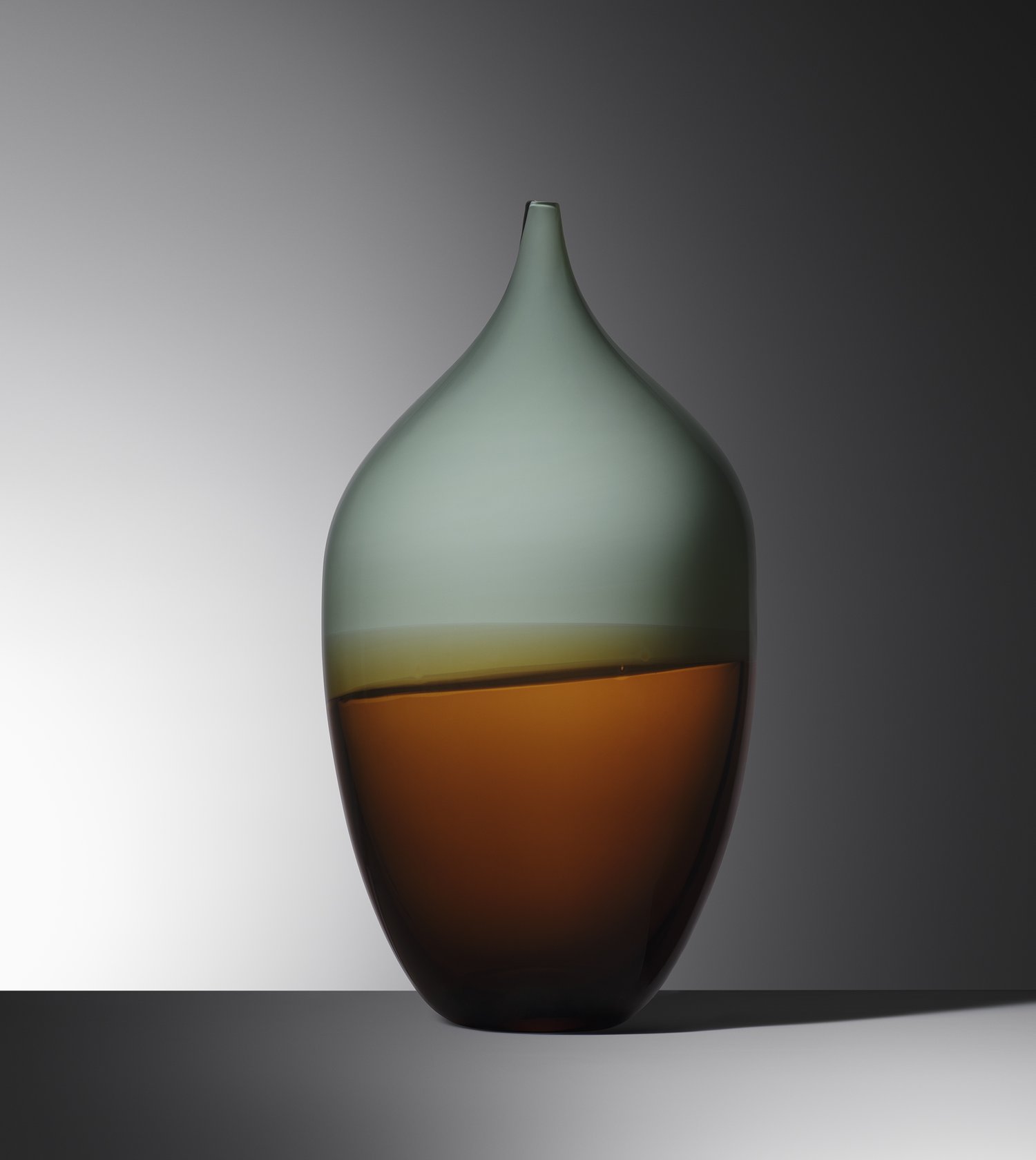 LIVING MATTER
Earth
Faced with her Living Matter exhibition, Gunnel Sahlin digs where she is standing. Living matter like the earth that she is working with, that she penetrates, studies and refines in the Swedish province of Södermanland where she lives and works.
There is a muted note; the iron in the sand that creates the dark brown tones in the glass in her new works. And at times the light finds its way to the surface, becomes tangible as the new item, assumes its form. Growing out of the earth.
Like photosynthesis. The cycle of life that gives substance to the lustrously green items.
Over the years it has become all the more important for Gunnel Sahlin to study her surroundings. She does not, for example, seek inspiration from travelling. That involves too much observing. Rather, she makes a detailed study of the place where she finds herself. Down among the minerals and plants.
"The trees talk to each other. They help each other", Gunnel explains, as she seems to enjoy the fact of her new insights and understanding of nature. Even the objects in her exhibition cooperate, reinforcing and supporting each other. Together they create life; a life-cycle. New life grows out of old life, rising from the earth. Youthful life.
Gunnel and I have met in the past. At Arninge north of Stockholm. The reason was an artistic treatment of the massive staircase in the factory building.
Art can do miracles for creativity and development, and thereby of profitability. Art is research that shows the path to the future. I have tested this on a number of occasions and will try it again. Often there has been a degree of opposition from management or the board.
Gunnel measured the site and reflected. She wandered about. It was a fine, sunny day and the light played upon the white walls.
We took farewell of each other in Arninge. Gunnel to reflect, and to make drawings in her studio and me to my next meeting.
"There won't be anything for Arninge", Gunnel explained bluntly when we spoke to each other a day or two later. "Glass is just the wrong material. It doesn't make its presence felt. You will have to think of something else."
That is an example of artistic integrity. Something unusual but worthy of respect.
Now that we are meeting again, it is integrity that becomes so apparent. For many years Gunnel Sahlin has worked together with master glassblower Micke Johansson. The works that she has created with him are no shy violets and are entirely essential. Living Matter causes me to realize something self-evident: that life does, indeed, matter.
Gunnel's works give me hope – hope of life.
Thank you.
Joachim Berner, entrepreneur and author
Photo: Pelle Bergström.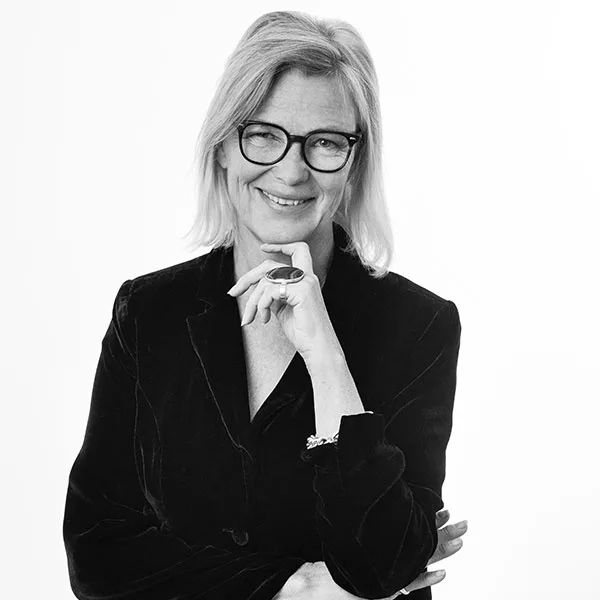 Gunnel Sahlin
is among the glass artists who gave Sweden its name as one of the world's leading glass nations. Born in 1954, she is currently active as both an artist and a designer.
Britta Nordström's documentary about Gunnel Sahlin is entitled "I would like to be a peony." The title is fitting, because if anything has shaped Sahlin's artistry, it is indeed her interest in plants and nature. Already at the age of twelve, she visited the library in Umeå regularly to page through Bertel Bager's poetic picture book "Nature as Designer" ("Naturen som Formgivare"). That was probably when her interest in plant families and their Latin names was born.
After preparatory studies at Nyckelviksskolan, Gunnel continued her studies in the textile department at the University of Arts, Crafts & Design. She found an outlet there for her talent for color and for her degree exhibition in 1984, she developed an impressive three-dimensional world of form with inflatable plastic objects.
As one of the brightest talents, she was then hired by Katja of Sweden in the US – one of Sweden's best-known international designers of all time. There, above all, she had the opportunity to develop her textile pattern designs.
Expressive Marimekko fabrics awakened Gunnel Sahlin's passion for color early on. In 1960s Umeå, where she was raised, she was also surrounded by handicrafts and the care that distinguishes handmade objects.
The Kosta Boda glassworks had a new executive who felt the company needed a younger image. He found Gunnel Sahlin in New York in 1986, hired her, and gave her free rein. Gunnel's delight in color and shape contributed to the Kosta Boda brand gaining new significance – her liberated view of glass design was as far from the reverence of crystal as one could get. In 1990, she joined the Åfors glassworks, where she worked for 19 years. Her series of glass fruits, "Frutteria," was a particular sales success. From 1999-2004, Gunnel Sahlin simultaneously worked as a professor at the University of Arts, Crafts & Design in the ceramics and glass department.
"My time at Kosta Boda was fantastic. I had opportunities and space to try things out, which creates dynamic results. When working with glass, it's during the actual creation process that it all happens."
Since 2006, Gunnel Sahlin has worked as an artist and designer on a freelance basis. In addition to glass, she has designed car seat upholstery, rugs, lamps and porcelain, not least for Ikea, Kasthall and Åhléns.
In 2014, Konsthantverkarna invited her to create a glass exhibition, and thus began a new chapter with roots reaching backward. The exhibition, "Hortus Poetica," was not only Gunnel Sahlin's return to art glass after an eight-year absence; it was also a veritable success. Reviews of the show discussed the "twenty glass pieces which must be among the best pieces made in Sweden in the past decade." The play between color and form was subtle and the convergence of colors was sublime.
In 2016, a comprehensive retrospective exhibition of her work was presented first at Västerbotten Museum in her old hometown of Umeå: "Gunnel Sahlin – 30 years as a designer."
The title of Gunnel Sahlin's latest show is a testament to the blossoming of her interest in gardens and nature over the years. "Botanical reflections" was shown in 2018 in Flen, which is now Gunnel's home region. In an old schoolhouse with an enormous garden a few kilometers outside of town, she spends her time on art and gardening.
Gunnel Sahlin is searching for the untamable, primal power she believes is present in both nature and glass. That is what she wants to access. NYBROGATAN 34, SE-114 39 STOCKHOLM, SWEDEN‍
INFO@GALLERIGLAS.SE, +46 70 823 11 87
OPENING HOURS:
TUESDAY-THURSDAY 12-18, FRIDAY 12-17,
SATURDAY-SUNDAY 12-16, MONDAY CLOSED