THE EDIDA AWARD WINNERS 2017
Discover the full list of winners in 13 categories as voted for by the 25 editors-in-chief of the ELLE DECORATION network.
Photography GIOVANNI GASTEL Styling STUDIO PEPE Words PAOLA CARIMATI
Since 2003, the EDIDA awards have become an unmissable event for the interior design world. Some of the world's most renowned designers have received EDIDA awards and this year is no exception.
The annual design awards ceremony took place in Milan on the 6th April 2017, during the world's leading furniture fair, Salone del Mobile. This year's ceremony was held at the spectacular UniCredit Pavillion, designed by Michele De Lucchi.
THE WINNERS:
DESIGNER OF THE YEAR /
NERI&HU
Lyndon Neri and Rossana Hu, both from China, studied architecture at Berkeley in California. In 2004, they founded their studio in Shanghai with a specific idea in mind: to fuse local culture with an international spirit. The pair faces projects that range from interiors, contract and product design: from hotels to museums, from restaurants to showrooms. The studio's design team is made up of people from across the world, blending 30 different cultures and languages. From this melting pot comes a synthesis: their pieces are essential and simultaneously of great character. Like those coming from the collaboration with Offecct, De La Espada or Poltrona Frau: furniture made with fine materials that reflects a contemporary idea of China that meets the West. Because Neri & Hu already boast many followers in our part of the world. It's not by chance that, in 2015, the furniture fair in Cologne entrusted Neri & Hu with the creation of Das Haus and, in the same year, the book, 'Neri and Hu: Design and Research Office', was published. International recognition for their work.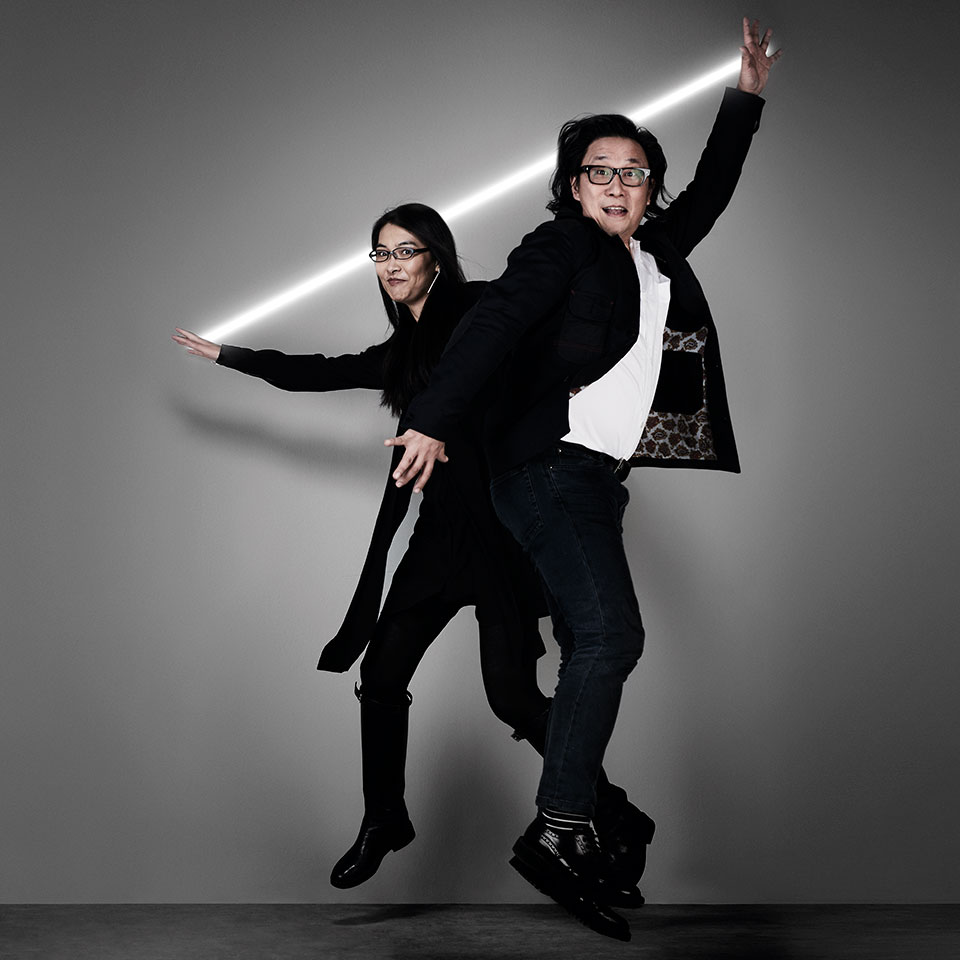 YOUNG DESIGN TALENT /
MATTEO CIBIC
His way of working is to delve into worlds that are far apart: like the world of glamour of One backpacks for Obag, or the world of contemporary eclecticism of the Bonotto Editions collections, the Italian manufacturer that produces clothing fabrics. Always driven by a curiosity for materials and artisan production techniques, Cibic — born in 1983 — feeds on influences from diverse disciplines and cultures. His ductile approach moves between marquetry in bone and resin, as seen in the Scarlet Splendour series of furniture, an Indian luxury brand, and sheets of iridescent textile like those used to coat the TIM towers in Rome. Projects produced and designed in a "funny" way, an amusing and relaxed way of doing design. A little like what happens for Secondome or Paola C. furnishings: imaginary creatures in the strangest shapes that seem to have escaped from a 3D fantasy film.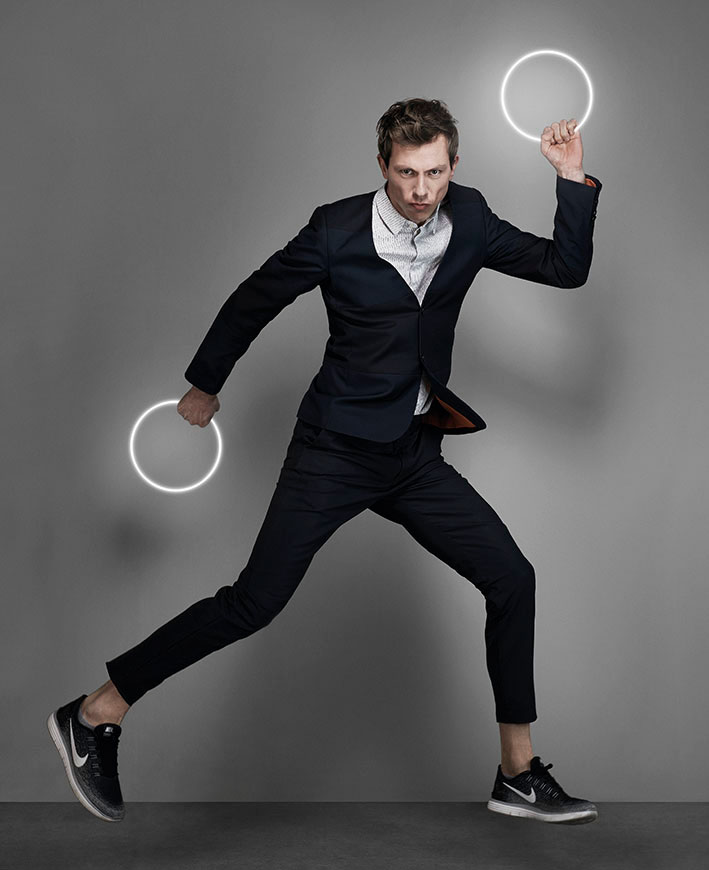 BATHROOM /
Frame & Rest by NORM ARCHITECTS for EX.T
From the console to the container, a series of furnishings for the bathroom that comes from designed subtraction. Or rather: lines and materials are thinned to such a degree that they become a graphic piece with a Nordic allure. In this concept, we see the beauty of a modular system, characterised by a steel frame (and finished in brass, smoked oak and Navona travertine), that can accommodate basins in synthetic materials (LivingTec(R)) or stone and counter tops in wood. Functionality and flexibility reduced to their essence.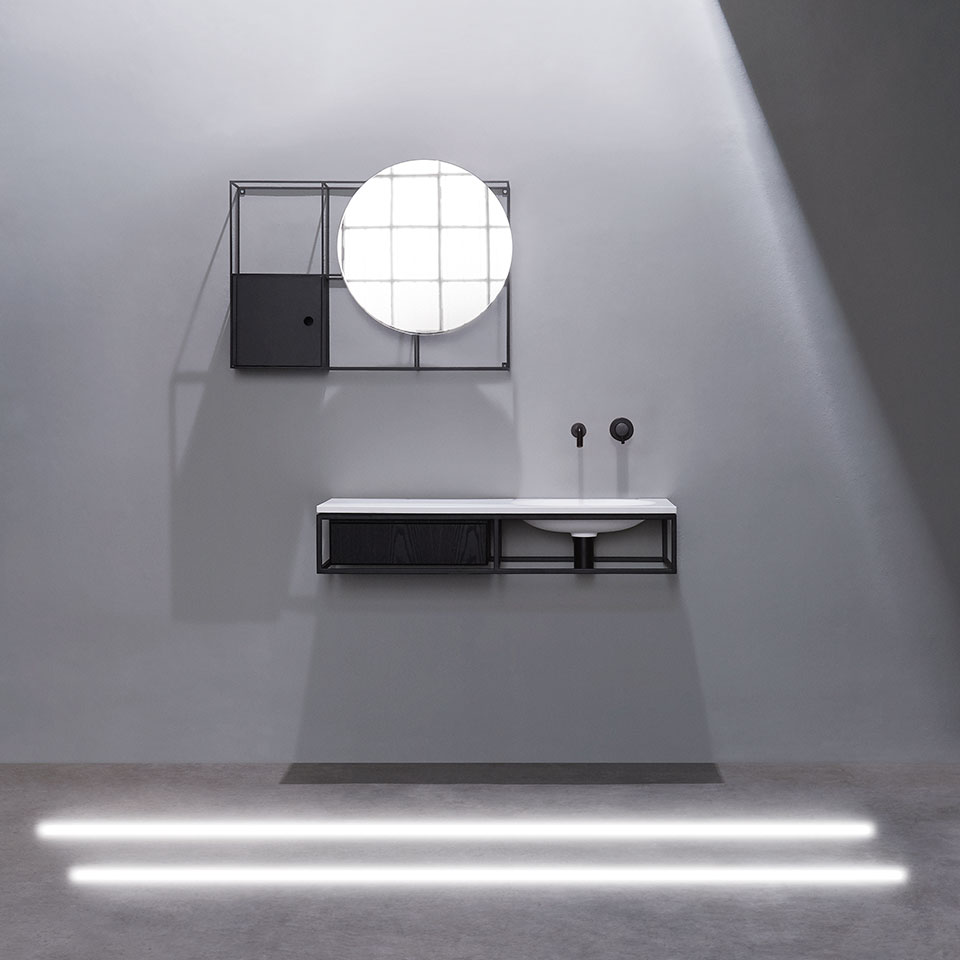 BEDDING /
Makura by PIERO LISSONI for PORRO
Piero Lissoni redesigns the function of sleep by putting the emphasis on elegance. It's with this look that we have to observe Makura: a lightly suspended welcoming oasis. The Italian architect updates the fabric bed with a model whose structure is completely covered in fabric, leather and eco-leather. Including the cushions. The finished effect is of a warm, welcoming nest, the soft, sinuous form, that invites you to rest. And feeds your love for the detail.
FABRICS /
Promenade au Faubourg by NIGEL PEAKE for HERMES
It took the hand of an architect and illustrator to transform the memories of a walk into a design that conjures up a dream-like world. And that is exactly how Nigel Peake made the fabric for the French fashion house: representing what a hopeful groom put to memory in the surrounds of the Promenade au Faubourg, while searching for his horse and barouche. This is how storytelling gives form to the author's world, rich in texture and stylised architecture.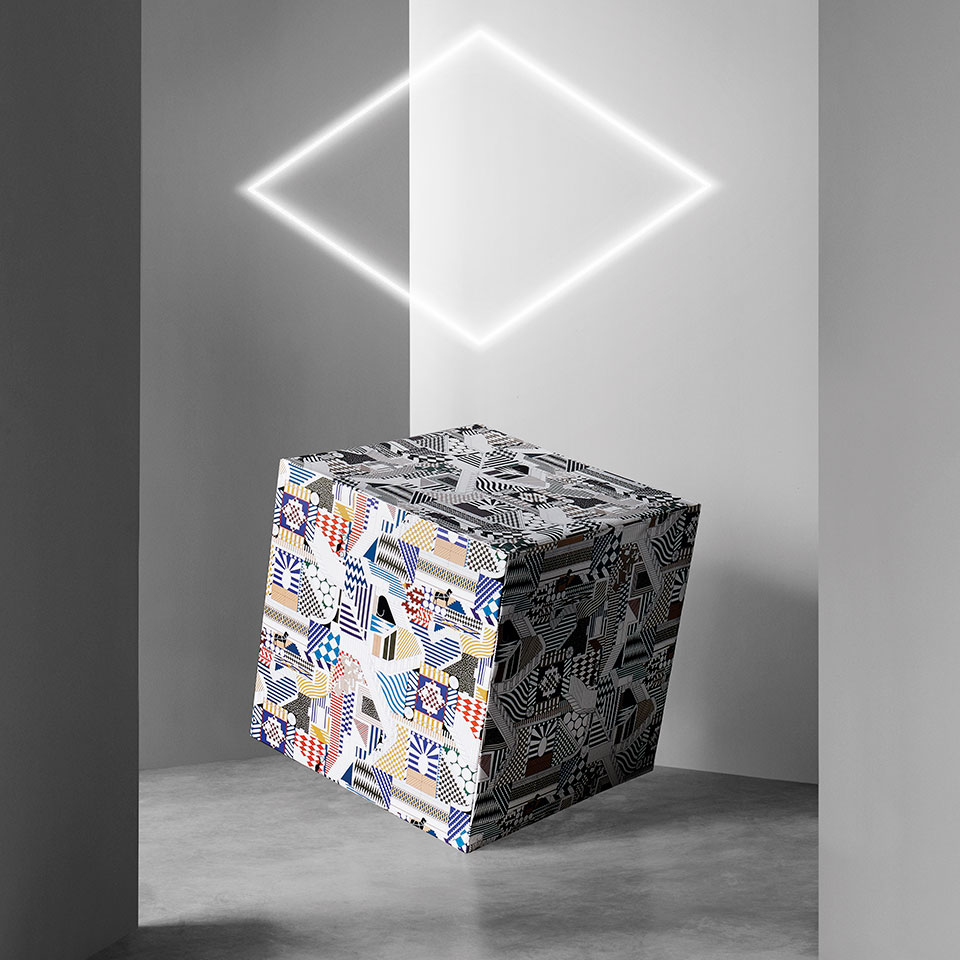 FLOOR COVERING /
Visioni by PATRICIA URQUIOLA for CC-TAPIS
Geometry and colour: The Italian-Spanish designer pushes the decorative horizons even further with Visioni. A rug that stands out for its architectural feature, alienating, unexpected, it gives depth and different optical effects based on the viewing point. The project is the synthesis, completely new, of ancient production techniques and an abstract design. Without forgetting the fact that the rugs have been made entirely by hand by expert Tibetan craftsmen and women in Nepal and come in 100% Himalayan wool or pure silk (both following eco-friendly methods).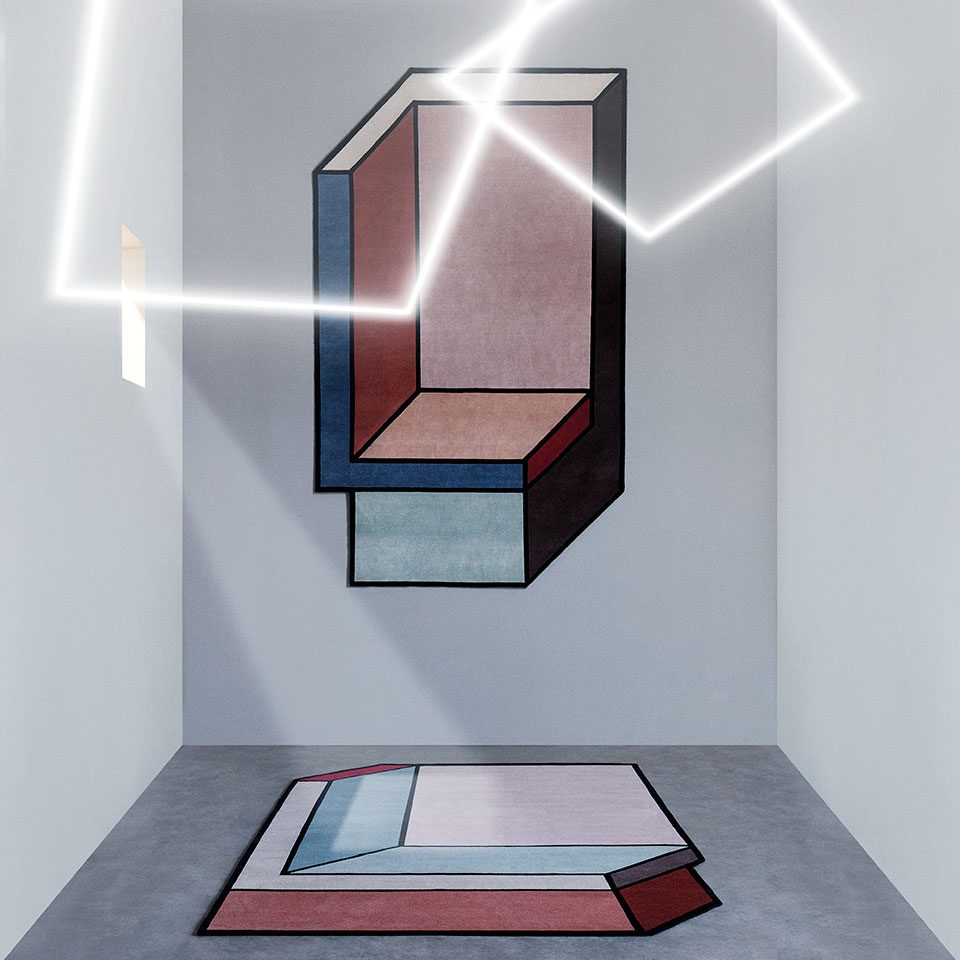 FURNITURE /
Ren table by NERI & HU for POLTRONA FRAU
With Ren, Neri and Hu address the issue of the domestic throughway and give form to an elegant, practical design in transversality. The challenge (overcome) was to find a solution to the problem of how to furnish the entryway in a traditionally laid-out home. But above all, though: how to better leverage the savoir-faire of a historic design brand like Poltrona Frau? The answer is a complete hybrid collection of wall-mounted and free-standing mirrors, small tables, console tables and valet stands. Everything is done in wood, brass and leather. Not just functional and sophisticated furnishing solutions, they are systems that greet and welcome. It's no coincidence that the name Ren comes from the Chinese character for person, human being. Because, at the heart of Neri & Hu projects, that's how it is: on a human scale.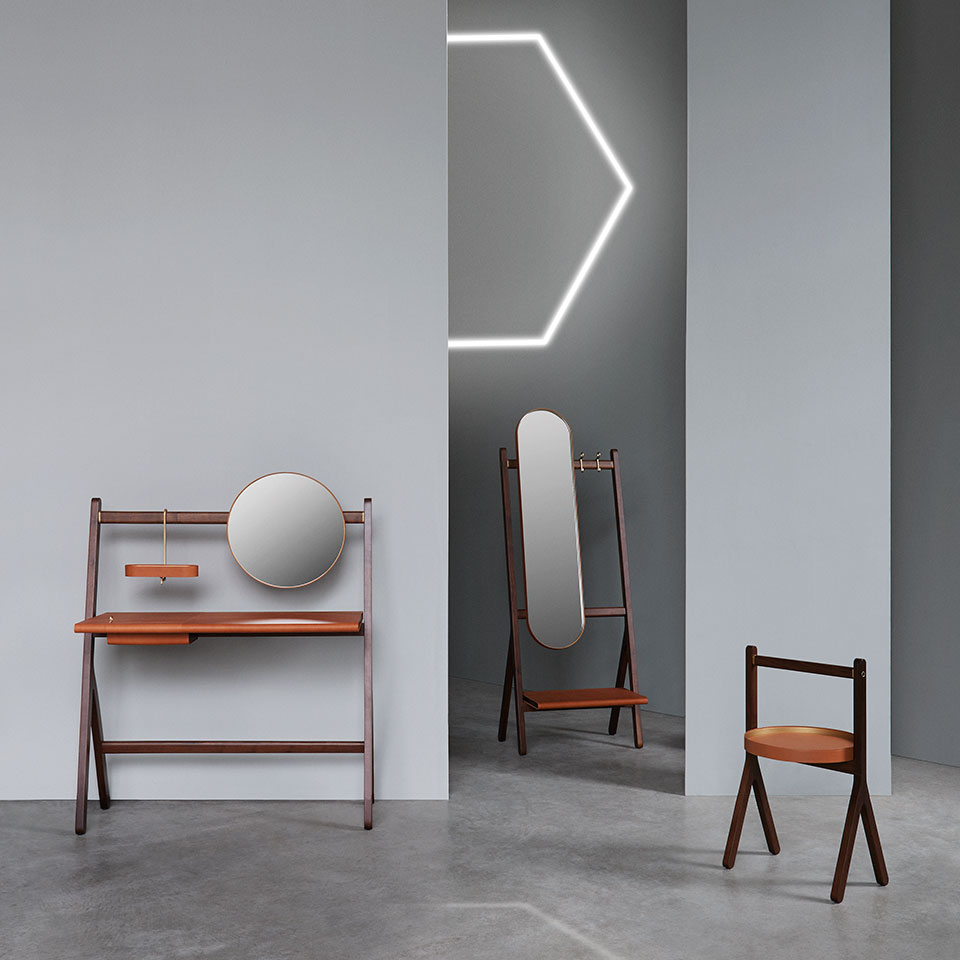 KITCHEN /
VVD by VINCENT VAN DUYSEN for DADA
The Belgian designer reinterprets and surpasses himself: VVD is the result of painstaking work done with the greatest attention on an already well-known model, Hi-Line. The system does not give in to the minimalism of the forms, which welcome equipped solutions and user-friend technology, and it renews itself with a brand new chapter in the kitchen environment, everything playing on the theme of contrast: between the considerable thickness of the worktops and the slim sides, between materials like natural stone and fine essences. It promotes the synthesis between opposites, the colour, chosen from Nordic shades of Baltic green and pewter.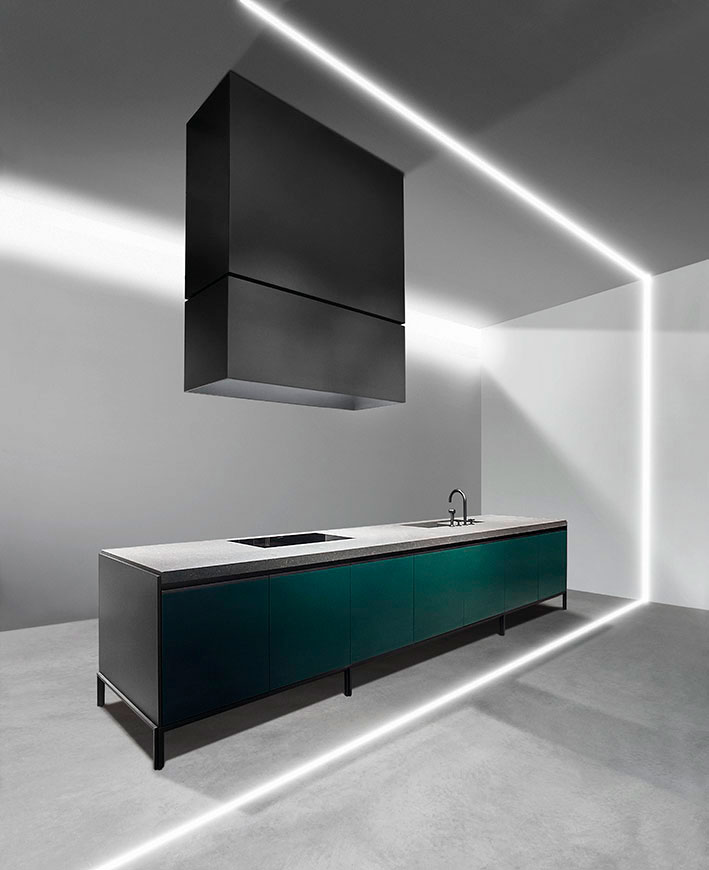 LIGHTING /
Candela by FRANCISCO GOMEZ PAZ for ASTEP
Candela is a hybrid object: a lamp that combines the analogue and the digital, tradition and technology. The type, recalling Scandinavian lamps, hides innovation that illuminates without wires and recharges smartphones through a USB port. Everything revolves around the Seebeck effect (a thermoelectric reaction in which electricity is generated from a difference in temperature): the flame produced by the combustion of bio-ethanol, a natural liquid extracted from agricultural products rich in sugar, gives off heat that can power LED lights. The 2 or 3 Watts produced guarantee the device's self-sufficiency.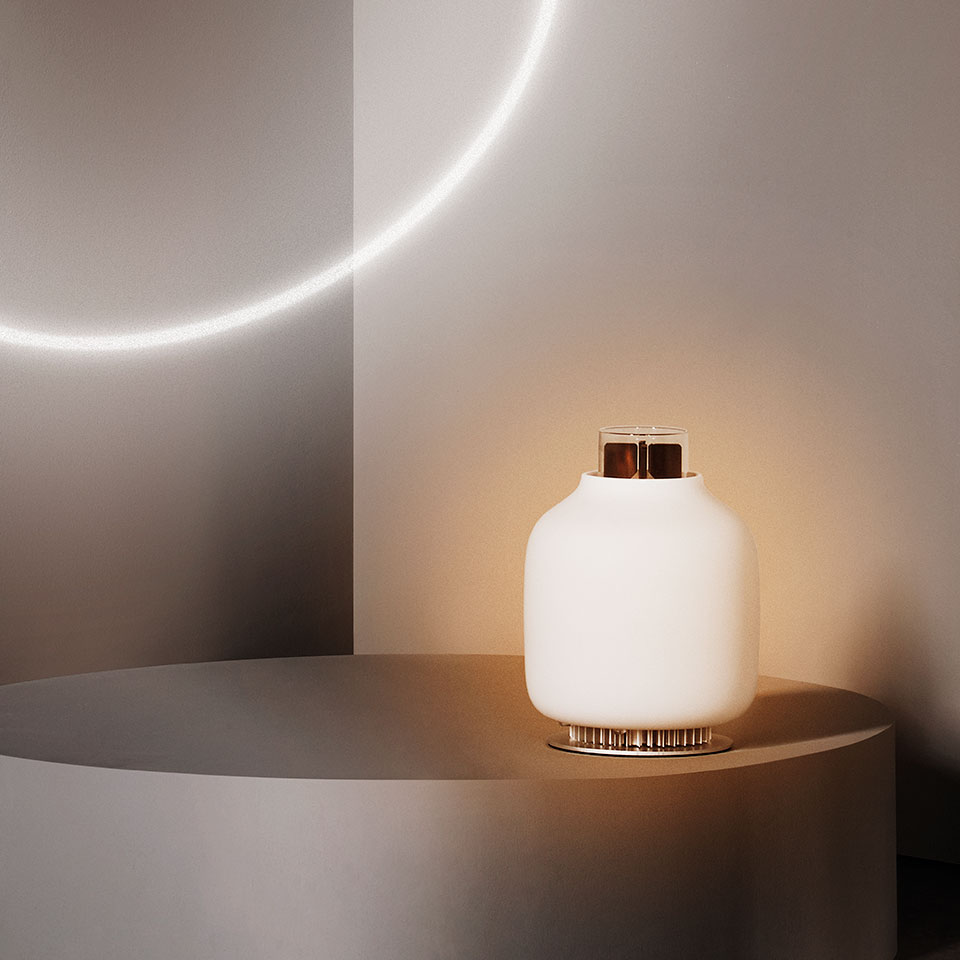 SEATING /
Gender by PATRICIA URQUIOLA for CASSINA
A tribute to the identity and the value of differences, in nature as well as in design. The Gender chair translates a subject of incredible newness: the encounter of two non-homogeneous elements that give form to an unprecedented fluidity. This is how the designer plays with the armchair's two parts (seat and backrest) covering them in different layers, finishes and colours to create, each time, a different interpretation, yet always in relation to its surrounding environment. Gender freely crosses traditional male/female barriers and is intended to be sober or bold, strong or delicate, the classic bergère.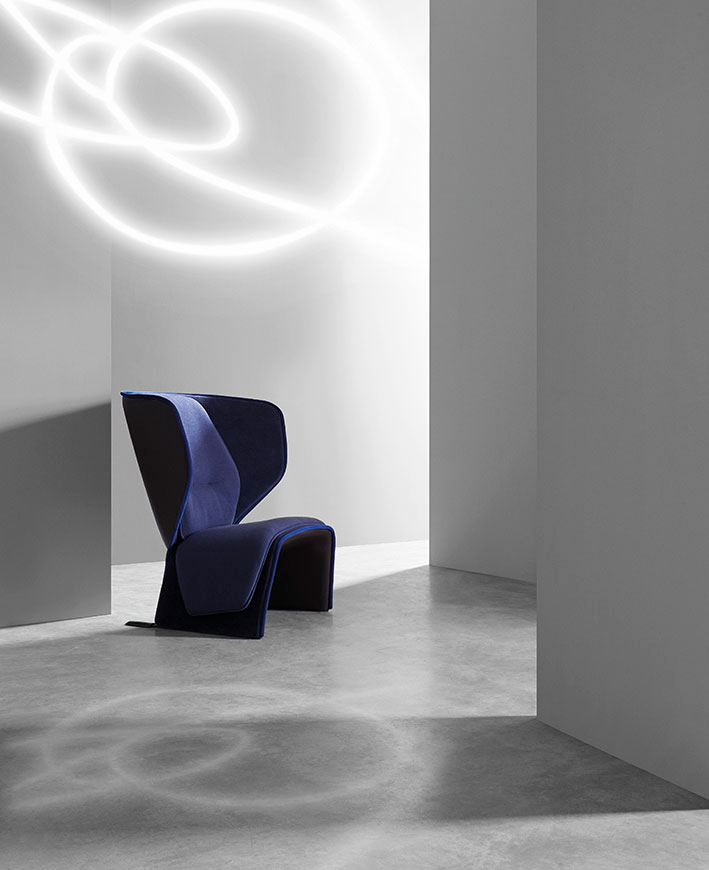 TABLEWARE /
2016/ by 16 INTERNATIONAL DESIGNERS for ARITA
To celebrate 400 years of porcelain manufacturing in the town with the same name (in the Saga prefecture), the two Dutch people with the Japanese designer (and art director) have pulled together the creativity of 16 internationally renowned studios to create equally renowned collections. Tomás Alonso, Big Game, Pauline Deltour and Stefan Diez, to name but a few, have worked closely with the local workforce to reinterpret, in a contemporary and international way, the local culture. The final collection contains 300 pieces, all strongly authorial, the result of a constant dialogue between artisan workmanship and new technologies.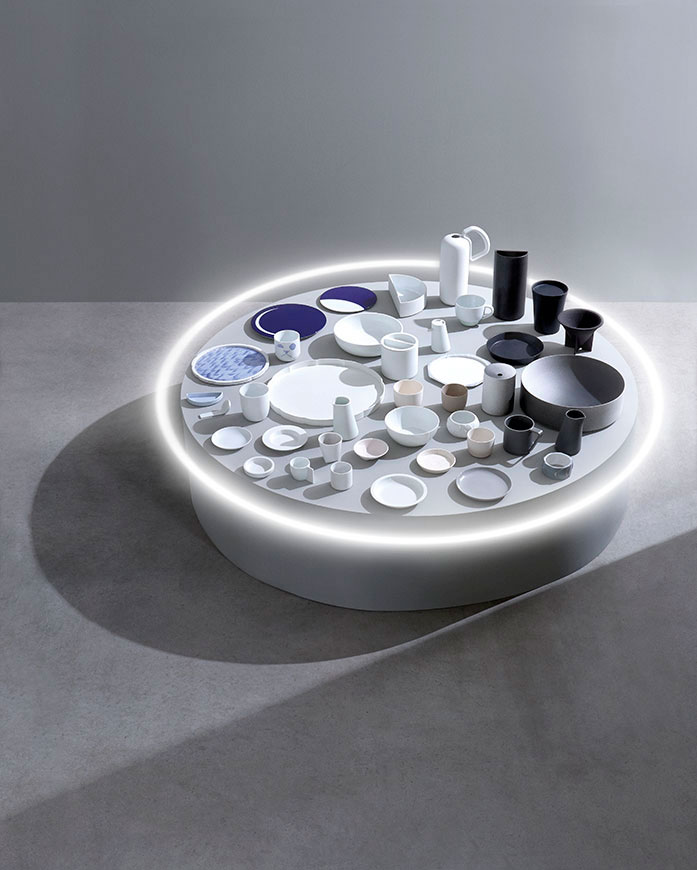 WALL COVERING /
Plumage Tiles by CRISTINA CELESTINO for BOTTEGANOVE
A line of three-dimensional tiles inspired by a bird's plumage. This is how the work started for Cristina Celestino, a young, talented, Italian designer: a journey into the world of traditional porcelain and ceramic mosaic production. Although the project is exquisitely artisan, individual models designed to cover walls can be produced in significant numbers and can be, simultaneously, personalised in their finishing. The overall effect depicts natural scenes, vibrant with light.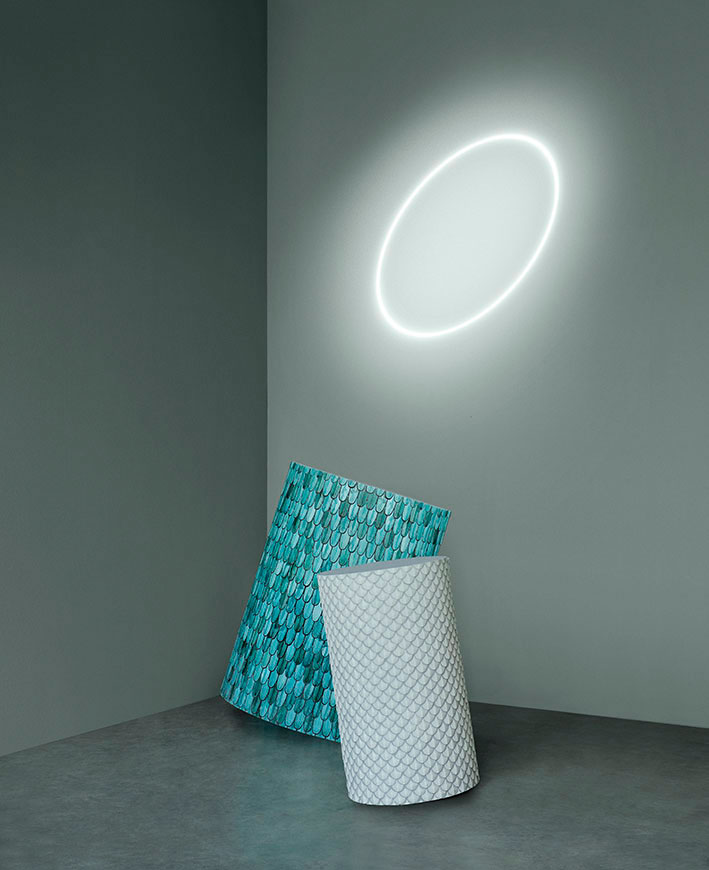 OUTDOOR /
Cala by DOSHI LEVIEN for KETTAL
By the designers' own admissions, Cala was inspired by the outdoor wicker chair in 'Emmanuelle', the unforgettable French film from the 1970s. A piece in perfect balance between sensuality and tradition that also hints of a colonial style. The wide, welcoming backrest, supported by an aluminium structure, is covered, not by chance, in a rope weave that provide a sort of latticed window. A clue that leads us to the project's genesis: a challenge for visual privacy whilst maintaining a connection to the environment.