Treetop Walk in Hamaren Activity Park
The Treetop Walkway in Hamaren Activity Park offers all nature lovers, regardless of age, disability or physical limitation, a new perspective on the mountainous pine forest of Fyresdal at 15 meters in the air. The canopy walkway in the Telemark region, known for its islands and fjords, is the first of its kind in Norway.

The treetop walk reconnects all user groups with nature through a design that enhances the experience of the visitors – taking them on a slow and poetic walk through the forest canopy, culminating in a rush of excitement as they take in a scenic view of lake against sky at 60 meters above lake water level.
The one kilometer long and two meters wide plank boardwalk extends on pillars all the way from the forest floor, along lake Fyresvatn, up between the treetops, along the mountain ridge and up to the summit of Klokkarhamaren – a hill with an elevation of 338 metres. At the end of the trail, a considerable circular viewpoint with a diameter of 50 meters provides a spectacular 360-degree view over the pine forest, clear lakes and rock formation that make up the natural landscape.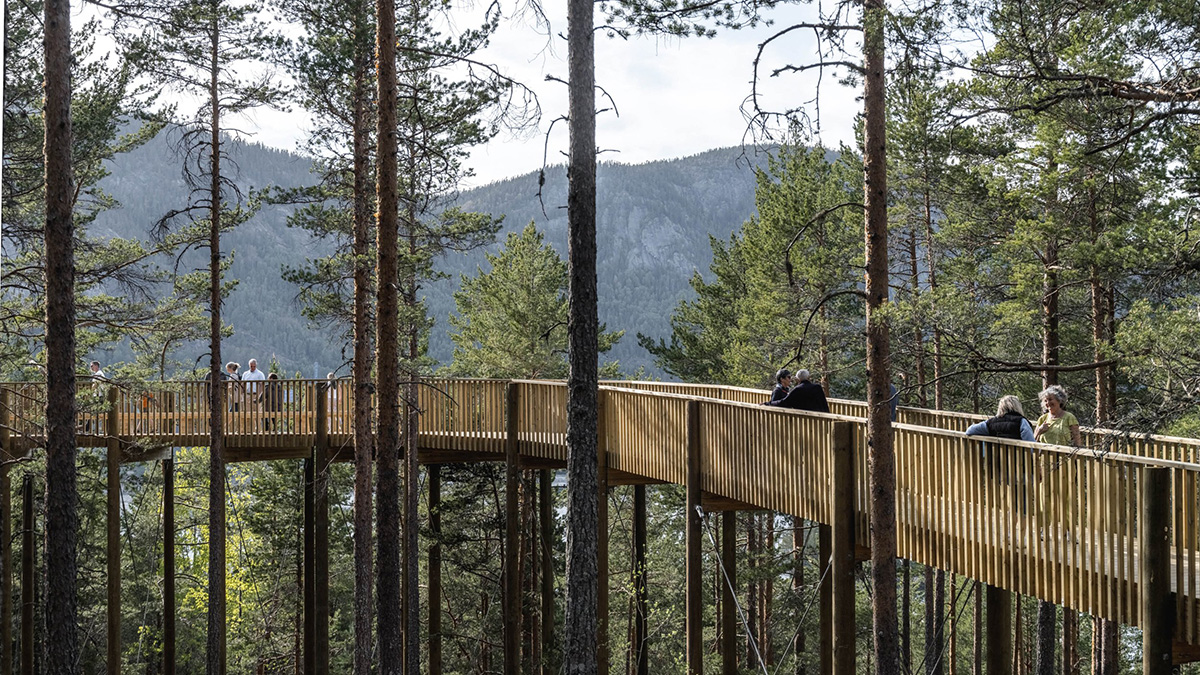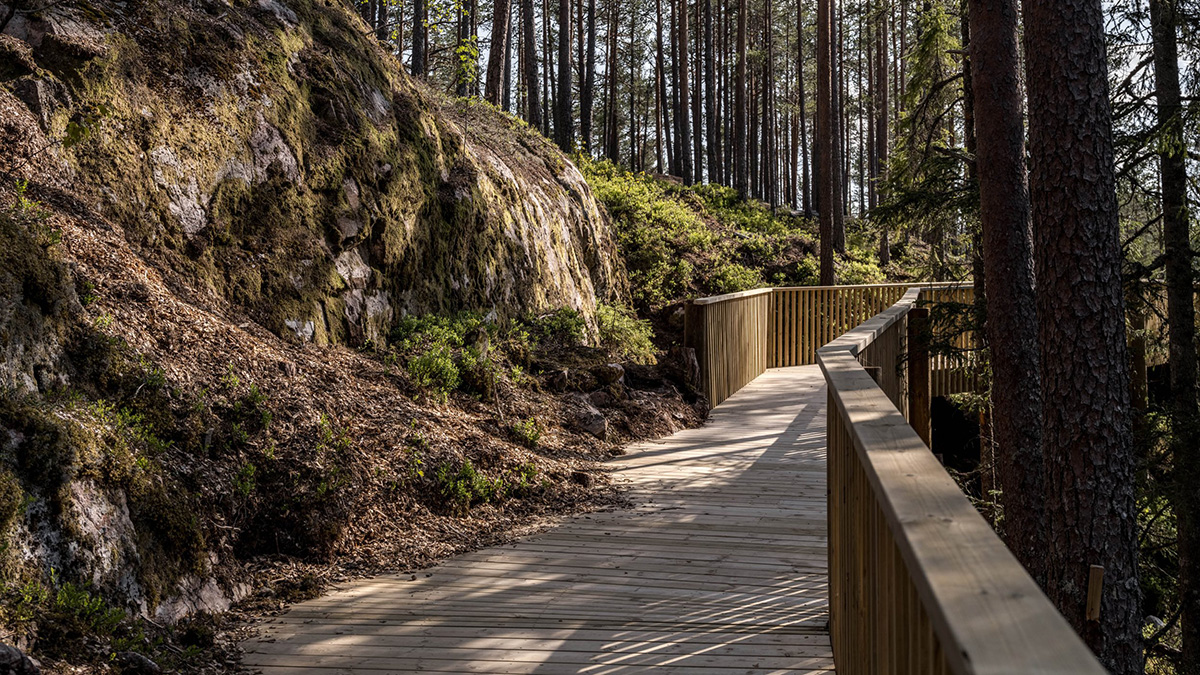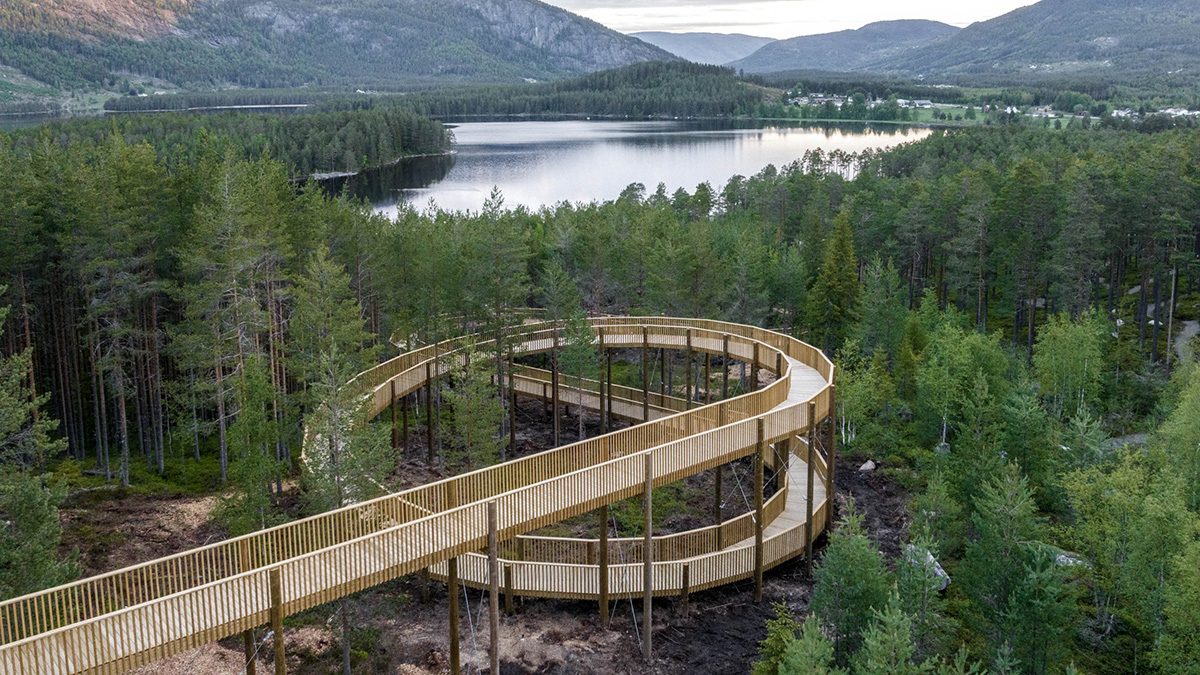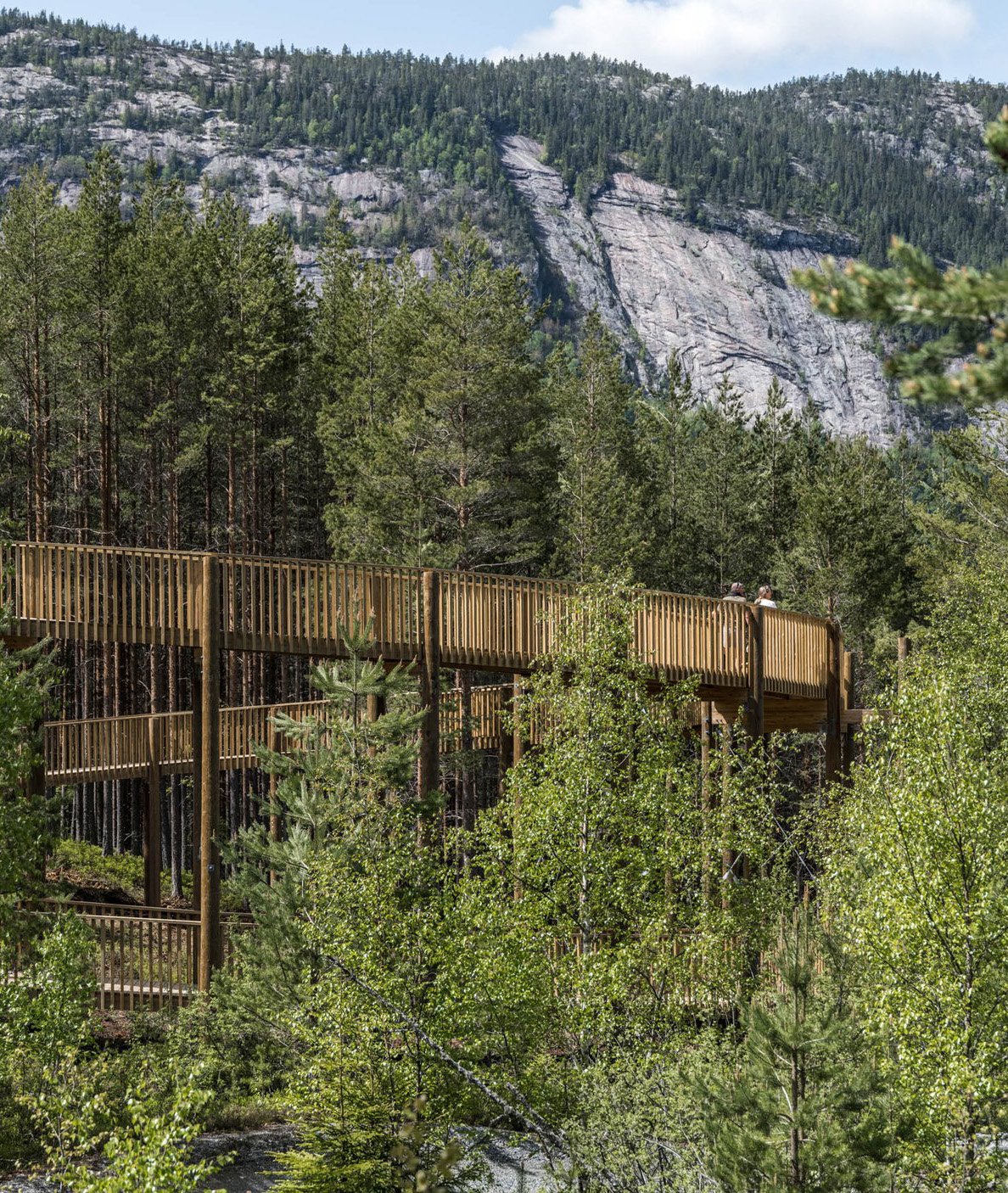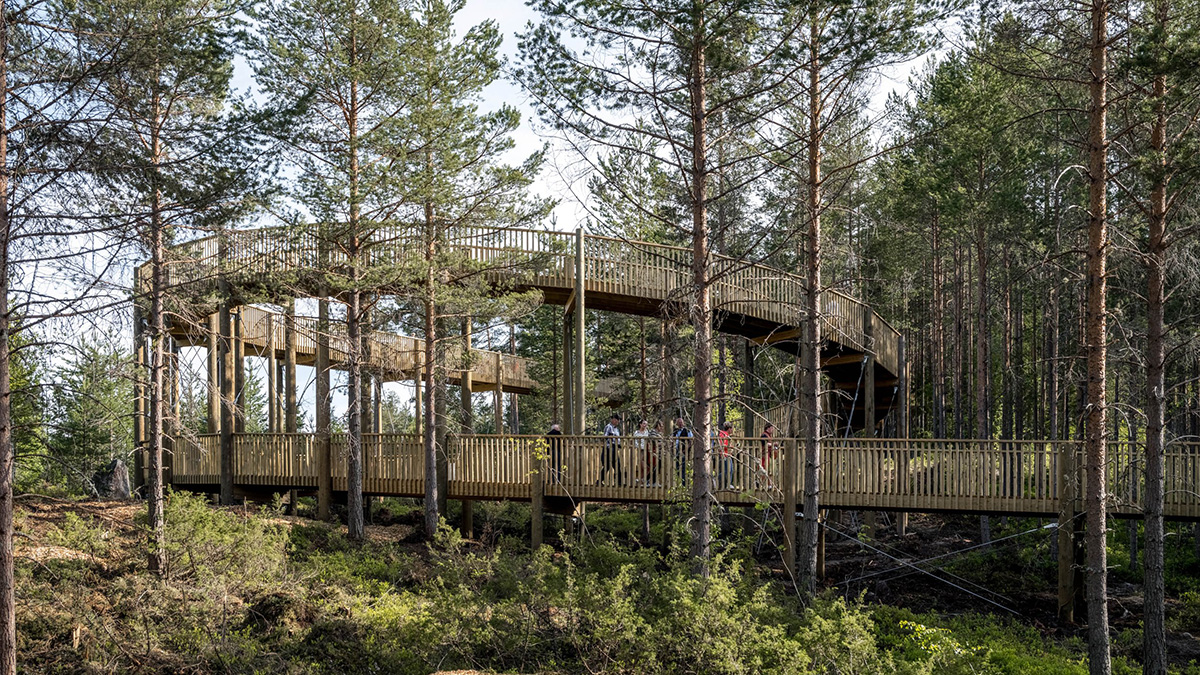 The wooden boardwalk structure is carefully designed as a response to the curvature of the mountain, sometimes following the mountain's ridges and slopes, and sometimes bending out, creating viewpoints and dramatic drops where visitors can feel the wind in the treetops.
The walking trail, which is universally designed with a gentle incline, is suitable for pedestrians, cyclists, pushchairs and wheelchairs. It grew out of a heartfelt desire to give all people, regardless of physical abilities, the sensational feeling of walking amongst the treetops.
The loadbearing structure as well as the boardwalk and railing are made from locally sourced pinewood. This way the structure literally blends in with existing pine trees on the mountain, sometimes giving the visual impression that the boardwalk levitates through the forest.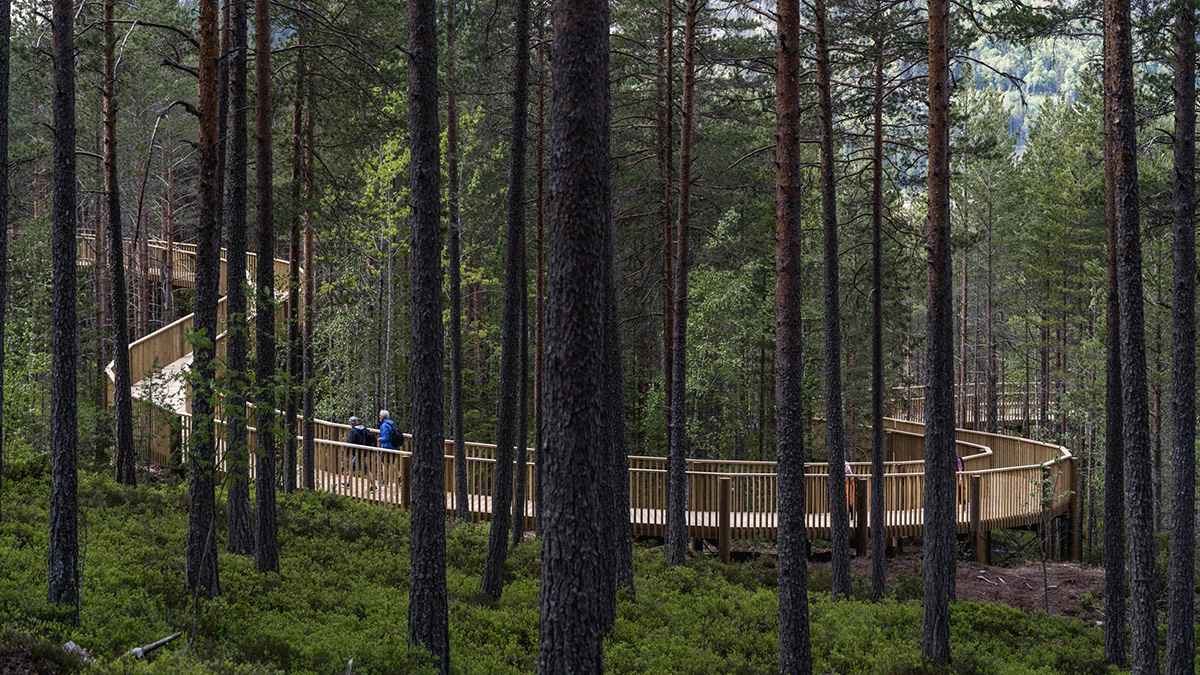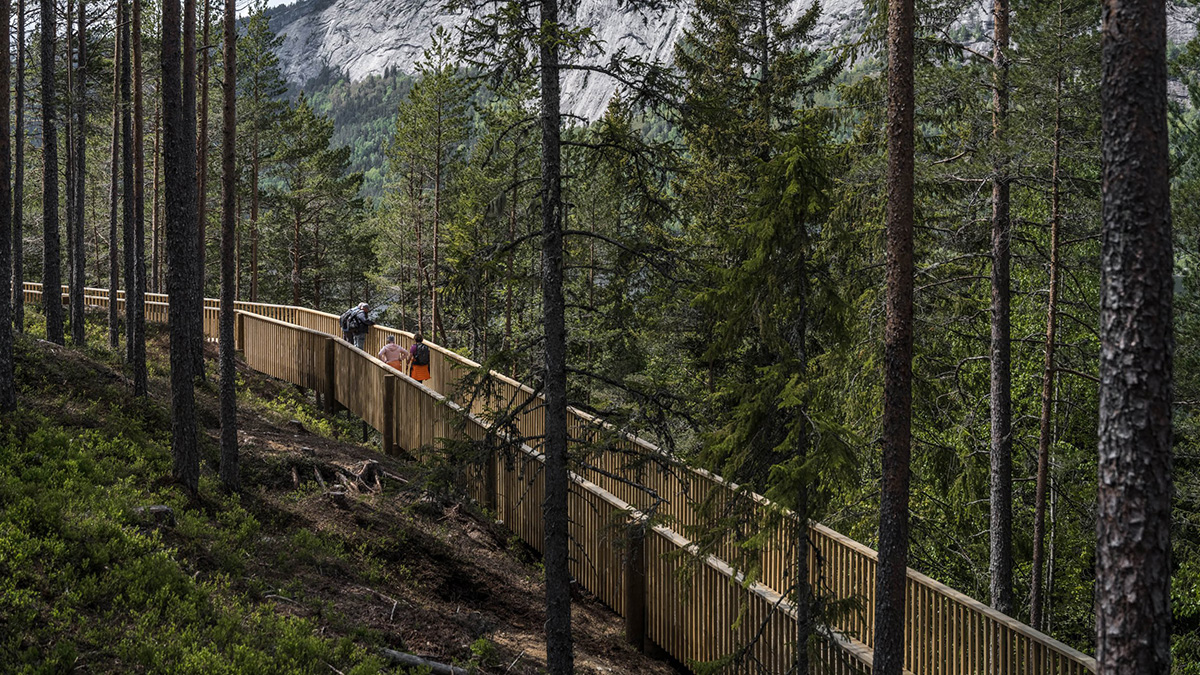 To fulfill the vision of creating an experience that would add to the already beautiful natural setting and not destroy it, the EFFEKT team met up with local contractor Inge Aamlid. Together they invented a simple wooden building system that is used throughout the whole tree-top walk. It uses only small and straight pre-fabbed elements, that can easily be handled with small machinery and by hand on site, to protect the nature during the building process. When joined together the segments form an organic shape that bends around the trees and along the mountain. The building system made it possible for Aamlid to build the recreational walkway on location, using local timber and local craftsmanship techniques, nodding to the logging era in Fyresdal.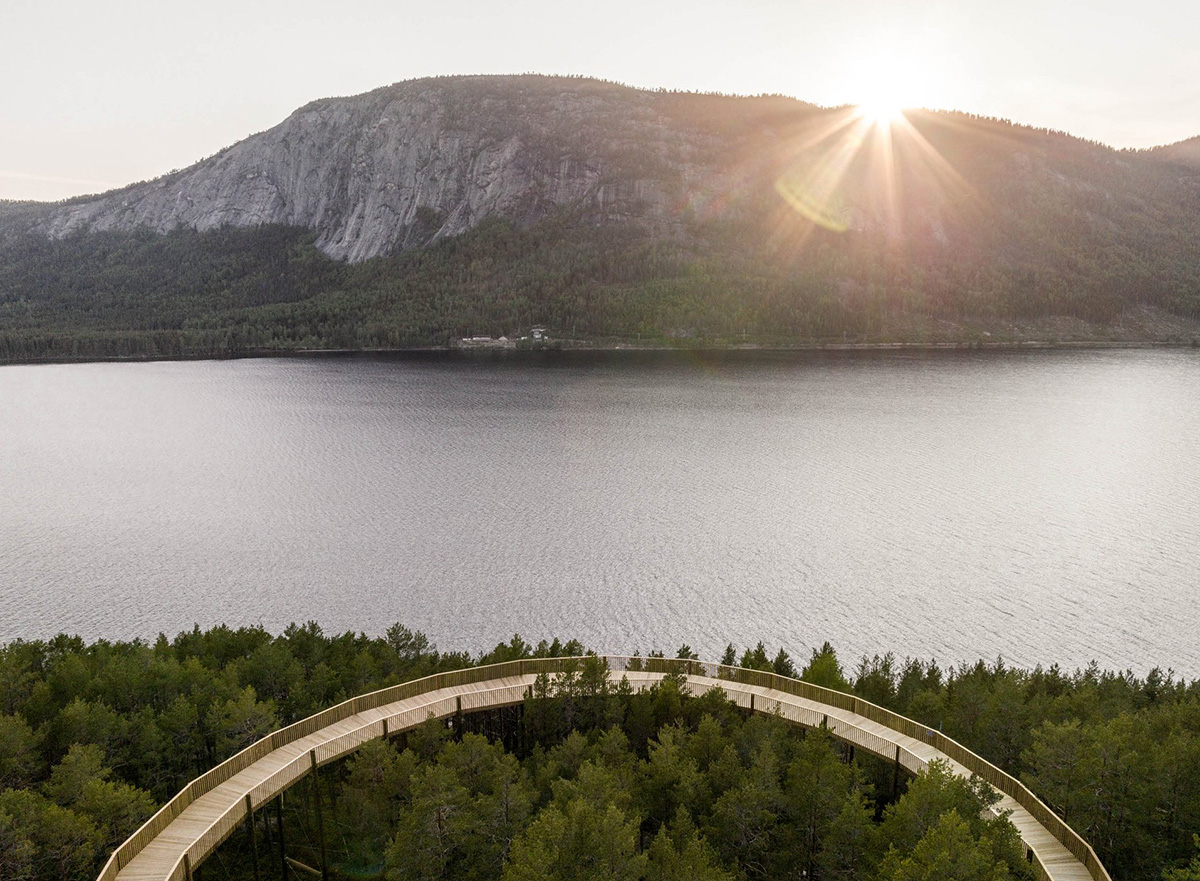 Project name: Treetop Walkway in Hamaren Activity Park
Typology: Cultural, Landscape
Location: Fyresdal, Norway
Year: 2021 – 2023
Client: Fyresdal Municipality
Collaborators: Faun Naturforvaltning (Client Consultant), Inge Aamlid (Contractor)
Design team: Tue Foged, Sinus Lynge, Toni Rubio Soler, Ehsan Fazli, Emil Vindnæs, Evgeny Markachev, Marco Buonocore, Marco Sartoretto, Filippa Gurt, Valts Kasparans
Photography: Rasmus Hjortshøj