During last year, Lammhults introduced a new scholarship in support of Ung Svensk Form (Young Swedish Design). In February 2020, during Stockholm Design Week, Erika Geiger Ohlin was the first designer to receive the award for her intriguing project "Uncanny Traces".
As a company that has been part of the Scandinavian design scene since 1945, Lammhults is happy and proud to contribute to Ung Svensk Form's important work to promote the development of young Swedish design.
Now, Erika Geiger Ohlin's work is exhibited at Lammhults' showroom in Stockholm. The show includes her new project Lammhults Traces, that was made possible by the scholarship, as well as pieces from Uncanny Traces, made from waste leather.
Erika Geiger Ohlin uses design as a method to explore issues such as societal norms, identity, consumption, alienation, and human-nature relations.
Craft is a vital part of her practice as a designer. In Uncanny Traces, she creates furniture from waste leather – residues from a tannery and a furniture factory. In Lammhults Traces, she investigates how to give second life to wool fabric remains and steel tube waste. Her projects also envision a new kind of possible relationship and exchange of knowledge, skills and resources, between the furniture industry and experimental, small-scale design and craft practices.
– I believe in a craft renaissance. I don't think of craft as opposed to industrial production. Rather, I think that craft has an important role to play in dialogue with the furniture industry in our time when resources are becoming increasingly scarce. I think it will return by necessity, since it can help us to take better care of the resources, says Erika Geiger Ohlin.
The material plays a vital role for Erika Geiger Ohlin. She approaches it with curiosity and affection.
– The material, the love for objects and matter, is my point of departure. I used to collect all kinds of stuff as a child. I was a true hoarder, that never could get rid of anything. Now, I'm more of a collector. I still collect, but only things that I can see a context for.
Every material has its own voice. The language of the cow skin in Uncanny Traces is different from the language of steel tubes and colourful wool fabrics in Lammhults Traces. But the method that she uses to investigate them with is the same: "Double Negative", she calls it.
– My creative process never starts with a blank paper. For me it is impossible to create something when everything is possible. I need a material to start with. The material addresses me. The method enables me to continue the process, Erika Geiger Ohlin explains.
By giving body to the remains of furniture making, her work tells the forgotten history of objects. It also makes visible the furniture makers she collaborates with. Lammhults' design language is reflected in her work, and the company's aim to contribute to a sustainable future is present there too.
– One of the aims of my projects is to make visible the history of the Swedish furniture industry and its role today. My collaboration with Lammhults was both exciting and enriching. It was a privilege to take part of their skills and knowledge.
It is not easy to find nouns that properly describe Erika Geiger Ohlin's works. Are they sculptures? Furniture objects? Objects? Well, one of them look like a sideboard, one like an armchair, and another like a lamp, but they all are also something else. What?
– I think of them as friends. Friends with flaws, oddities, and advantages. My hope is that they will encourage reflection, says Erika Geiger Ohlin.
Read more about Ung Svensk Form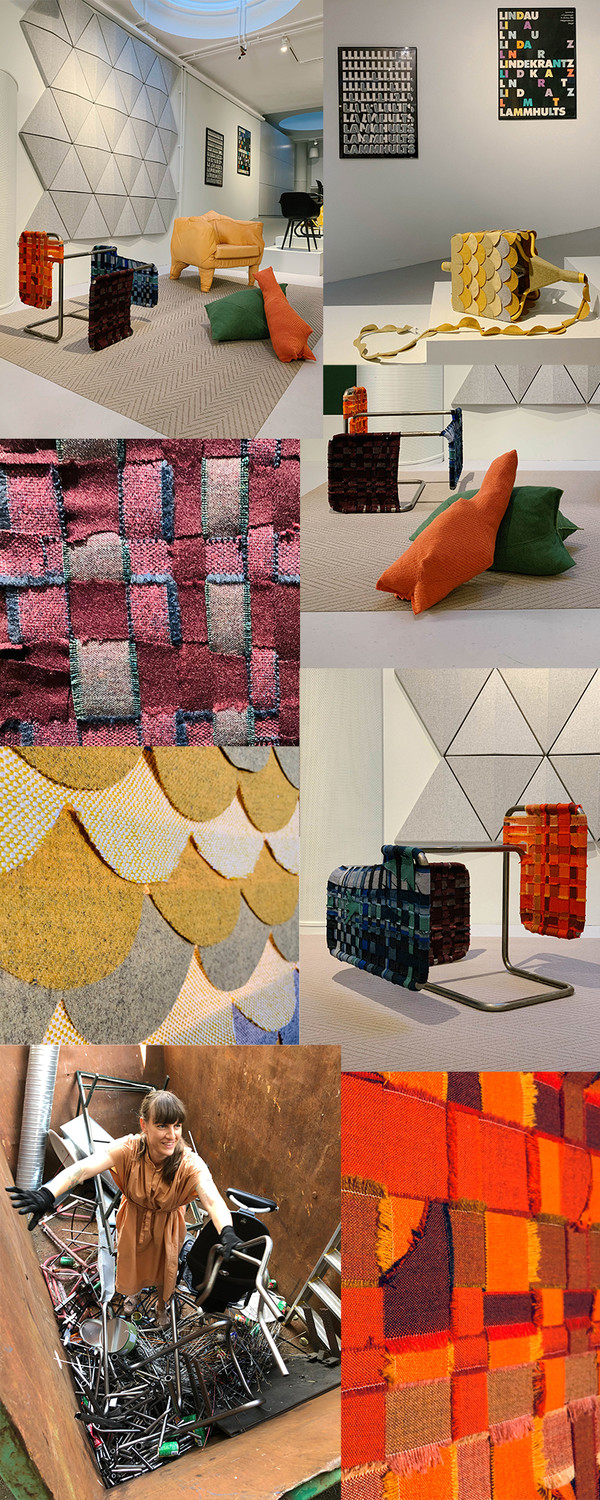 Lammhults Möbel AB, Box 26, SE-360 30 Lammhult
Phone: +46 472 26 95 00, Fax +46 472 26 05 70
e-mail: info@lammhults.se