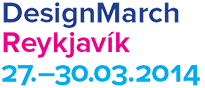 DesignMarch is Iceland's most important annual design festival. Organized for the sixth time this year, it will be the largest and most significant yet, with an expected 100 or so events that will transform the most northerly capital in the world into one big venue for design.
From fashion to furniture, architecture to food design, the festival showcases the best of the local design scene alongside exciting international names, opening with DesignTalks, a day of lectures by internationally acclaimed designers and the foremost local design thinkers.
DesignMarch is organized by Iceland Design Centre, the promotion agency of Icelandic design and architecture.
See you in DesignMarch!
Read more: http://designmarch.is/