Carl Hansen & Son relaunches the Windsor Chair designed by Danish architect and cabinetmaker Frits Henningsen in 1938. The classic chair was continuously in production at Carl Hansen & Son until 2003 and is now relaunched with a comfortable seat cushion. Majestic, classic and light in expression.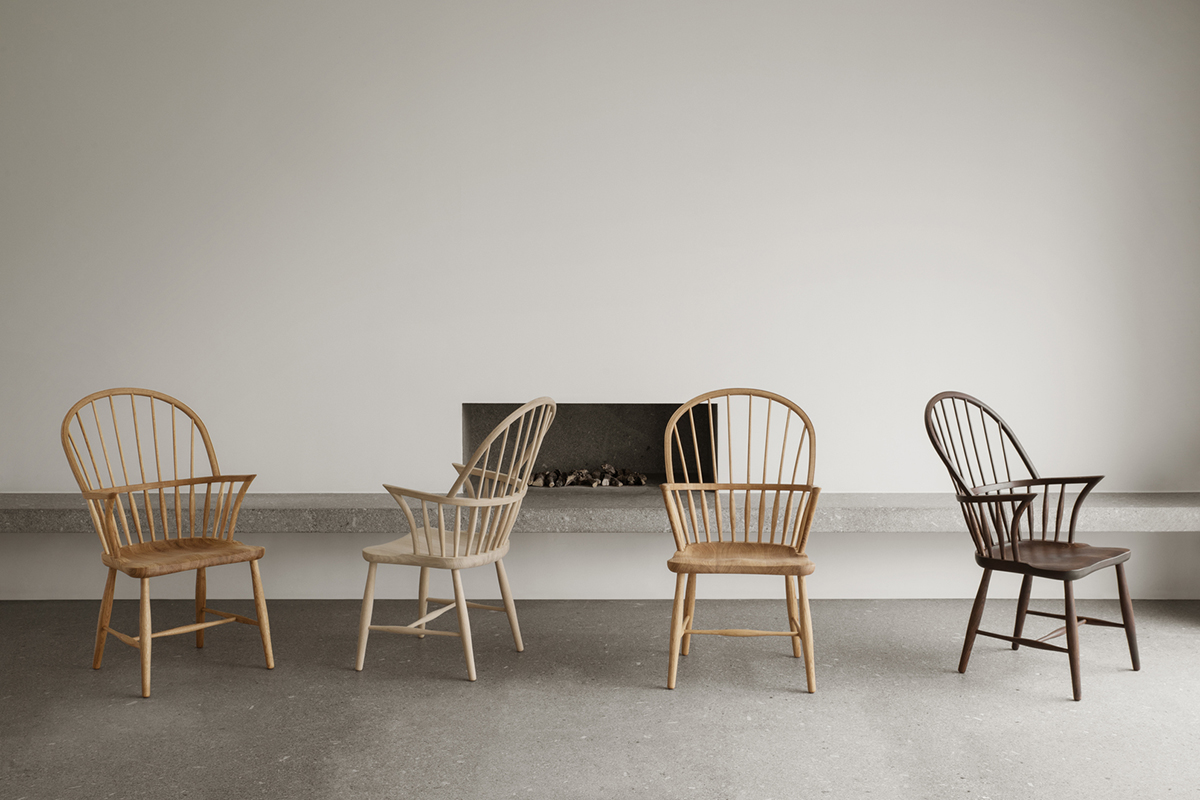 Frits Henningsen's comfortable Windsor Chair FH38 is as topical today as when its archetype came into being some 300 years ago in Buckinghamshire, England. With a sculptural back and a base of straight, oblique wooden legs, the Windsor Chair is an elegant piece of carpentry that belongs in both modern and classic décor.
Henningsen was inspired by early style periods such as the French Empire, Rococo and 17th-century English furniture and reinterpreted them with a modern Scandinavian touch without superfluous decorative details, but with a focus on functionality, good craftsmanship and a single expression.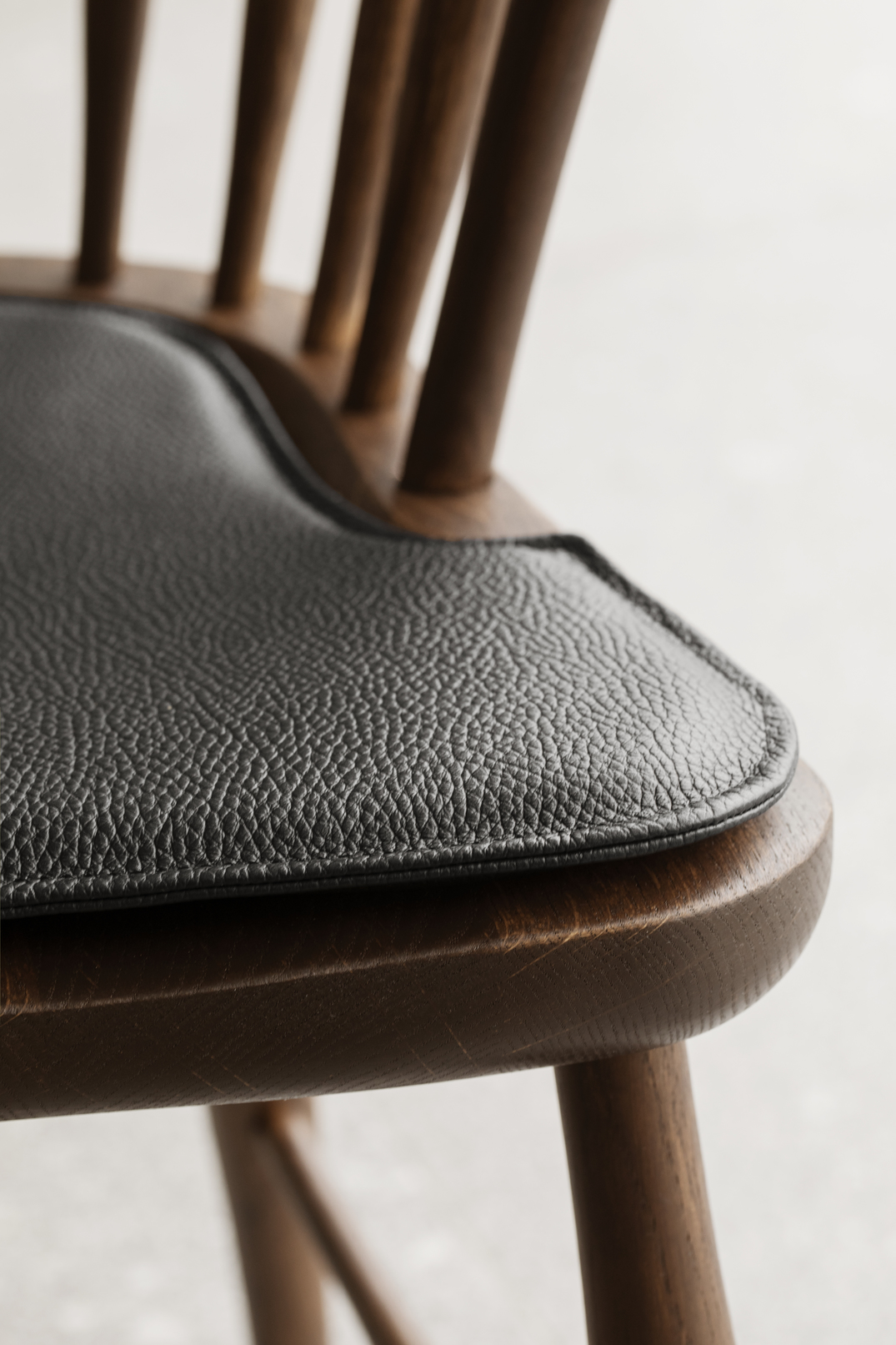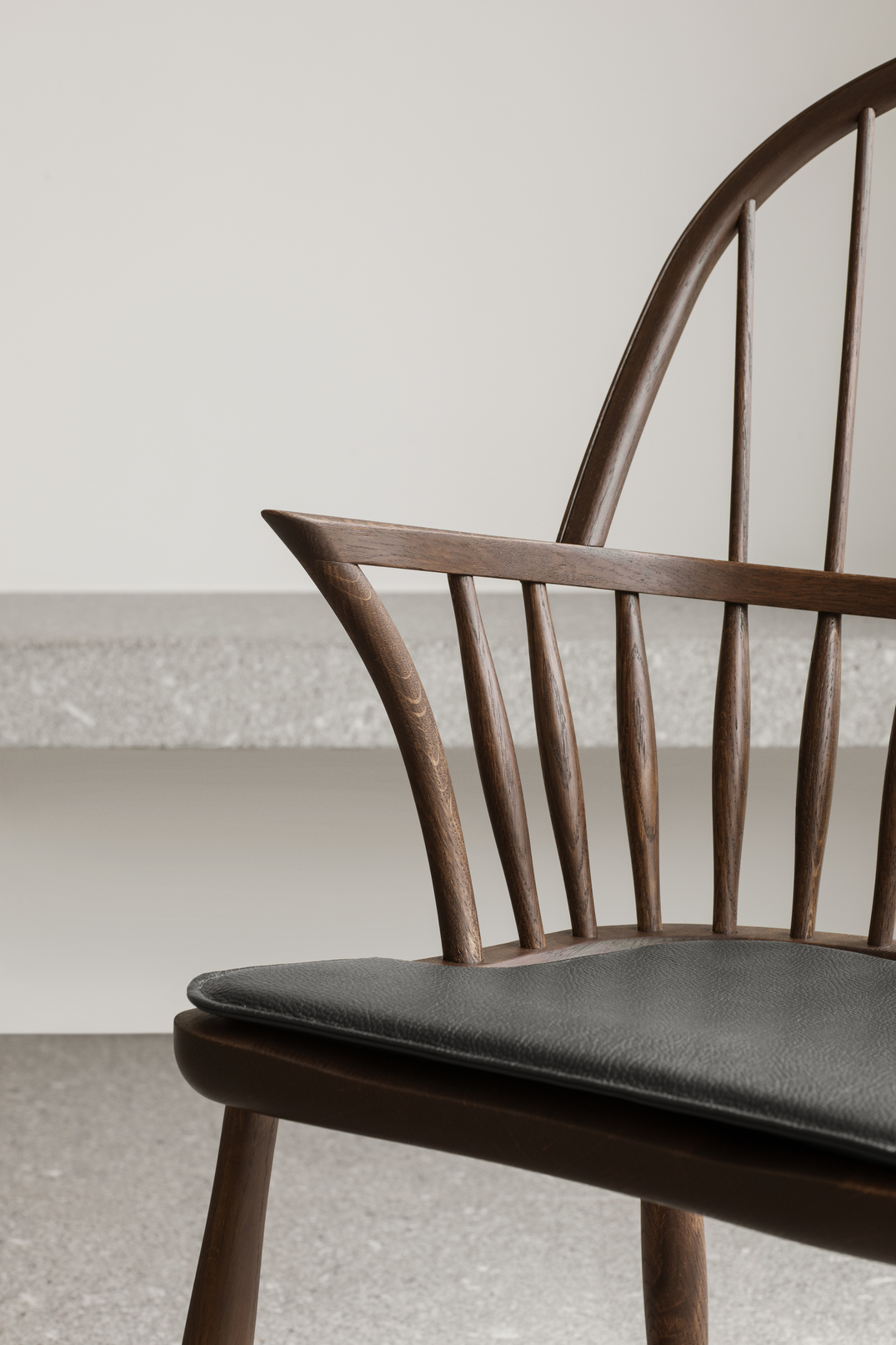 Demanding craftsmanship

Henningsen's version of the Windsor Chair is a high-backed solid oak dining chair that hides many artisanal challenges, as many different carpentry techniques have been used. Making the chair thus requires the skills of an experienced joiner, highlighting the fact that Henningsen himself was a carpenter and a designer who explored the possibilities of the materials.
Thus, the upper part of the chair consists of two steam-bent parts, one of which forms the arch on the backrest while the other extends around the back to become the armrest. The 14 repeated braces in the back and armrests are slightly sloping, forming a decorative range with a comfortable slope. What is special here is that the braces all have different angles and are tightened together at the same time without the use of glue using a process requiring great precision. Furthermore, all transitions as well as the organic shape on the upper side of the armrest are sanded by hand using what is known as a 'feel test'. Each chair is therefore unique and thus not only beautiful to look at but also a distinguished example of traditional craftsmanship developed and refined over the centuries.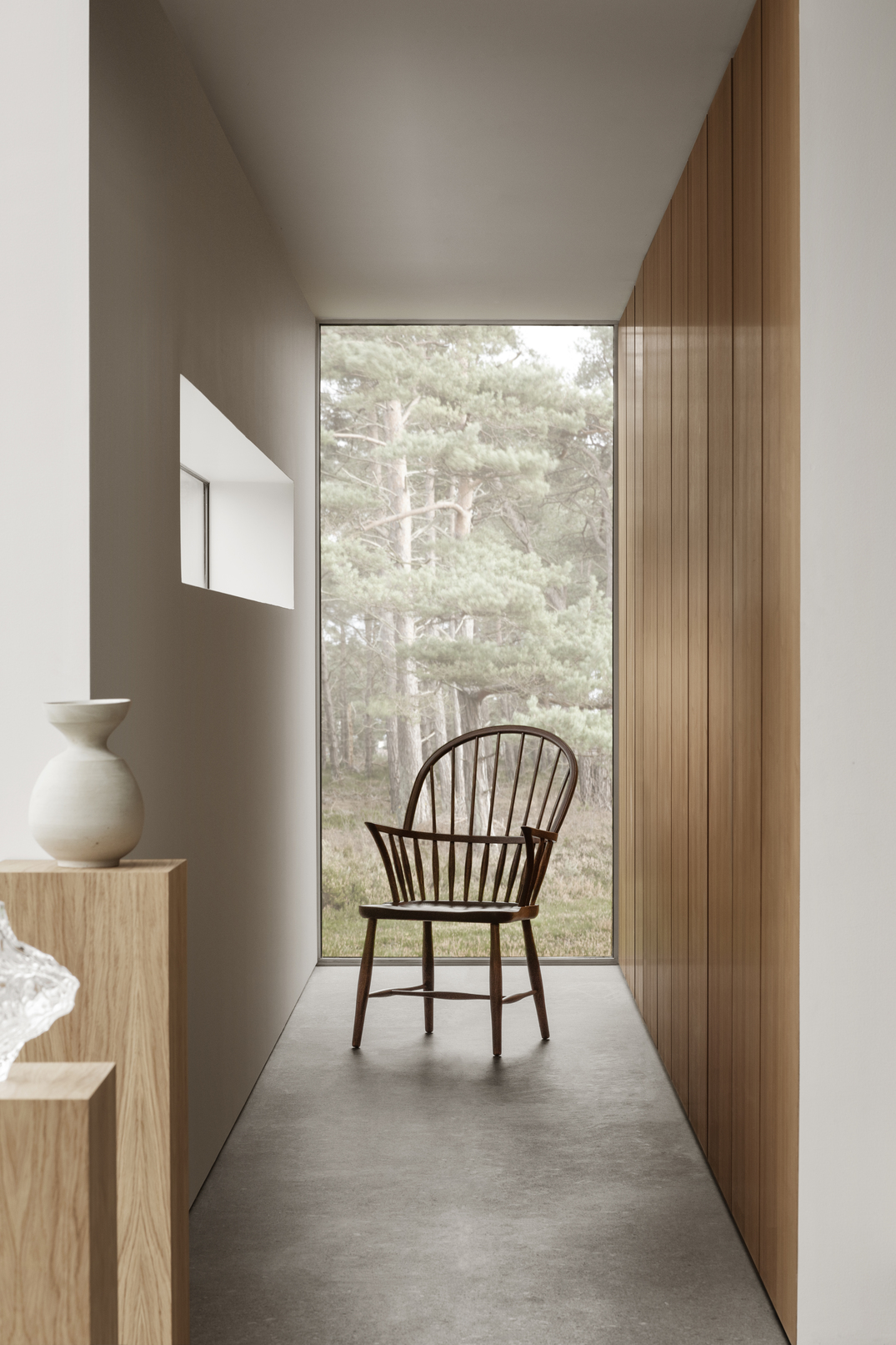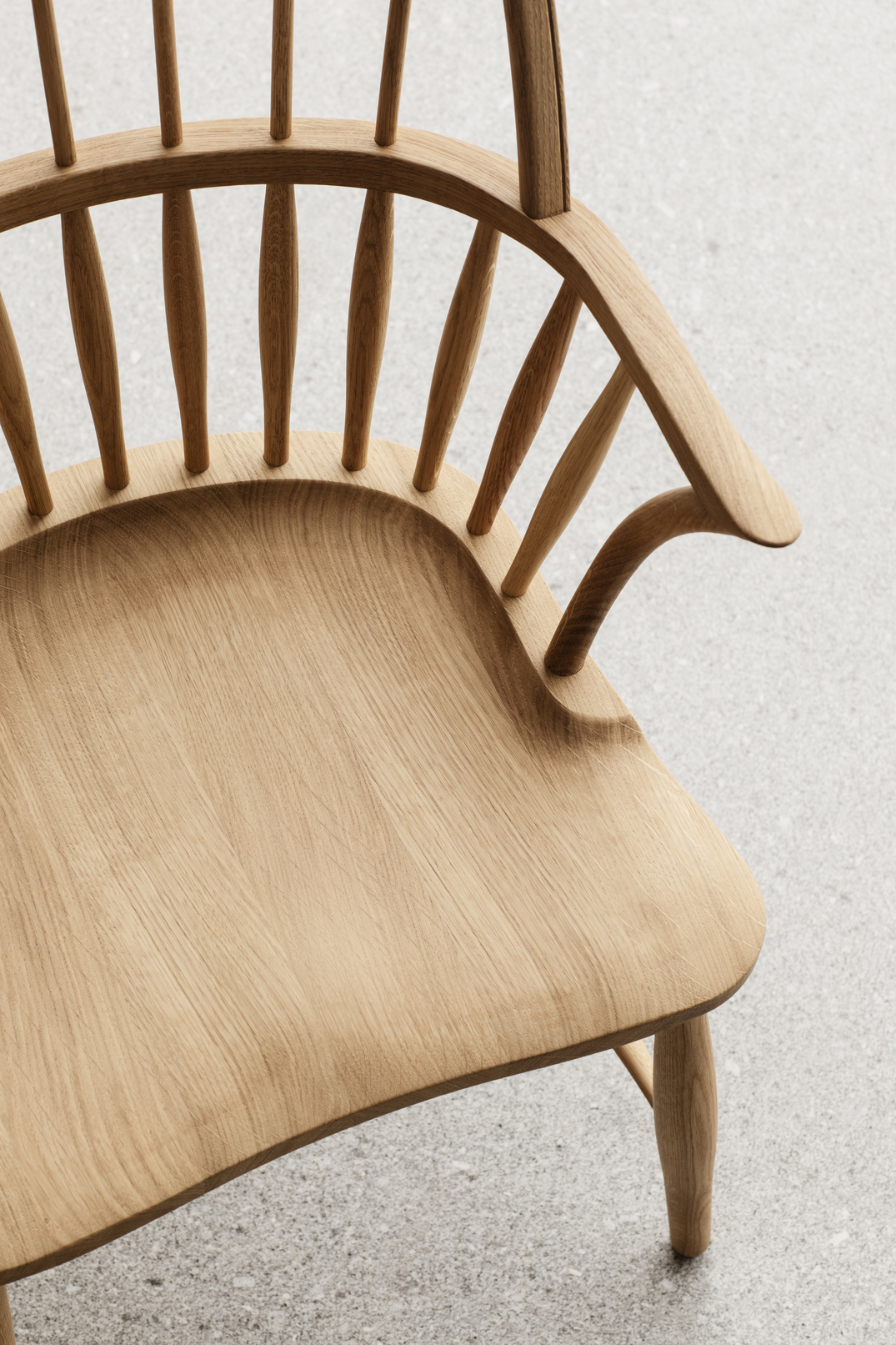 In the words of our CEO
Knud Erik Hansen, CEO of Carl Hansen & Son, says of the launch: "The chair is very sculptural, and the back is taller than necessary for an ordinary dining chair. It thus appears as a fusion of a dining chair and a lounge chair, making it very versatile and comfortable to sit in. Especially with the newly developed, soft seat cushion. As something of a curiosity, the relaunch of the Windsor Chair coincides with the 70th anniversary of the reign of British Queen Elizabeth, who, as you know, resides in Windsor Castle!"