CARL HANSEN & SØN, IN COLLABORATION WITH VILHELM LAURITZEN ARCHITECTS, LAUNCHES THE FOYER SERIES EXCLUSIVELY CREATED FOR RADIOHUSET IN COPENHAGEN. FOR THE FIRST TIME, THE INVITING LIGHT AND SCULPTURAL SERIES WILL BE AVAILABLE TO A WIDER AUDIENCE.
Vilhelm Lauritzen designed Copenhagen's Radiohuset for national Danish broadcaster Danmarks Radio (DR) at a time when radio was a new and modern technology. The heritage-listed building from 1945 was created using exclusive materials, including Greenlandic marble and teak hardwood, and is today one of the finest examples of Danish Functionalism. Vilhelm Lauritzen's keen eye for detail is evident throughout the structure, and all furniture and lighting were custom-designed for the interior. This was also the case with the Foyer series, which Lauritzen designed for Radiohuset's magnificent foyer.
The Foyer series still adorns the iconic Radiohuset, which today houses the Royal Danish Academy of Music. This series is now made available to a wider audience for the first time, and has been recreated in close collaboration with Vilhelm Lauritzen Architects and with great respect for the original design.
The Foyer series consists of a bench, a sofa and a lounge chair, all of which are characterised by a unique interplay between the oak frame and the upholstered seats and backrests, which almost seem to float. The series is meticulously upholstered in fabric or leather. It requires time-consuming precision and craftsmanship to upholster the seats and backrests, which feature handmade buttons. Armrests and legs on both sofa and chair are assembled from three parts, and hand-polished with the utmost care to avoid the appearance of noticeable transitions. Despite the series' delicate idiom, comfort is still central to the soft seating and backrests of the design.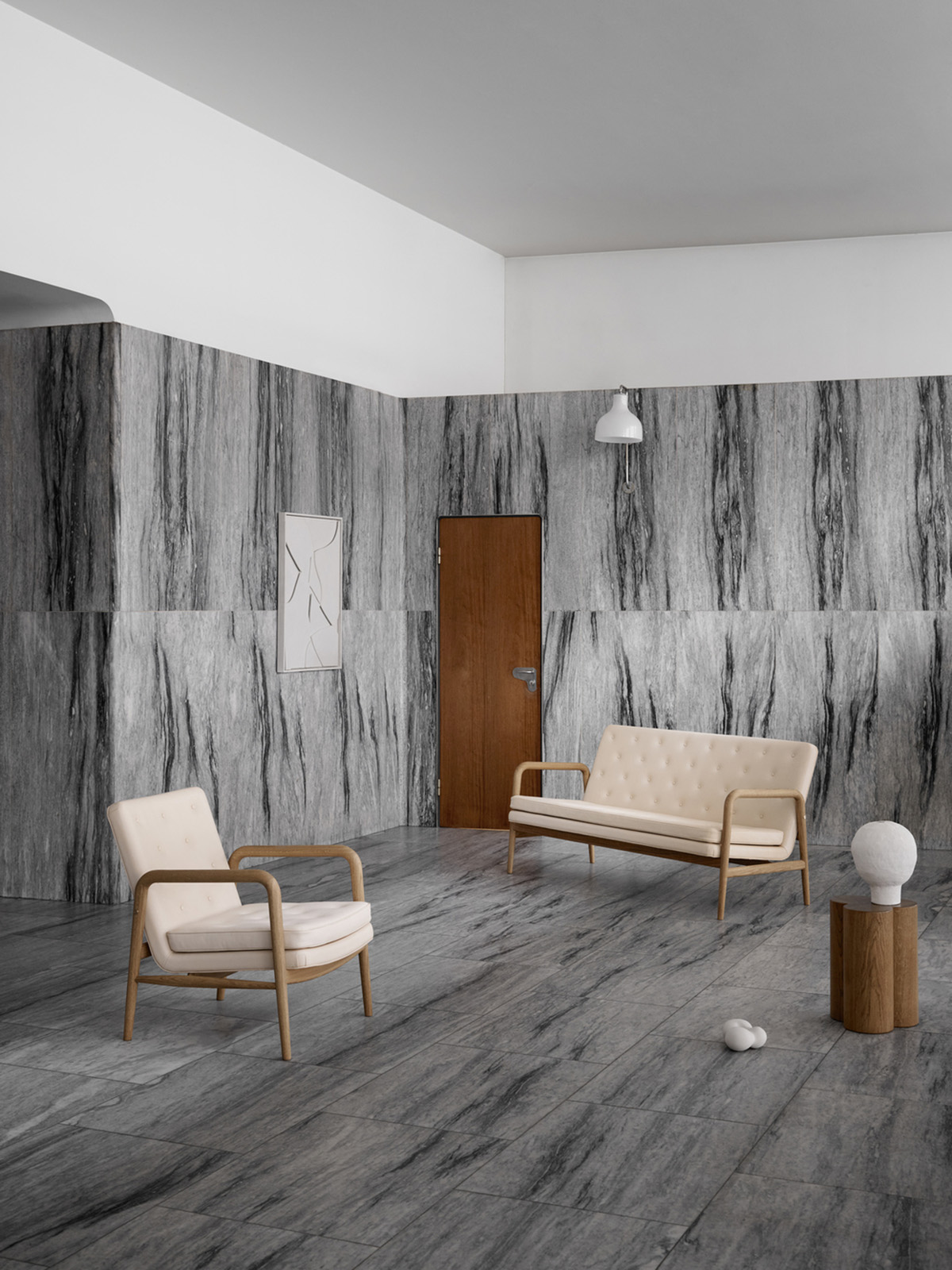 Knud Erik Hansen, CEO of Carl Hansen & Søn, states on the launch: "The Foyer series comes as part of a wider collaboration between Carl Hansen & Søn and Vilhelm Lauritzen Architects, where this year we present both the Foyer series and the Vega Chair, and we expect to present more furniture together in the future. We are honoured to be given the opportunity to launch this unique piece of furniture, which has previously only been produced for the buildings for which it was intended."
Anne Møller Sørensen, partner in Vilhelm Lauritzen Architects, states: "The Foyer series is good, simple Danish design expressed in Vilhelm Lauritzen's unique design vernacular. The furniture is shaped in accordance with the body's anatomy with well-conceived honesty – such as the upholstered seat shell, which is carried by the wooden frame and held only by a few screws. This is very simple and gives the series a natural lightness using sturdy materials. Together with Carl Hansen & Søn, we have worked to adapt the comfort to the present, while still preserving the original design that makes the series timeless – this is furniture that will last you a lifetime."