Lammhults' Cargo trolley has become something of a modern design classic since its launch in 1999. With its simple and meticulously thought-out geometric steel construction, strongly influenced by the functionalisms thoughts, the trolley fits in well with Lammhults' design philosophy "Modern Essentials". The new Cargo Gastro gives the gastronome an exclusive trolley with marble trays for cheeses, chocolates and avec or for decanting wines.

"Developing the new Cargo Gastro has been a pure delight," says designer Gunilla Allard. "It came about thanks to several and long conversations with Swedish restaurateur Per Bengtsson, who runs the highly respected PM & Vänner in Växjö, which I always visit when I´m working in Lammhult. Per has been a sounding board throughout the process, and has come up with some good ideas for how the trolley can be refined as regards function and ergonomics to live up to the tough demands of a gourmet."
In addition to the exclusive, easily detachable marble trays, available in two sizes, the trolley has a cover for storing cheese. This is to ensure that the flavors and aromas of certain cheeses do not mix with others. The trolley is also extremely easy to move in all directions thanks to the special wheels.
No doubt the new Cargo Gastro will find a natural home among top restaurateurs around the world, but also among private individuals who want to offer that little bit extra at dinner parties.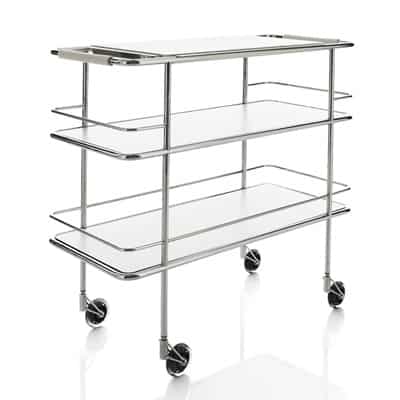 Cargo Gastro is characterized by high flexibility in terms of form, color and function, and can be ordered in different versions. The chromed steel frame can be supplemented with black or white laminate shelves. The handle is covered with leather.
When not in use it becomes an elegant sideboard, or why not a mobile cocktail cabinet? Simply remove the top trays in the trolley to create space for bottles and glasses. Cargo Gastro is a neat, flexible trolley for stylish storage and serving.
Design: Gunilla Allard


Lammhults Möbel AB, Box 26, SE-360 30 Lammhult
Phone: +46 472 26 95 00, Fax +46 472 26 05 70
info@lammhults.se