BAIL – a flexible series that creates rooms within a room
Johanson is proud once more to present new prod-ucts from the studio of the Berlin-based design duo Böttcher-Kayser.
BAIL is a series that offers enor-mous potential. This new addition to the Johanson range has a distinctive character and a broad spec-trum of areas in which it can be used. BAIL opens up opportunities to create rooms within a room and to furnish spaces to meet your specific needs.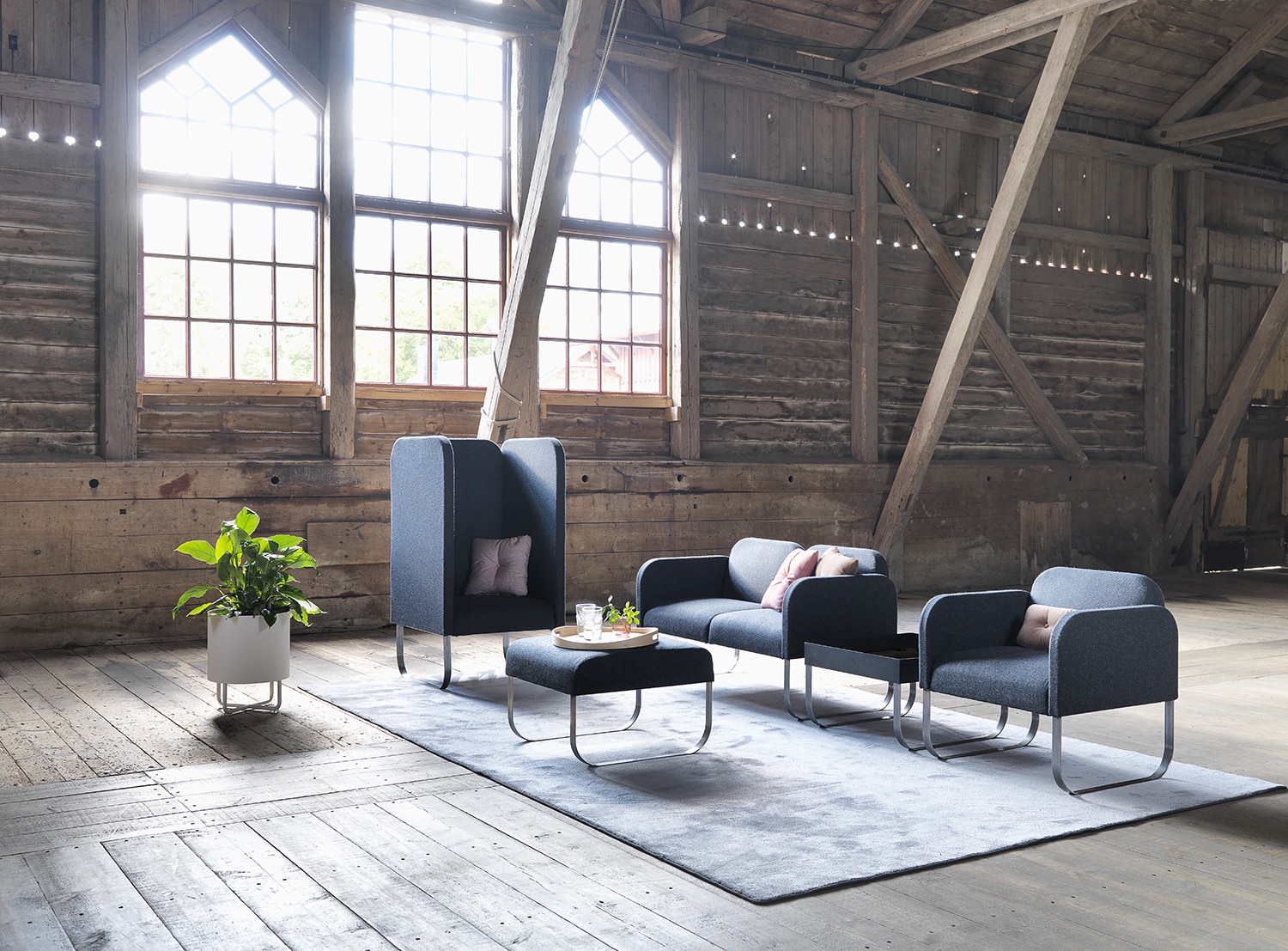 BAIL is a flexible, versatile series with plenty of po-tential for variation. It is easily combined and blends in well in many different types of settings – from hotels, lobbies and waiting rooms to lounge areas and offices. The elegantly pared-down design also ensures that BAIL is equally at home in private domestic environ-ments. The flexibility of the BAIL bench system is further enhanced by its accessories, making it ideal not only for furnishing solutions for informal meetings and creative encounters, but also for more secluded areas that serve as quiet zones with fewer distractions for tasks that demand greater concentration. BAIL enables you to create rooms within a room and furnish spaces to meet your specific needs.
The expression is characterised by a crisp, clean design with generous lines. Together with high-quality materials this ensures that, despite its robust form, BAIL has a soft, welcoming appearance. The uphol-stered units are supported on a sled base.
In addition to the classic one-, two- and three-seat sections, BAIL opens up the possibility of using high walls/screens and high backrests to create more se-cluded settings. With the help of these you can furnish areas that are shielded from disturbing background noise, a quiet haven where it is possible to work on tasks that require greater concentration. BAIL is avail-able in many different alternatives to meet a broad spectrum of needs. Furnish with or without armrests, or create a generously proportioned stool or a bench unit that offers unrestricted access from different directions. There are many variations and the gener-ous selection of colours and textiles leaves nothing to be desired.
The BAIL series also includes accessories such as tables and planters. You can use these to further emphasise the "room within a room" sensation and create an entire furnishing solution totally adapted to your needs and wishes in terms of function and colour. Integrated outlets for charging USB devices, smart-phones and computers help to create areas in public spaces or office environments that meet all the needs of today's constantly connected society.
The idea for BAIL was born from the increasing familiarity with the range that Böttcher-Kayser have acquired during the course of their collaboration with Johanson. The design duo have previously designed Shima and Robbie for Johanson, products that now have established a firm place for themselves in the range. The need for a new series in the form of BAIL felt natural. "We have got to know the range very well and have become well acquainted with the strengths of Johanson's production. Also, we know that every-one at Johanson is always open to new ideas. We never hear comments such as 'This is how we've always done things here'. On the contrary! Our ideas are met with a positive can-do attitude and a great deal of interest and enthusiasm. Anything else would spell death for the creative process that is absolutely crucial for the success of good design. The open, inviting atmosphere at Johanson makes us feel part of the entire process. That gives a great boost to the work we do and lays the foundation for a successful end result," says Möritz Böttcher.
Swedish-made in Markaryd
Thanks to Johanson's talented upholsterers, there are limitless opportunities for variation as far as textile covers are concerned. Underframes are available in a choice of finishes and colours. BAIL is made in Sweden, where it is carefully crafted at the Johanson production plant in Markaryd.
Take a look at Bail at Orgatec 23-27 October 2018. You will find us at Hall 10.2 Stand K029 L028.