03/02/23 – 01/03/26
About the Exhibition
In the exhibition 'At Home in The Design Museum' over 200 examples of Icelandic design will be put on display. The museum counts over 5000 artifacts in their collection dating from the year 1900 to the present day.
The exhibition is displayed as a blueprint of a home where different objects from different eras come together side by side as would be common in homes.
Furniture, tableware, books and textiles from different eras are displayed and exemplify a fraction of what Icelandic designers and artisans have been creating.
The home is in constant flux. Things are moved, thrown or given away, changes are constant.
The creation of the home is a living process without a close. The home is first and foremost a creation of those who live there.  Personal taste, which is influenced by many aspects of people's experiences in life, gives each home its own uniqueness.
Much must be attended to in a home and unforeseen incidents occur. The same can be said of setting up an exhibition, as happened last December when the roof of our exhibition hall struck a leak.  Due to this we can only open a part of the exhibition until works have been completed on the roof and we can be certain that our artifacts are safe and properly protected.


The hall will stand empty and remind us of the fickleness of life and the importance of nurturing both homes and museum spaces.
Curators: Anna Dröfn Ágústsdóttir, Arnar Freyr Guðmundsson, Birna Geirfinnsdóttir og Sigríður Sigujónsdóttir
Photo: Stúdíó Fræ
The exhibition in sponsored by Safnasjóður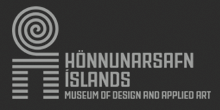 Museum of Design and Applied Art
Gardatorg 1
210
Gardabaer 
Iceland