The new Moci Dining Table designed by Moa Sjöberg for ASPLUND Collection has been nominated for the Swedish Design Awards by RUM 2022 in the category "Furniture of the Year"!
For the ninth year,  the publisher 'It is Media' draws attention to the leading players in Scandinavian architecture and design by awarding the prestigious Swedish Design Awards by RUM. The award draws attention to both established players and newcomers in architecture, interior design and design with the ambition of promoting both the creators and the industry. The award categories are Architecture of the Year, Furniture of the Year, Interior Detail of the Year, Designer of the Year, Conservatory of the Year and Sustainability Award of the Year.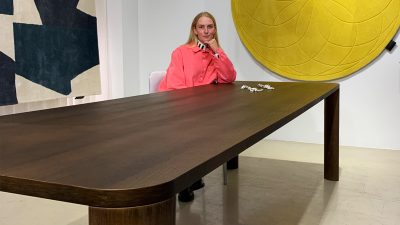 The Swedish Design Awards by RUM 2022 event is for many the starting point for Stockholm Design Week.
On February 3,  In a large award ceremony,  all winners will be announced. The ceremony is streamed live on byrum.se so that the entire industry can participate. The prominent jury consists of renowned architects, designers and design journalists with architectural historian Martin Rörby as recurring chairman.
Motivation of the jury:
"The large classic dining table has become softer! Newly graduated Moa Sjöberg's beautiful Moci Dining Table is determined in its design language and balances perfectly between the angular and round, the hard and soft and the neat, but solid"