ÅKE – Furniture from eight decades
To mark the 80th birthday of Åke Axelsson, Architect SIR/MSA Professor, and to celebrate his almost 50 years of collaboration with Gärsnäs, on May 31 we will open an anniversary exhibition at our showroom in Stockholm. Åke Axelsson has designed more than 200 chair models, of which his first chair for Gärsnäs, model S 217, is still in production today. He has also designed the interiors of many Swedish public buildings, including the Riksdag Library in Stockholm, the King Carl XVI Gustaf Jubilee Room at the Royal Palace of Stockholm, the library of the Marine Museum in Karlskrona, the Cookbook Museum in Grythyttan and the Den Gyldene Freden restaurant in Stockholm. The exhibition is curated by Nina Jobs and will highlight some of the themes that have inspired Åke over the years. Prototypes, originals and bestselling classics will be exhibited side by side. The chairs Wood and Ferdinand will be offered at a special price solely for this anniversary exhibition.
You are most welcome!
May 31 – August 17 2012
Open: Monday – Friday 9.00–17.00
Saturdays 11.00–16.00
Closed Saturdays from 23/6 – 18/8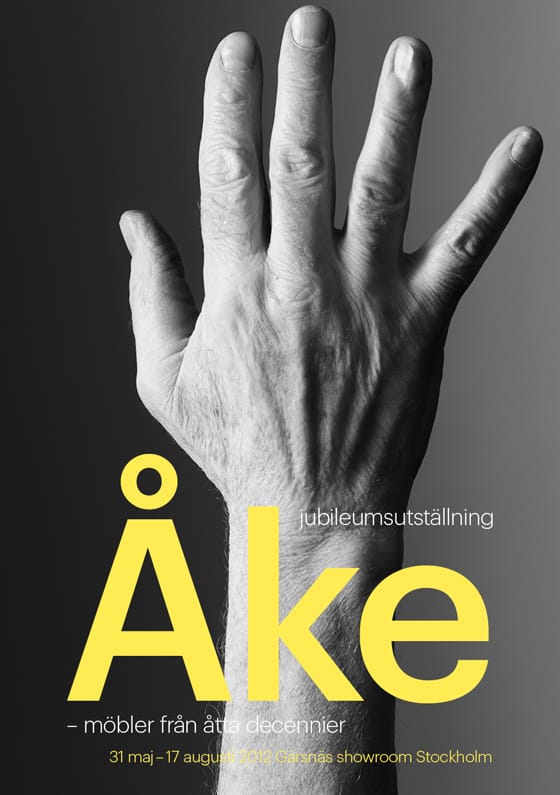 ÅKE – Möbler från åtta decennier
Med anledning av att stolmakaren, möbelformgivaren och inredningsarkitekten Åke Axelsson fyller jämnt och firar nära 50 årigt samarbete med Gärsnäs, öppnas 31 maj en jubileumsutställning i vårt showroom i Stockholm. Åke Axelsson har formgivit mer än 200 stolsmodeller, varav den första stolen för Gärsnäs, modell S 217, finns i produktion än idag. Utställningen kureras av Nina Jobs och är gestaltad som en vandring genom åtta decennier fram tills idag. Åke Axelsson har också möblerat ett stort antal offentliga rum, allt från Riksdagsbiblioteket, Carl XVI Gustafs jubileumsrum på Stockholms Slott, Marinmuseums bibliotek i Karlskrona, Kokboksmuseet i Grythyttan och Restaurang Den Gyldene Freden i Stockholm. Prototyper, förlagor och storsäljande klassiker ställs ut sida vid sida. Till jubileumsutställningen kommer stolarna Wood och Ferdinand att erbjudas till specialpris.
Varmt välkomna!
31 maj – 17 augusti
Öppettider:
Måndag – Fredag 9.00–17.00
Lördagar 11.00–16.00
Under perioden 23/6 – 18/8 stängt lördagar