Martela's Alku family of desks now has an active new member. The electrically adjustable Alku Sit&Stand desk keeps you active all day, and with its brightly coloured legs you can create the right ambience for your work space.
The Alku Sit&Stand electrical desk, which is ideal for changing workplaces, can be quickly adjusted to your needs so that the desktop is always at the right height. By adjusting the desk height, you can easily go from a seated to half-seated or standing position to help reduce the strain of office work.
"Changing your work posture helps you to work more efficiently, makes you feel better and reduces neck, back and shoulder problems," says Iiro Viljanen from Martela, who designed the Alku series.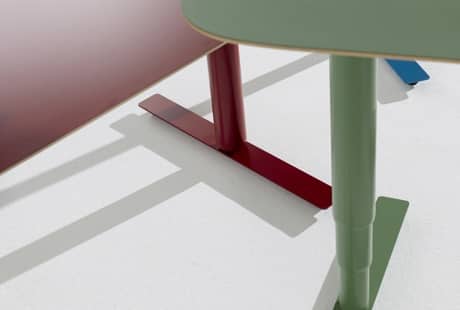 THE ESSENCE OF THE DESK IS IN ITS LEGS
An office desk does not need to be white. You can brighten up your office with yellow, calm the space with green or create a stylish look with grey. The legs of the electrically adjustable Alku Sit&Stand desks are available in dozens of different colours. There is something for everyone and they spread a good feeling throughout the office.
"The legs are an essential part of the desk's character and its look. They shouldn't be considered as purely a necessary evil – they are the soul of the desk," explains Iiro Viljanen from Martela.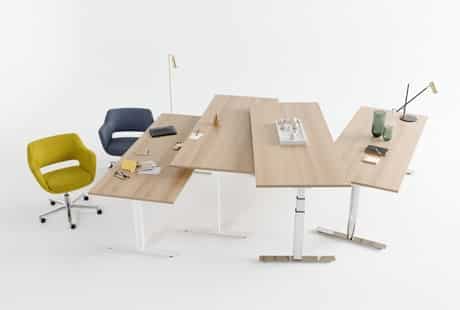 In addition to the new electrically adjustable desk, the Alku series also includes working desks, conference tables and standing height desks with different legs. The series of desks and tables has a fresh look and offers dozens of options to meet the needs of different workplaces. With desks of different sizes, an activity based office can be put to efficient use with suitable workstations that meet all the needs of every employee.
"The desks and tables of the Alku series would not look out of place in the home and they create a relaxed atmosphere in the office. In fact, someone might like the table so much that they decide to buy one for their home as well," says Iiro Viljanen.

Spara
Spara