Finnish furniture manufacturer Adea is launching a new business line, Adea Smartwork, with two different products that enable an ergonomic and stylish work environment at home – Kabinett (cabinet) and Fokus (Focus). Kabinett is a completely new invention designed by Alexander Lervik, where a dresser easily transforms into an ergonomic workspace. Fokus, designed by Mikko Laakonen, has enough space for two computer screens that can easily be hidden away.
In early spring, with Covid-19 striking out around the world, the Finnish government offered grants to small and medium-sized companies that came up with new products or innovations in the shadow of Corona. One of those companies is the Finnish furniture manufacturer Adea, which is now launching two new products that cure many of the ergonomic problems that can easily arise when working from home.
"The Finnish government was quick to stimulate innovation in the country and we saw early on that the number of people working from home had increased enormously. We realised that this is a change in people's behaviour that is here to stay. Even companies are now encouraging their employees to work from home, but there is a major need for better furniture adapted to working from home that is ergonomic and fits into a home environment. In six months we have gone from ideas to final products and today we are launching an entirely new business line: Adea Smartwork, with Kabinett and Fokus out first," says Esa Mäkitalo, CEO and founder of Adea.
According to a report from Novus (September 2020), to study what office workers think about the working environment at home, nine out of ten respondents say that they want to continue to work from home at least one day a week. Seventy per cent of the respondents say that they have enjoyed working from home. On the other hand, nearly 30 per cent of the respondents have had problems with back, shoulder and neck pain – problems they had not previously experienced.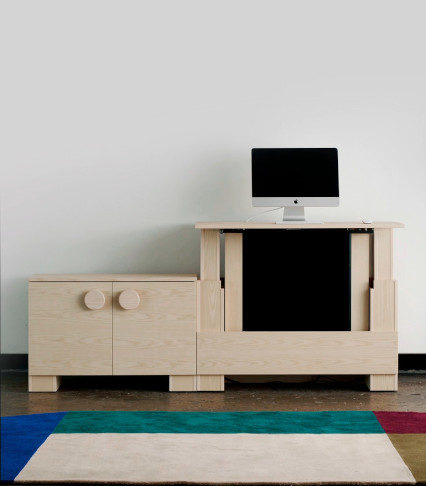 Kabinett
"At first glance, Kabinett looks like a regular cabinet but it has built-in features that allow it to be transformed into an entirely different piece of furniture. The innovation lies in its function. You get a work table that can be raised and lowered from a piece of furniture that doesn't look like a table. I've placed great emphasis on making it both aesthetically pleasing and ergonomic. Your body shouldn't be in pain because you're working from home," says Alexander Lervik, designer.
Kabinett comes in three different formats: Basic, Laptop and Screenlift, which each have an adjustable table top that can be raised and lowered, and functionality that allows you to close the work down at the end of the working day by hiding the computer, screen and other work tools. The table height is 69 cm instead of the standard height of 73 cm, so shorter people can also work in a comfortable position. The piece is designed to take up as little space as possible in a room, while maintaining work comfort.
"Working from home is not just a temporary solution and therefore the goal has been to develop a piece of furniture that blends in with the rest of the room. You should be able to sit and work in the most attractive place in the home, in front of a window or in the middle of the living room," says Lervik.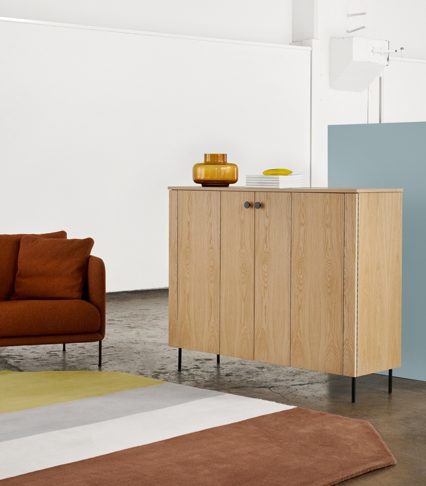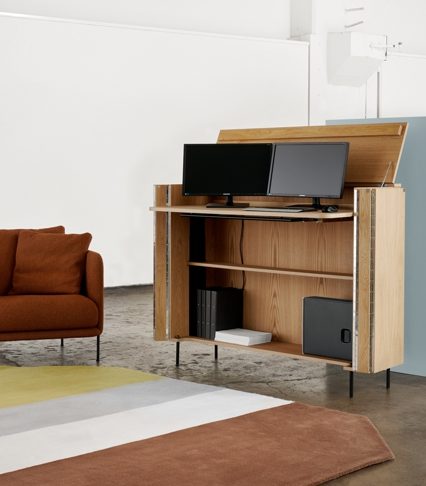 Fokus
In addition to ergonomic requirements, it is important to be able to distinguish between home life and work life. The saying "out of sight, out of mind" is very true in this context. In Adea Smartwork furniture, special attention has been paid to storing away the "work tools" when the work is finished. Designed by Mikko Laakkonen for Adea Smartwork, Fokus looks like a traditional cabinet but actually contains a height-adjustable work surface and has storage space for a computer, printer and other materials needed for work. Fokus' doors are divided into several leaves that can be folded completely onto the sides of the cabinet to allow unobstructed passage around the cabinet. Fokus comes in two widths: 100 cm or 150 cm.
"When the job is done, its doors can be easily closed, to hide everything away. This makes it easier to focus on the essentials and draw the line between work and leisure," says Mikko Laakkonen.