Vivid Blue. Reminiscent of Sky and Sea.
A new Cross Blanket color in stock.
Organic Cotton.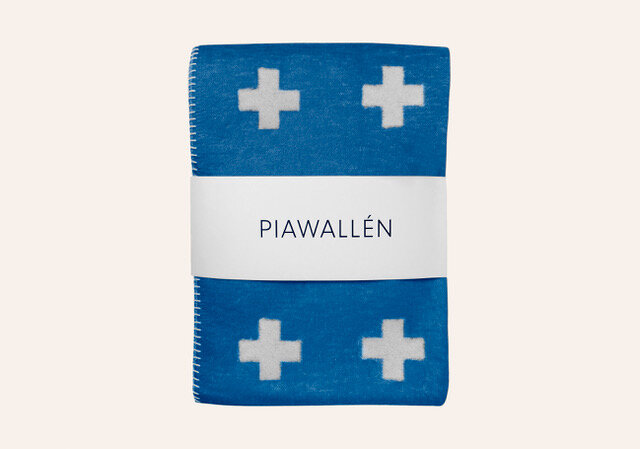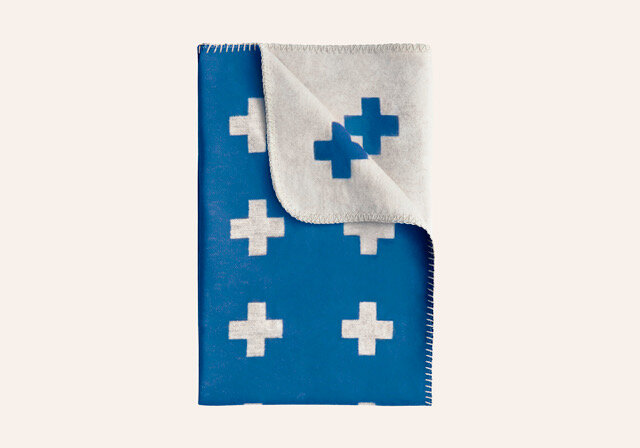 Designer Pia Wallén
Pia Wallén was born in Umeå in northern Sweden. She moved to Stockholm in her early twenties, where she still lives today. Pia studied fashion design at the Beckman's College of Design in Stockholm in the mid eighties. In the early nineties, she made an international breakthrough with her own brand, named after herself. The bold minimalistic objects, created in her signature material felt, became instant classics. Inspired by traditional Swedish folk craft techniques and patterns, Pia Wallén's pioneering designs also had a strong contemporary edge. This combination of tradition and modernity has remained Pia Wallén´s trademark. A certain playful spirit and the daring, experimental clashing of "noble" and "plebeian" materials are also characteristic of her unmistakable designs. Pia Wallén's collections include accessories, jewellery and interior objects. In recent seasons, new lines of accessories and jewellery have been added to the range that combine felt, metal, leather, lacquer, plastic and other materials in a striking range of colors that contrast and complement the fundamental black and white. "I like to think that I'm exploring my more feminine, glamorous and perhaps futuristic sides, while still staying true to my traditional roots.", says Pia, whose collections are sold by selected retailers worldwide, particularly in Scandinavia, the United States, Canada, Japan, Korea, the United Kingdom, Australia and New Zealand. Her work is represented in the permanent collections of Sweden's National Museum of Fine Arts, the Röhsska Museum for Design, Fashion and Decorative Arts in Gothenburg, and the Museum Angewandte Kunste in Cologne, Germany. She has participated in numerous solo and group exhibitions in esteemed venues worldwide, including Centre Pompidou in Paris and Victoria & Albert in London.