1970s
HIGH & LOW IN SWEDISH FURNITURE DESIGN
24 April–26 September 2021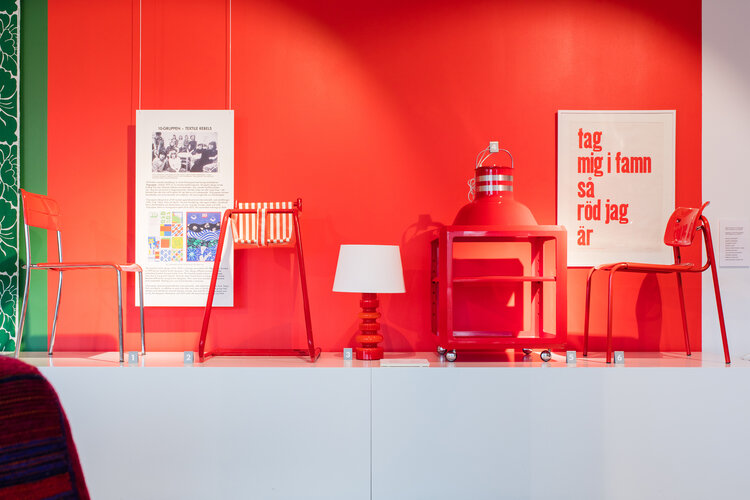 Swedish furniture and interior design culture went through dramatic changes during the 1970s. The effects of the late 60's rebellious view of design, production and consumption had an impact in the form of freer furnishings and resource-efficient furniture in simpler materials. Kooperativa Förbundet (KF) was a growing player and was building new department stores trough out the country. IKEA handled skillfully the young interior design trend and expanded strongly in Europe. The design company Innovator developed Sweden's first youthful lifestyle concept and achieved unprecedented international success.
1973 was the year of the oil crisis. In Sweden, rationing of fuel and energy was introduced. The industry ended up in a recession, the producing companies became fewer and larger. The number of furniture companies decreased by over 70% in ten years. Those who rationalized their production had the greatest chance of survival. Furniture carpenters became machinists, chipboard replaced solid wood, professionalism shifted focus.
Sweden had plenty of forest raw material. In the mid-1970s, rustic pine furniture,
often in oversized dimensions, suddenly became the highest fashion.
In the traditional furniture stores, most heavy corner sofas and bookshelves in dark woods were shown. Uncertainty in society gave, as always, a return to the conservative. English TV series, as well as the increasing charter travel to the continent, influenced the home interiors.
But there were counterforces. The Furniture Research Institute launched the quality label Möbelfakta. Svensk Form resumed pedagogical exhibitions and promoted recycling, simplicity and community. The local and resource-efficient craft received a renaissance. KF launched a collection of basic furniture – simple, functional and neutral.
Interior design for the rapidly growing public environment gave assignments to a generation of furniture and interior designers and nourishment for the quality-oriented furniture industry. Some of today's leading furniture brands developed strongly during the 1970s and more and more Swedish furniture companies cracked the code for international business. Exports grew from 250 to 1500 million sek in ten years. Swedish design and culture attracted design-conscious international buyers.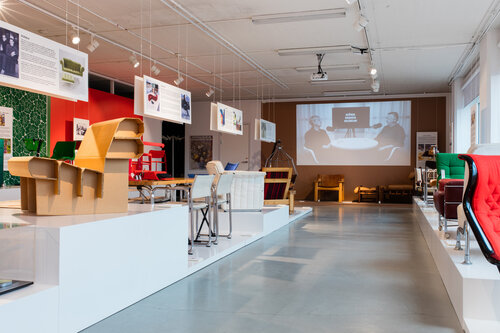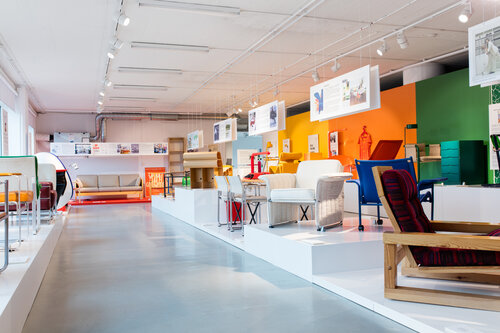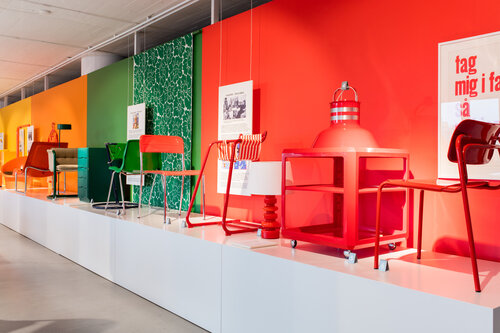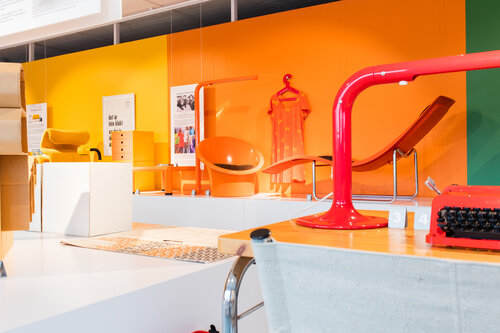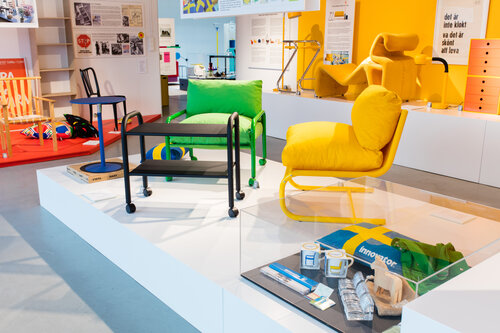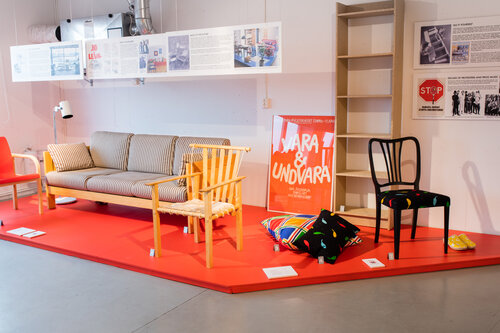 Magasin 6 – Frihamnsgatan 50, Stockholm Postal: 115 56 Stockholm
About the museum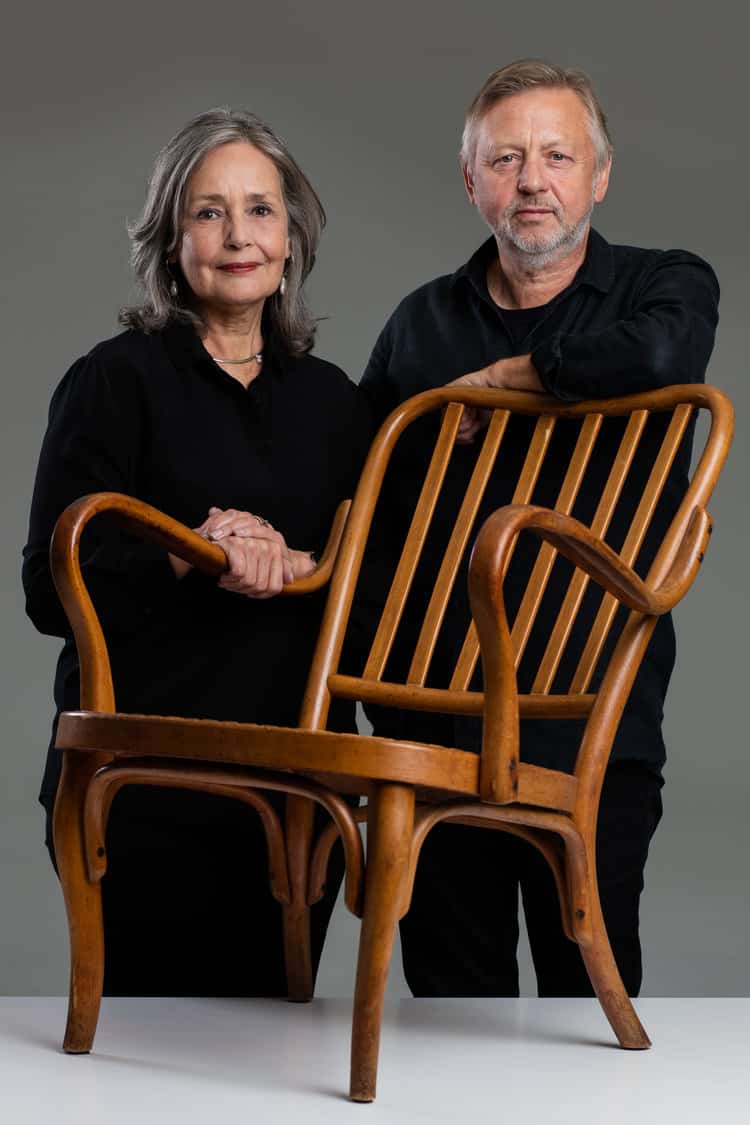 The Museum of Furniture Studies, opened in February 2018, is based on the private collection of Kersti Sandin and Lars Bülow. This comprehensive collection has been built up over their 40 years of experience as professional designers and architects and has arisen from a shared interest in Scandinavian and international furniture design.
Their recent roles – Sandin as professor of design and Bülow as company director and design manager in the industry – have given them the insight that the material furniture culture and production need to be experienced and studied in detail by today´s students and professionals.
With a focus on original designs from a variety of periods and by illustrating the development of functions, materials and techniques, the museum aims to create a platform for the study and development of the furniture of tomorrow.
Read more about Sandin & Bülow at:
http://sandinbulow.com/
Watch a short video presentation of the museum:
Visit the museum
The Museum of Furniture Studies is located in Stockholm at Magasin 6, Frihamnsgatan 50, in Frihamnen harbor.
The warehouse was built between 1962 and 1967, designed by the architectural firm B. Alfreds & G. Larsens Arkitektbyrå. Today the building contains various businesses and archives.
Nearest bus stop is Frihamnen station within a three minute walk from the museum. Bus lines are 1 or 76.
Nearest subway station is Gärdet station. The subway is connected with the museum via bus line 1 towards Frihamnen.
Opening hours:
Wednesdays (except Public Holidays) from 12.00 to 7.00 pm
Admission fee:
Adults ticket (over 25 years): 150 Sek
Young (15 – 25 years) or Student ticket: 75 Sek
Children (under 15 years) free
Private tours and workshops:
Private group tours are available, and special tours and workshops for students of design, architecture and crafts can also be arranged.
The gallery can be hired for conferences, meetings, concerts and other events. For more information and to make a booking, please contact us at info@mobeldesignmuseum.se or via phone: +46 727 15 05 25.