"Everybody is called Glenn in Gothenburg," says the Gothenburg-based architect Olle Anderson, "or that's at least what they said in the world of football in the 1980s, but we thought it was a good name for a light with its origins in this city."
The streetlight Glenn premiered at the annual Lighting Urban Community International (LUCI) conference in Gothenburg in November 2011. It is the continuation of the popular streetlight Stockholm that Anderson designed in 1990. "Where as Stockholm took its inspiration from older street lights and the world of train stations and factories, Glenn is a street light with a more contemporary design," says Anderson.
"The nice thing about the secondary light is that
you can see the design of the luminaire at night"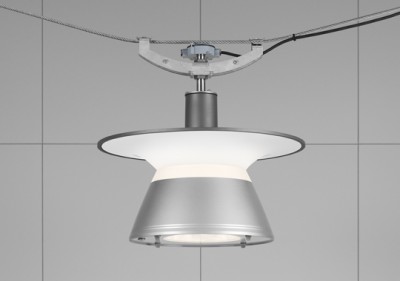 Glenn has a sharper, more modern form than Stockholm. It is made up of a cast aluminium shade, which sits on top of a cone-shaped reflector in white powder coated aluminium. The reflector mirrors the light, which is emit- ted through a shade in moulded acrylic which surrounds the optics. This shade projects light downwards but also filters the light sideways, creating both direct and secondary light. "The nice thing about this secondary light, which is reflected off the powdercoated aluminium, is that you can see the design of the luminaire at night," says Anderson.
Glenn, which uses a metal halogen light source, can be mounted either on a wire or a pole. The version that is mounted on a pole is attached to a load-bearing arm and it is the transition between the luminaire and the arm that Anderson is the most proud of. "It is a very small, cast metal detail that connects the two parts of the light and it creates a beautiful outline against the sky." The design engineer, Malin Gadd, at ateljé Lyktan agrees: "It looks like we have simply hung the light from the load-bearing arm, it's a small, but very nice detail that we worked hard on getting absolutely right."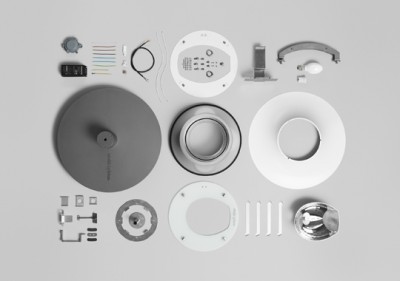 ateljé Lyktan. SE-296 81 Åhus, Sweden
Tel (0)44 28 98 00. Fax (0)44-28 98 38
Besöksadress: Fyrvaktaregatan 7, 296 35 Åhus
info@atelje-lyktan.se