Beridaregatan/Östra Stallmästaregatan 12. Malmö. Karta
För info eller vid akut behov av design ring 040-92 92 00.

is seen internationally
as a designation for simple and solid elegance.

This site is dedicated to Scandinavian Design by
Scandinavian Design www. AB
Östra Stallmästaregatan 12, 217 49 Malmö, Sweden
Phone +46 (40) 92 92 00

If You have questions regarding Scandinavian design or this site,
please contact Ilona Hollsten ilona@scandinaviandesign.com
Phone +46 (40) 92 92 00



A meeting place for companies and products working
with the Scandinavian form language.


Presenting news and events, along with articles from
our distinguished guest writers...


Presenting product news


Meet the Legends and the Personalities behind the Design


Special online offers from – Scandinaviandesign.com


Links to Museums & Schools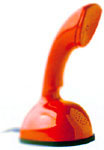 The Ericophone - 1952, (The Erica)
Hugo Blomberg/Ralph Lysell/Gösta Thames