EMMA ARMCHAIR
Design Fredrik Färg & Emma Marga Blanche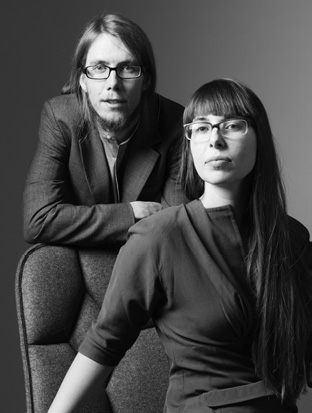 What made it an Emma?
EMB/FF: Gärsnäs asked us to design a modern Emma armchair, and we had a really exciting time doing it! You get such a kick out of working towards a solution and, what's more, spotting a need. And the Emma just came naturally, this being a latter-day version of a firmly rooted tradition.
Had this kind of seating furniture occurred to you previously?
EMB: The funny thing is that, despite being French, I've always had a special relationship to Emma armchairs. I was already keen on design as a child, and my Swedish paternal grandmother had an Emma armchair which I just couldn't take my eyes off. Later on, when I inherited that chair, I felt both honoured and overjoyed.
What's so special about your Emma?
FF: It's a hand-sewn, well-tailored armchair that speaks the language of craftsmanship picking up the gauntlet. The needlework here involves both form and function, elevating the classic look to a superior level. Both the seams and the stockinged legs accentuate that "well-dressed" feeling.

Gärsnäs AB
Head office production and showroom:
Box 26 Se-272 03 Gärsnäs malmövägen 16 − 18
PHONE +46 414 530 00 FAX +46 414 506 16 info@garsnas.se
Office and Showroom:
Eastmansvägen 12A, SE-113 61 Stockholm
phone +46 8 442 91 50 info@garsnas.se