CAPE – MANIFESTED ELEGANCE BY NENDO
Offecct proudly presents the elegant chair Cape, the first addition to the collection by one of the greatest names on the contemporary design scene; the Japanese designer Nendo/Oki Sato. Cape is designed by Nendo who is also the Guest of Honour at the Stockholm Furniture Fair 2013 as well as the Salone Internazionale del Mobile in Milan 2012.
Cape is a complex chair with an exciting look, with ultra-thin dimensions and a very low weight, made possible by a collaboration between Offecct and Swedish Steel AB in the development of new steel materials. The development behind Cape has taken place within the Offecct Lab, a comprehensive strategic initiative which aims to concentrate Offecct's efforts in the development of new solutions and new products.
Nendo draws inspiration from everyday life. He describes his products as functional, simple and friendly. Every day we encounter small wow-moments – or as Nendo expresses them: " ! " moments – that are easily forgotten. With his design Nendo wishes to capture these interesting moments, collect them and reformulate them into something that is easy to understand.
Cape is an elegant chair that gives the illusion of a cape spread over a frame. The subtle twist in the design of Cape makes the chair stand out all the while being obvious and simple in its design language. Simply " ! ".Offecct always works with authentic materials in its production. The tasteful seat of Cape is molded in wood produced from controlled sources and the stand is made of an extremely light material which gives the chair its elegant shape.
– Offecct has a long history of cooperating with some of the world's most prominent designers, says Kurt Tingdal, CEO, Offecct. That is why it is both natural and pleasing that we can present the chair Cape; a first, and in our opinion excellent, result of the cooperation with Nendo, Kurt Tingdal concludes.
About Nendo
The Japanese designer Nendo (Oki Sato) is based in both Tokyo and Milan and is a rising star on the international designscene. Among earlier clients Boffi, Hermes, Issey Miyake, Kenzo, Lexus, Louis Vuitton and Starbucks can be mentioned. Nendo has also won many prestigious competitions and awards, such as "The 100 Most Respected Japanese" and "The Top 100 Small Japanese Companies" from Newsweek magazine, "Designer of the Year" from Wallpaper* magazine, as well as "Designer of the Year" from Elle Deco International.

Web: www.offecct.se Blog: blog.offecct.se Facebook: facebook.com/offecct
Twitter: twitter.com/offecct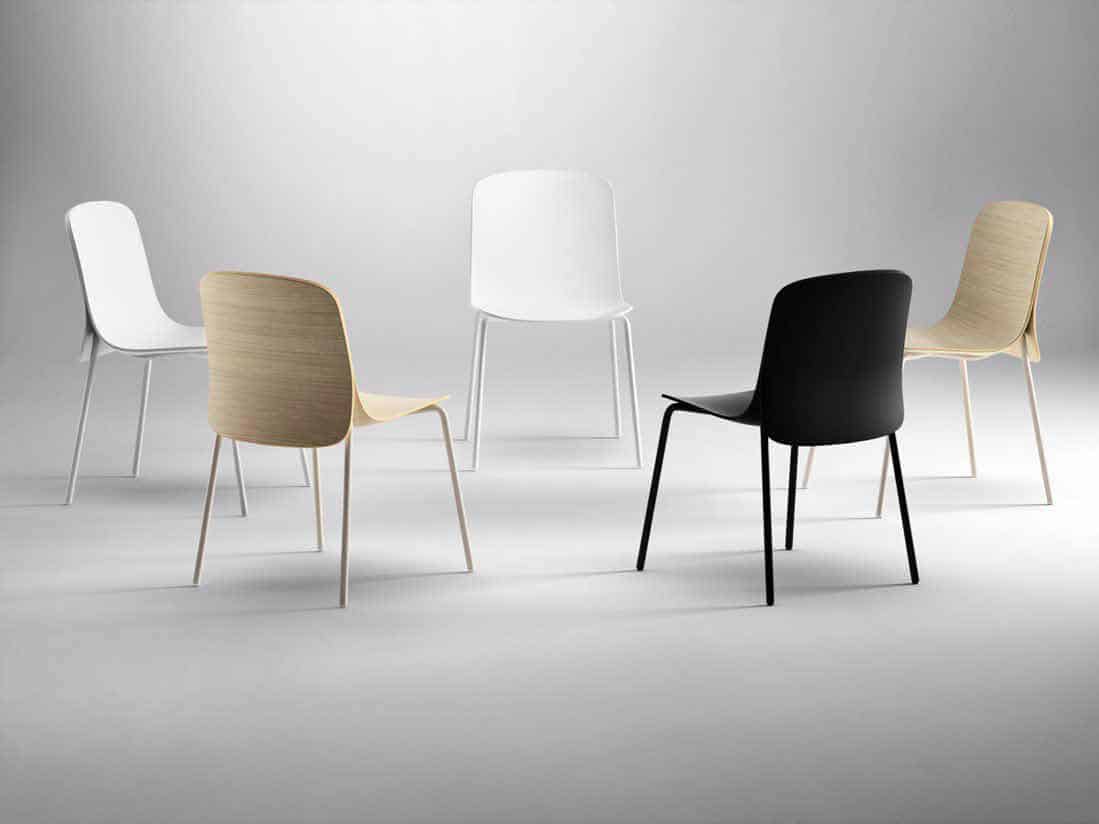 CAPE – SJÄLVKLAR MANTELPRYDD ELEGANS AV NENDO
Offecct presenterar stolt stolen Cape, ett elegant tillskott i kollektionen som kommer ur ett nytt samarbete mellan Offecct och ett av de största namnen på den samtida designscenen; den japanske formgivaren Nendo/Oki Sato. Cape är formgiven av Nendo som är hedersgäst vid Stockholm Furniture Fair 2013 och som var detsamma vid Salone Internazionale del Mobile i Milan 2012.
CAPE är en komplicerad stol med ett spännande utseende, vars extremt tunna dimensioner och låga vikt möjliggjorts genom ett samarbete mellan Offecct och SSAB i utvecklingen av nya stålmaterial. Utvecklingsarbetet bakom Cape har ägt rum inom Offecct Lab, ett samlat strategiskt initiativ som syftar till att kraftsamla i utvecklingen av nya lösningar och nya produkter. Nendo får sin inspiration från vardagslivet. Själv beskriver han sina produkter som funktionella, enkla och vänskapliga. Varje dag möter vi små wow-ögonblick – eller som Nendo uttrycker dem: " ! "-ögonblick – vilka lätt glöms bort. Med sin design vill Nendo ta vara på dessa intressanta ögonblick, samla och omformulera dem till något som är lätt att förstå.
Cape är en elegant stol som ger illusionen av en mantel som draperats över en stomme. (Cape är det engelska ordet för mantel). Den subtila twisten i designen av Cape får stolen att stå ut samtidigt som den är självklar och enkel i sitt formspråk. " ! " helt enkelt.Offecct fortsätter att arbeta med genuina material i sin tillverkning. Den smakfulla sitsen i Cape formpressas i trä från kontrollerade källor, stativet i sin tur är tillverkat av ett extremt lätt material vilket ger dess eleganta form.
Offecct har en lång historia av att samarbeta med några av världens mest framstående formgivare, säger Anders Englund, designchef, Offecct. Därför är det både naturligt och glädjande att vi vid Stockholm Furniture Fair 2013 med stolen Cape kan presentera ett första – i vårt tycke utmärkt – resultat av samarbetet med Nendo, avslutar Kurt Tingdal.
Om Nendo
Den japanske formgivaren Nendo (Oki Sato) är baserad i både Tokyo och Milano och är en stigande stjärna på den internationella designhimlen. Bland tidigare uppdragsgivare kan nämnas Boffi, Hermes, Issey Miyake, Kenzo, Lexus, Louis Vuitton och Starbucks. Nendo har även vunnit många prestigfyllda tävlingar och utmärkelser, så som "The 100 Most Respected Japanese" och "The Top 100 Small Japanese Companies" från Newsweek Magazine, "Designer of the Year" från Wallpaper* Magazine, samt "Designer
of the Year" från Elle Deco International Design Award.

Web: www.offecct.se Blog: blog.offecct.se Facebook: facebook.com/offecct
Twitter: twitter.com/offecct