BOP – AN EXCLUSIVE CHAIR FOR CONCERT HALLS AND MORE
In collaboration with Norwegian design bureau Knudsen Berg Hindenes, Offecct is presenting the new chair BOP originally designed for USF Verftet, an arts arena for music, theater, film and modern art in Bergen, Norway. USF was established in 1993 and is an important actor within arts and culture in Bergen and Norway with the aim of collaborating, strengthening and participating in the development of culture and creativity.
– When we were redoing the cultural center and creating a larger concert hall we wanted a new concert chair. The development has been a close process between us here at the cultural center, the designers and Offecct, says Jon Tvilde, Head of the cultural center.
– As clients we were allowed to participate in the development of the chair so that it would fulfill all our wishes. It has been an exciting and positive process, Jon Tvilde continues.
Offecct now takes the next step and presents yet another variant of the USF chair named Bop. Bop has a frame of stainless steel and a quilted seat and back that gives the chair an exclusive touch.
BOP lives up to the high standards of comfort, durability and adaptability required of a concert chair but fits perfectly well in other public interiors.
About Knudsen Berg Hindenes
Knudsen Berg Hindenes is a Norwegian award winning design bureau consisting of Norwegian designers Petter Knudsen, Anders Berg and Steinar Hindenes. They are all educated at Bergen Academy of Art and Design. Knudsen Berg Hindenes mainly works with furniture, product- and interior designs, but is also involved in a series of project based design initiatives. They aim to create material and production driven objects with a distinct character.
BOP is the first product that Knudsen Berg Hindenes has designed for Offecct.

Web: www.offecct.se Blog: blog.offecct.se Facebook: facebook.com/offecct
Twitter: twitter.com/offecct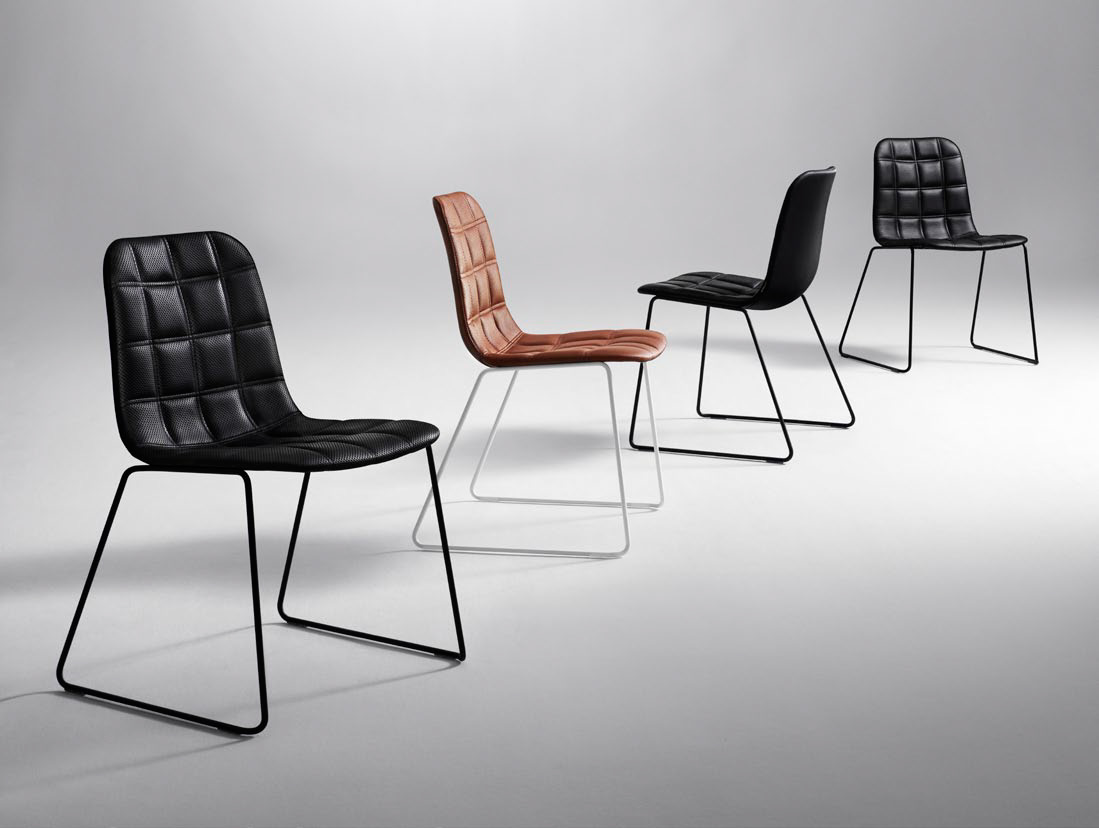 BOP – EN EXKLUSIV STOL
Offecct har i samarbete med de norska formgivarna Knudsen Berg Hindenes utvecklat den nya stolen BOP, ursprungligen framtagen för kulturhuset USF Verftet; en konstarena för musik, teater, film och modern konst i Bergen, Norge. USF etablerades 1993 och är en viktig aktör inom konst och kultur med målet att samarbeta, stärka och delta i utvecklingen av kultur och kreativitet.
– När vi skulle bygga om kulturhuset och få en större konsertsal ville vi ha en ny konsertstol. Utvecklingen har präglats av ett givande samarbete mellan oss på kulturhuset, formgivarna Knudsen Berg Hindenes, och Offecct, säger Jon Tvilde, kulturhuschef.
– Vi som beställare har fått lov att vara med och utveckla BOP så att den uppfyller alla våra önskemål. Det har varit en spännande och positiv process, avslutar Jon Tvilde. Vi tar nu ett nästa steg och presenterar ytterligare en variant av USF stolen. Stolen har bl.a. ett stativ av rostfritt stål och en quiltad sits och rygg som ger stolen en exklusiv prägel.
BOP lever upp till de höga krav på komfort, livslängd och anpassningsbarhet som ställs på en konsertstol, men passar naturligtvis även bra in i andra offentliga miljöer
Om Knudsen Berg Hindenes
Knudsen Berg Hindenes är en prisbelönt designbyrå som består av Petter Knudsen, Anders Berg och Steinar Hindenes. De är alla utbildade i Bergen Academy of Art and Design. Knudsen Berg Hindenes arbetar främst med möbel- och produktdesign, samt interiörer. Deras målsättning är att skapa material- och produktionsdrivna objekt med en tydlig karaktär.
BOP är den första produkten som Knudsen Berg Hindenes formgivit för Offecct.

Web: www.offecct.se Blog: blog.offecct.se Facebook: facebook.com/offecct
Twitter: twitter.com/offecct